An intervention strategy for workplace stress
Published:
28 September 2015
Remember! This is just a sample.
You can get your custom paper by one of our expert writers.
Get custom essay
81 writers online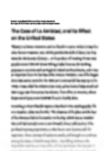 In this scenario, my partner is a married young man with a wife and two children aged 3 years and 4 years. They have been married for five years. The following is a report relating to my observations, assessment of the problem as well as my recommendations on the problem.
Observations
After the event that took place, my friend was seen to be:
Irritated all the time and responds harshly
He does not speak to anyone and keeps to himself a lot
I also observed that he is no longer interested in his job
Does not respond to radio calls
He is also seen to be always gloomy and avoids eye contact with people
When engaged in a conversation, he tends to avoid any topic relating to the event or children
My assessment
        From the above observation, it is my belief that my partner is suffering from stress after the occurrence of the tornado (Cooper, & Cartwright, 1997). Being a father of two young children of similar age to the children that were involved in the tragedy, he seems to feel responsible for the children that were affected at the day care, demonstrating emotional attachment to children. He takes them as his own since they were of similar age to his children. He has the father-child relationship with the lost child and the dad children hence feeling as though he has lost part of his family (Waeckerle, 1991). I think he is also afraid that the same thing may happen to his children. The father-child bond is what is greatly contributing towards his change of behaviour.
Recommendations
        It is my recommendation that my partner should see a counsellor. After the event, he was traumatized as a parent and shared in the loss of the children. He did not get counselling and hence it is important at this time to have him attend counselling and therapeutic sessions (Waeckerle, 1991). It is also my recommendation that he should be given leave period to recover as he attends the counselling sessions. After the counselling, he should be assigned different duties since if assigned similar duties, the past experience may be re-lived hence result in stress again.
References
Cooper, C. L., & Cartwright, S. (1997). An intervention strategy for workplace stress. Journal of Psychosomatic Research, 43(1), 7-16.
Waeckerle, J. F. (1991). Disaster planning and response. New England Journal of Medicine, 324(12), 815-821.