Managing Virtual Team in Project
Published:
22 February 2016
Remember! This is just a sample.
You can get your custom paper by one of our expert writers.
Get custom essay
102 writers online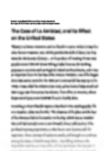 Abstract
Due to advanced communication technologies, globalization and outsourcing most of the project management teams are based on groups of individuals called virtual teams who work across time and space using communication technologies. Members of virtual teams may be employees of same company from same country, or they can be contractors, suppliers and company employees around the globe.
Managing projects using virtual teams have some advantages and disadvantages. Also several studies have been done to try to determine the factors that are positively co-related to the effectiveness of virtual teams (Schwalbe, 2011). To manage virtual teams successfully in project management, the project manager must manage these factors successfully and also minimize the impact of disadvantages.
This paper discusses the advantages and disadvantages of the virtual teams in project management and outlines the factors that are positively correlated to the success of projects based on virtual teams. The paper also outlines some of the recommendations to successfully manage the virtual team in information technology projects.
Keywords
Globalization, outsourcing, virtual teams, video conferencing, telecommuting, Project Management, Trust and relationship, Advantages of Virtual teams, Disadvantages of virtual team.
Introduction
Imagine that you are a project manager in a multinational organization and managing a project to upgrade the server operating system and your team members are from different countries with different cultures and working in different time zones. To complete the project successfully that is based on virtual teams, project manager must understand the advantages and disadvantages of managing virtual teams and factors that positively affect the team members. Today most of the project management teams are based on virtual teams whose members work across time and space using communication technologies and project managers cannot rely on previous methods of project team management where they were able to build trust between team member by social interaction, face-to-face meetings, and direct observations of fellow team member commitment. (Kirkman, Rosen, Gibson, Tesluk, & McPherson, 2002).
Literature Review
Virtual teams do have some advantages and disadvantages. Some of the advantages outlined by Kathy Schwalbe are: 24/7 availability of workers increasing competiveness and responsiveness, lowering the cost of project as many virtual team members do not need office space and support, providing more flexibility and expertise as project managers have access to the talent around the globe and increasing the work/life balance for team members by eliminating fixed office hours and the need to travel to work. (Schwalbe, 2011).
Communication and trust are the most important factors that influence the virtual team performance. Saonee Sarker and others discussed the "theoretical linkages among trust, communication, and team member performance in virtual teams". (Sarker1, Ajuja, Sarker, & Kirkeby, 2001). To prove their argument the researchers identified and tested three proposed models (additive, interaction, and mediation) describing the role of trust in its relationship. The results of the study indicated that the "mediating" model best explains how communication and trust work together to influence the performance of virtual team members. In simple words them study proves that "a communicative individual will be more likely to be trusted and will therefore be more likely to be a high performer". (Sarker1, Ajuja, Sarker, & Kirkeby, 2001)
Radostina K. Purvanova reviewed experimental literature and emerging field research on virtual teams. Author compared the "results from both type of literature and found that experimental literature has largely reported negative results for virtual teams, whereas field investigations and case studies of real virtual teams employed by business organizations report positive outcomes for virtual teams." (Purvanova, Feb 2014) According to the article although results reported by experimental versus field studies are quite different, author concludes that both literatures have revealed negative attitudes toward virtual communication media.
Advantages of Virtual Teams
The main advantages of virtual teams include:
The biggest advantage of virtual team enjoyed by an organization is the associated cost savings. The organization can save huge expenses on real estate, office spaces, utility bills such as gas, electricity, water etc. and executive's travel. Team members can work from anywhere and anytime of the day. They can choose the place they work based on the mood and the comfort. You can recruit people for their skills and suitability to the job. The location does not matter. There is no time and money wasted for commuting and clothing. Physical handicaps are not an issue.
Another advantage is the labour laws, some organizations prefer to have virtual teams because of strict local labour laws. Since the members span the time zones, there could be different team working on the same project 24/7, so when one member sleeps there will be another one somewhere else who would start work where the former had left. This shortens the product development time as well as faster response time to demands in both global and local markets.
Disadvantages of Virtual Teams
Disadvantages of virtual teams include:
Since team members do not frequently meet or do not meet at all, the teamwork spirit may not be present. Some people prefer to be in a physical office when working. These people will be less productive in virtual environments. To work for virtual teams, individuals need to have a lot of self-discipline. If the individual is not disciplined, he or she may be less productive. The cultural difference between the members of virtual teams gives rise to number of conflicts. For example, while an employee from one part of the world would write a straightforward email describing a bad situation; this would be perceived as impolite by a member of the team from other part of the world. This would lead to conflicts, mistrust and difficulties in fruitful collaboration which is so vital for the success of virtual team functioning. These challenges are also precipitated by the absence of non-verbal cues so intrinsic to face-to-face interactions. Many members of virtual teams are adversely affected by the lack of physical interactions. Most of the communications in virtual environment is task-oriented. In today's society where job is an important social force for most of us because many of our workplace colleagues also constitute our close friends, this gives a not-so-good feeling of social isolation. This in turn counter-effects productivity as well as leads to stress. In the virtual environment, it is better to communicate, clarify, and confirm everything to make sure that all members have the same understanding about the task at hand. This produces of ton of paperwork and files that could quickly fill your archives.
Factors that positively affect virtual teams
Succession planning and promotions involving virtual team members are important factors and if managed properly, virtual team members will feel that they are receiving recognition and credit and as a result they will be satisfied and their productivity will be increased. (Leonard, 2011)
Since team members are not communicating face to face, constructive team and individual feedback early and often becomes more important and if managed properly can avoid many problems before hand.
Trust between team members and project leader is an important factor that can affect the performance of team members. One important way to build trust between team members is effective communication. The more they communicate with each other and with project more they build the trust.
Well defined and documented team process also important which saves a lot of time for especially new team members to find answers to their questions related to policies and procedures.
A team member selection and role preference is also important factor to successfully manage the virtual teams. "Dr. Meredith Belbin defined a team role as a tendency to behave, contribute and interrelate with others in a particular way. 15 It is important to select team members carefully and to form a team where all roles are covered. Each virtual team member must also understand his or her role(s) on the team." (Schwalbe, 2011)
Discussion and Conclusions
Organizations such as IBM, Microsoft, Whirlpool as well as SMEs are reaping the benefits of virtual teams for some time now. It has been a well-recognized fact that virtual team is not a passing tide but it is here to stay. Virtual teams are rising in numbers nowadays and even small technology companies are now adapting virtual team practice for recruiting the best people from all over the globe and reduce the cost.
As outlined in previous sections, virtual teams do have advantaged and some disadvantages as well. To benefit from advantages and to minimize the impact of disadvantages a project manager can focus on factors that positively affect the virtual team's performance. As indicated by previous researchers, increase in trust, comfort level and communication effectiveness leads to better project success.
All of the above discussed disadvantages can be overcome by following a different leadership approach, trainings, greater role clarity and effective communication strategies. Also earlier discussed factors that affect virtual teams, if managed properly can result in a successful project. In addition, the companies using virtual teams can minimize their operating costs and maximize the profit margins. Additionally, the employees working in virtual teams are at advantages when it comes to working in their own home, own time, and reduction of commuting costs. Therefore, organizations should look into setting up virtual teams for different tasks whenever possible.
To reap the benefits of virtual teams in projects and minimize the impact of disadvantages virtual team managers should manage the outlined factors properly and should also follow best practices outlined in next section.
Best Practices
When running virtual teams, some of the best practices include: An instant messaging program can be used to create a sense of presence amongst members of the team. Chat is a good way to have side conversations during meetings to gain consensus, confirm understanding or ask questions. Quick questions can be asked through instant messenger as a substitute for popping into someone's cubicle. Services for syncing files, bug tracking, project management, source control, web conferencing, conference calls, screen recording, usability testing and so on.
A virtual phone system allows mapping of phone extensions to any phone number. Advance features allow callers to dial by name, get placed into a phone queue or get recorded answers back from a phone tree. In-person meetings are also a good option; it helps build team cohesion and trust and can help people get to know each other on a deeper level. But they are by no means critical. Bringing everyone together once a year may cost a little, but it's still often cheaper than paying local salaries and rent, and increases the efficiency of team. (Schwalbe, 2011)
References
Kirkman, B., Rosen, B., Gibson, C., Tesluk, P., & McPherson, S. (2002). Five challenges to virtual team success: Lessons from Sabre, Inc. Academy of Management Executive, 67-79; 13p. Leonard, B. (2011, June 1). Managing Virtual Teams . HR Magazine. Purvanova, R. K. (Feb 2014). Face-to-face versus virtual teams: What have we really learned? The Psychologist-Manager Journal, 2-29. Sarker1, S., Ajuja, M., Sarker, S., & Kirkeby, S. (2001). The Role of Communication and Trust in Global Virtual Teams: A Social Network Perspective. Journal of Management Information Systems. , p273-309. 37p. Schwalbe, K. (2011). Information Technology Project Management 6e. Boston: Course Technology, Cengage Learning.