Student Nurse
Published:
29 February 2016
Remember! This is just a sample.
You can get your custom paper by one of our expert writers.
Get custom essay
73 writers online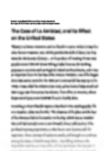 Introduction
This essay will demonstrate the aim of the Scottish Patient Safety Programme (SPSP, 2008) in relation to early intervention in a deteriorating patient, through reflective practice. Using Gibb's (1988) reflective model the writer will analyse and appraise a personal experience on placement whilst demonstrating the skills and knowledge based theory (Jasper, M., 2013), in accordance with SPSPs' guidelines; monitoring of Early Warning Scoring (EWS) system and the use of the SBAR (Situation-Background-Assessment-Recommendations) tool and safety briefings in relation to patient safety. The six step account consists of: a description of events, how I felt, evaluation, analysis, conclusion and action plan for future practice. Due to the (Data Protection, 1998) Act, the patient will be referred to as Mr Smith.
Description
Whilst monitoring patients on an acute medical ward using the EWS system, on a busy Friday morning, I came across Mr Smith who was complaining of abdominal pain. I noticed his skin colour was extremely pale and he was agitated. I proceeded to check his vital signs. His Blood pressure (Bp) determined he was hypotensive (low blood pressure) 79/49 and he was tachycardic (increased heart rate) 123 beats per minute (Bpm). His temperature, respiratory rate and oxygen saturations were within normal range. I documented his vital signs and on checking the EWS score (4), this triggered me to alert the nurse in charge and medics on the ward, in accordance with SPSPs driver diagram on what action should follow.
Feelings
I felt relieved to have had the observational skills and knowledge which gave me an understanding that Mr Smith was deteriorating. Having guidance and protocols such as EWS driver diagram gave me the confidence and support required to take the relevant action. Mr Smith was examined by medical staff within ten minutes of me alerting them and appropriate action taken. At this point it was realised by a clinician who checked his medical notes, that Mr Smith had had a previous incidence of a gastrointestinal (GI) Haemorrhage (bleed) but this information had not been passed on during the handover report which I felt was vital in this case and could have been detrimental to his outcome.
Evaluation/Analysis
GI haemorrhages account for 7% of deaths in Scotland (SIGN, 2008). SPSP together with HIS developed a toolkit; The Hospital Standardised Mortality Rate (HSMR) to link the study of mortality rates and healthcare improvement in Scotland; the aim being to reduce mortality rates and adverse harm, including near misses to patients in acute wards, (HIS, 2011).
Strategies such as SBAR and EWS are promoted by SPSP and Health Improvement Scotland (HIS) to identify any potential risks to patients and allow for early intervention. Communication between staff regarding patient's condition including relevant past medical history is important if patients are to receive specific care and treatment required. The SBAR tool was adopted from the US Navy and the aviation industry by Dr M Leonard (2000). It was adapted for the healthcare setting, to allow all practitioners to communicate concerns and risk to patients'. (NHS, Institute for Innovation and Improvement, 2013). EWS was developed to measure patient's physiological level of illness and identify clinical deterioration using a scoring system. This is calculated by totalling abnormalities of vital signs which are below or above normal parameters. Scoring, triggers nurses to take appropriate action and referrals to clinicians, (Odell. M., 2010). However it has been suggested there is scope for error using EWS if scoring is not carried out properly and factors such as knowing the patient and pattern; recognising deterioration; appropriate referral; time of day and day of the week may be causes for error, (Odell et all, 2009).
Following research on the use of SBAR in a healthcare setting, communication errors were reduced by 50%, (NHS, Institute for Innovation and Improvement, 2013). However the SBAR tool is not always followed properly and can result in communication errors, increasing risk of harm to patients (Royal College of Nursing, 2013). Mr Smith had been admitted through Accident and Emergency (A&E) during the night with acute abdominal pain and transferred to the acute medical ward. It was unclear whether history of his previous GI haemorrhage had been known at this point but it was not highlighted at the hand over report. By the time I had reached Mr Smith, whilst carrying out routine vital signs on patients, it was obvious by observing a pattern of his vital signs, EWS score, pallor and pain level that he was deteriorating.
Although the EWS system triggered the immediate care and intervention which Mr Smith required, the SBAR tool could have prevented the deterioration earlier. The aim of the SBAR and safety briefing is to identify potential risks, taking into consideration the patient's background, assessing the patient and recommending a plan of care. Had Mr Smiths' background been communicated properly then the recommendations of regular assessing and appropriate procedures could have been implemented earlier; such as monitoring his vital signs hourly, risk scoring, haematology (Blood) screening and endoscopy, in accordance with the Scottish Intercollegiate Guidelines Network (SIGN 105, 2008).
The appropriate actions were implemented immediately following the realisation of the patients' deterioration, confirmed by a medical practitioner who suspected another GI haemorrhage. The patient had been referred to radiology for an abdominal ultrasound scan earlier but was then referred again as 'urgent'. The surgical team were informed, and blood was sent to haematology. Mr Smith's haematology results showed he was hypovolemic (had lost blood) and required a blood transfusion which was prescribed and infused quickly. All required documentation was followed using the blood transfusion pathway, (HIS, 2010); consent obtained, patients' identity confirmed, blood checked by two trained nurses, labels written clearly, reasons for administering and countersigned by nurses and prescriber, (HIS, 2010). I was asked to check and document Mr Smiths' vital signs prior to the infusion of blood and thereafter every 15 minutes for the duration of one hour, in adherence with the blood transfusion pathway, (HIS, 2010). The EWS system allows for any adverse reactions to be detected early, as severe reactions are more likely to occur within the first 15 minutes of infusion and in the case of an adverse reaction the infusion would be stopped; medical staff and haematology informed (Ackley et al, 2008).
I remained with Mr Smith and monitored his vital signs closely, checking for changes. He was becoming increasingly agitated because he wanted to be left alone. Within approximately 45 minutes Mr Smiths' vital signs had improved (scoring 2). A short time later staff came from radiology to escort Mr Smith for his ultrasound scan, he was (scoring 1), although his abdomen was very distended and painful.
In order to improve general ward outcomes the SPSPs' aim is to deliver reliable and timely evidence based care to patients through early interventions in deteriorating patients with effective inter-professional communication; SBAR, safety briefings and EWS. Although in a news-letter from SPSP's prediction was that the introduction of the general ward package would be more complicated in busier settings and EWS would be a more 'opt out' solution, (SPSP, 2010) An article from the World Health Organisation also suggests that sufficient allocated time be awarded to hand over reports without interruptions, if so then repeat-back and read-back steps should be put in place, (WHO, 2007). The Scottish Government established targets which aim to reduce avoidable harm to patients. One of the key elements is to enhance communication skills between inter-professional practitioners in all departments, through education, (Scottish Government, 2010). The SPSP in partnership with NHS education for Scotland (NES) have developed Inter-professional Learning (IPL) courses to improve communication skills collaboratively; promoting patient safety, (NES, 2013).
Conclusion
The aim of the SPSP (2008) and HIS (2011) is to reduce harm to patients by developing protocols such as improved communication inter-professionally and driver packages; EWS to identify patients at risk of harm, therefore triggering early intervention and good outcomes. Mr Smith could have been classed as a 'near miss' due to poor communication of his past medical history. However with the use of the EWS system his deterioration was identified and protocols were followed accordingly, reducing further harm. Although there was not a diagnosis for Mr Smith initially, his symptoms on admission should have triggered regular observations using the EWS system, checking his past medical history and the use of effective clinical judgement.
Action Plan
Reflecting on this personal experience has given me a good understanding on the importance of communication in relation to the care delivered to patients. I have learned that it is important to have as much background information about patients as it may influence decisions regarding appropriate care planning. I have identified that importance should be placed on patients without a diagnosis and closer observation given. Sharing important information and concerns regarding patients with relevant multi-disciplinary team members is vital for patient outcome and also for my personal learning. I have a good understanding of the EWS system and the benefits it has in identifying deterioration or improvement of patients, however I have learned observational skills are also a good tool in clinical judgement, which I will use. Documentation is a legal requirement in nursing but it is also very important as it allows for previous and current comparison of a patient's well-being, which I learned from this experience.
Overall I have learned in order to deliver safe practice I must use a combination off all the skills I have learned. It has taught me that although practical skills such as observing vital signs is important, observational skills, communication skills and clinical judgement must be considered for patient safety. I found by reflecting on this personal experience I have learned the importance of reflection and plan to use it in future practice as it has helped me gain insight into how to develop all my skills further in the nursing role. It has helped me to recognise weaknesses and strengths in this experience, which will guide me with my personal learning.
References:
Ackley et al (2008), Evidence-Based Nursing Care Guidelines–Blood Products Administration. Canada: Elsevier Pp 107-110.
Data Protection (1998) Act [Online]
Available: http://www.legislation.gov.uk/ukpga/1998/29/section/2 [Accessed 04/07//2013]
Healthcare Improvement Scotland (2010) Blood Transfusion Pathway [Online] Available: http://www.healthcareimprovementscotland.org/previous_resources/implementation_support/blood_transfusion_record.aspx [Accessed 18/06/2013]
Health Improvement Scotland (2011) Using the Hospitalised Mortality Ratio to help improve patient care [Online] Available: http://patientsafety.etellect.co.uk/docs/Resources/HSMR%20guide%20for%20NHS%20boards%20v1.2.pdf Hospital Standardised Mortality Rates [Accessed 27/06/2013]
Information Services Division (2013) Hospitalised Standardised Mortality Ratios [Online] Available: http://www.isdscotland.org/Health-Topics/Quality-Indicators/Publications/2013-05-28/2013-05-28-HSMR-Summary.pdf? [Accessed 28/06/2013]
Jasper, M., (2013) Beginning reflective Practice- Gibb's reflective cycle 2nd Ed. Hampshire: Cengage Learning. Pp. 79-82
NHS Education for Scotland (2013) Patient safety [Online]
Available: http://www.nes.scot.nhs.uk/media/1705869/ipl_patient_safety_web.pdf [Accessed 26/06/2013]
NHS Institute for Innovation and Improvement (2013) SBAR:
Situation-Background-Assessment-Recommendation [Online] Available: http://www.institute.nhs.uk/quality_and_service_improvement_tools/quality_and_service_improvement_tools/sbar_-_situation_-_background_-_assessment_-_recommendation.html [Accessed 20/06/2013]
Odell. M., (2010) Are early warning scores the only way to rapidly detect and manage deterioration [Online] Available: http://www.nursingtimes.net/nursing-practice/clinical-zones/practice-nursing/are-early-warning-scores-the-only-way-to-rapidly-detect-and-manage-deterioration/5012030.article [Accessed 30/06/2013]
Odell et al (2009) Detecting Deterioration [Online] Available: http://www.healthcareconferencesuk.co.uk/presentations/downloads/Mandy_Odell.pdf [Accessed 30/06/2013]
Royal College of Nursing (2013) Patient safety: Human Factors-Communication [Online] Available: http://www.rcn.org.uk/development/practice/patient_safety/human_factors_communication [Accessed 30/06/2013]
Scotland Patient Safety Programme (2008) General Ward Driver Diagram [Online] available:http://www.scottishpatientsafetyprogramme.scot.nhs.uk/docs/presentations/GeneralWardDriverDiagram.pdf [Accessed 18/06/2013]
Scotland Patient Safety Programme (2008) SBAR Guide [Online] Available: http://www.scottishpatientsafetyprogramme.scot.nhs.uk/docs/sbarguide.pdf [Accessed 18/06/2013]
Scotland Patient Safety Programme (2010) News Letter, Issue 3: What's Happening Locally? [Online] Available:http://www.scottishpatientsafetyprogramme.scot.nhs.uk/docs/news/939/SPSP_news3_.pdf [Accessed 26/06/2013]
Scottish Government (2010) The Healthcare Quality Strategy [Online] Available: http://www.scotland.gov.uk/Resource/Doc/311667/0098354.pdf