Success in Luxury Watch Positioning of Breitling Watches
Published:
28 February 2016
Remember! This is just a sample.
You can get your custom paper by one of our expert writers.
Get custom essay
73 writers online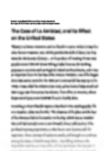 Breitling is a Swiss family business set up in 1884. This company has been providing high-technical watches for professionals in fields where need precise chronographs, especially aviation. Throughout more than 100 years,this company remains its competitive priority in Swiss watch brands. This contributes to its independent development in manufacture, as well as the characters of its instruments, say sturdiness, precision, and distinguished performance. Apart from this, this success of brand in recent rears mainly because properly analysis of marketing mix and appropriate choice of positioning. Concentrating on a delicate and luxury watch business, this company has detected the changes in market circumstances, and innovated to expand distribution channel and range of segmentation.
This paper aims to analysis the successful positioning of Breitling watches from aspects of marketing mix. Initially,this essay will present general situation Breitling is confronted with, followed by the positioning. Furthermore, the analysis of the 4Ps of marketing mix, including product, price, place and promotion, will be focused on. In this part, marketing tactics and comparisons between the competitors and collaborators are developed to demonstrate Breitling's fulfillment.
Situation and Positioning of Breitling
External environment change is essential to market decision-making process. Recent growth of economic and technology indicates three changes in positioning of Breitling: the developing technology, involving competition, and changing of customer needs in watch market. This company sensed this change of situation, and successfully modified its strategic market planning and marketing tactics. Developing of technology impacts product innovation, production and administration in distribution channels. Breitling kept optimizing the accuracy of chronographs and apply this technology to wristwatches. With the foundation of exquisite technology, Breitling showed its confidence in innovation of technology when modifying new features to adapt to expanded segment, for instance, the manufacture of 'Breitling01' caliber, power reserve used in Navitimer 01, 'Breitling73' caliber and functional pushpiece used for water resistance. The luxury watch segment was relatively more stable than other business.
This brand focuses on providing high-end and extreme accurate chronograph for high-status professionals who are striving for authority and preciseness. Confronting a fierce competition, companies need to recognize the diverse nature of marketing environment and identify their strength and weakness. This informed Breitling to change in two aspects. First, it should develop watches for enlarged scope of consumer groups to prevent uncontrollable and unpredictable nature of market. Technology is a core competence of Breitling. After built up the brand by the self-winding chronograph movement, this company expanded its business target market from fields of aviation, flight, and diving to worldwide travelling. In addition, the company should chase customers' ever-changing expectations after analyzing buying behavior, which is related to satisfy customers' requirements and enhance customer-supplier relationships.
Luxury products should satisfy customers with needs of financial capability, function, individual esteem and social relationship. Before purchase, customers need gather information to form a complex consideration. Professionals in military project and precision engineering require a sophisticated instrument to express professional attitude as well. They are longing for a watch to appeal the high performance, practical use, consumption excitement, and self-identity by integrating with symbolic brands. Breitling keeps investment in flying racings and aviation programs. This has set up strong brand awareness. Breitling suggests an attitude different from other brands in luxury watch business. Furthermore, Omega and Rolex are transforming the positioning of daily life, however, Breitling maximizes advertise on the persistence of precise timing manufacture. The line extensions Breitling has developed adhere to its operation principal, therefore gained the ability to distinguish itself. Among the main competitors, there may be no brands to compete with. Pilots, astronauts are easily informed with this brand and create aspirant or membership groups.
In order to match products more closely to customer needs, products of Breitling are segmented based on usage and character of customers' occupations. The target market centers on senior ranks or fanciers enthusiastic in precise instruments. Its customers, such as successful astronauts and pilot champions, want to demonstrate accomplishment and rigorous but stylish attitude. They are prepared to pay a premium for the symbols. The targeting is apparently different from main competitive brands working for more general consuming markets as to Hublot, Omega, and Tag Heuer. These competitors are tending to seize their market with aesthetic appreciation, fashion designs, or leisure affections respectively (Hublot, 2013; Omega, 2013; Tag Heuer, 2013). Breitling bears some resemblance with Rolex because they both heritage refined manufacture skills and may share overlapped market in watches for extreme deep-sea divers ('Superocean' series and 'Deepsea Challenge' in Breitling and Rolex respectively) and world travellers ('Avenger' series and 'Sky-dweller' in Breitling and Rolex respectively)(Breitling, 2013; Rolex, 2013).
However, new advertisements showed a distinct marketing orientation. In order to accommodate to mass market, Rolex gradually bring their sophisticated technology to life. It has noticed customers' inclination of enjoying hedonistic and high-end lifestyles. The brand even developed accessories and invested in public environment protections. However, Breitling may become too risky if targeting the same consumer groups. Core competence of this brand is developing ability of innovation products. The demand of industrialized market orientation watches in luxury watch market offers Breitling an opportunity; therefore it confines its product in watches. Although some models are more designed for daily use, the techniques used in different models are successive. Moreover, every watch keeps the original superior performance of chronograph, which is a classical feature of Breitling.
The focused attitude, enlargement of segmentation, and proper adjustment of positioning contribute the success of Breitling. Customers who share the same philosophy of precision and sturdiness associate themselves with the brand closely. The continuous breakthrough of technology in manufacture process chases the functional and psychological demand of changing high-end consumers. They could enjoy satisfaction through the product and services. To realize positioning, Breitling should adhere to a series of marketing tactics related to suitable product, price, distribution channel, and specialized communication methods. These four aspects interplay between each other, create the latest conception of Breitling brand.
The Realization of Positioning
Quality level should in consistence with the price. Breitling performed well in its durability. Rigorous tests in each stage through out production in casing and quality control procedures ensure the life span of each watch. These durable products last for a long period before replacement. To emphasis the commitment of the quality and confidence in its products and procedures, Breitling is offering a stronger guarantee. To enhance the security of quality, this company insists in training professional watchmakers in global-wide technical centers. Customers have set up a strong branding sense by purchasing the watches. This is a differential advantage of guarantee over its competitors. Except for the regular maintenance instructions, technicians are emphasized in customer service. The existence of technicians offers customers a guarantee of quality and in this way to strengthen functional and psychological benefits. An outstanding service after purchase is what luxury purchasers are striving for.
The appearance acts a crucial role in communicating with customers. Effective and thoughtful surface is recognized as a deliver of manufacture concept. Every special design of Breitling watches conveys a basic targeting of this family business- made for professionals with accomplishments. Different from possible jewelry decorated cases of Omega and Tag Heuer, cases of Breitling provide a more simplified and modest design. This is to maximum the protection from other impacts in extremely harsh working environment. Silver dials together with hands and black plates make a strong comparison. The design is not only giving a glamorous feel, but also ensure quick read-off. Sapphire crystal resist scratches and strong lights, therefore to ensure the optimal read ability. Theses features reflect the reliable performance for aviation, which is the original specific professional field Breitling has been served, thus to satisfy customers' functional and sentimental requirements.
Apart from a physically differential advantage in precision and sturdiness, Navitimer reveals a historical inheritance of cooperation character. 'Wrist chronograph' (Breitling, 2013) is continuously manufactured for 60 years. Even though other series of product is designed to enlarge the potential customer groups, the core technique has been inherited. The company is striving for customers' satisfaction with the core product. Subjective value has been added through the consistence tradition. Another feature of Breitling watches is the chrono-graph center hands with Breitling 'B's. Successive stages with the complicated finesse produced these delicate hands with Breitling standards. This provides easier product identification for customers and reliable product evaluations. Whenever customers notice the 'B's, they are informed of the strong technical strength. From a customer perspective, all of these visual images and features help to build a positive brand image and gain customer loyalty.
As has been discussed, Breitling covers the gap between industries and watches in luxury market. This is the core competence Breitling is competing for. A differential advantage Breitling has is the cooperation with aircraft and aviation manufacture. Chronographs, and labels on these flights demonstrate its remarkable quality together with heritage of manufacture. The perceptual map provides a degree of involvement in mass market in view of the degree of professional performance and price range in luxury watch market.
Breitling watches retail from $1,000 to $300,000 (Benet, 2010). Compared to other brands, price of Breitling is relatively high among these brands. This is reasonable when analyzed from customer's perspective of price. Breitling impressed consumers of the professional value, high performance. It has the technology to comply with research, development, and manufacturing. Therefore Breitling in most cases can satisfy desired requirements in function, quality, and operational ability. Components, materials, and after-sales service reflect the high quality of this product. This is exactly the intended position customers should perceive as well. A high price is acceptable form Enthusiastic fans' perspective because of the handicraft, innovation, service and brand image. "I think people will like what the watch represents–that the watch has the ability to go to 10,000 feet–even if they never actually use that feature. It has a mystique and a mystery that people will enjoy." (National Jeweler, 2002) Al Prather explained his affections for Breitling's Avenger Seawolf watch this way with strong personal perspective.
Breitling's watch can be purchased both in stores and official website. 90% latest models can be purchased from the retailors and boutiques (Benet, 2010). In recent years this luxury watch company successfully launched stores in America. This reveals Breitling's brand is intended to transform the specialist market to mass market, rather than simply collaborates with traditional manufactures where need a chronograph. To satisfy the demand of uniqueness, customers are available to customize and order special edition. These extension channels strengthen its position in the luxury watch market. Simultaneously this adds value for the customer alike to enhance customer loyalty. All movements (both mechanical and quartz) of Breitling will be submit to the harsh tests of the Swiss Official Chronometer Testing Institute to ensure precision and reliability of product. Breitling insists on manufacture in Swiss. This traditional exclusive distribution channel ensures quality and fit in with Breitling's exclusivity, say large investments in infrastructure, low density of demand, and high customer awareness. To establish high technical standard in regular maintenance service, Breitling sets up an extensive global service stations of authorized technical centers, and trained staffs to be exquisite watch technicians. These channels gradually increases price of each watch. However, this distribution channel conforms to the positioning of "efficiency, attentiveness, and professionalism" (Breitling, 2013).
To fulfill the positioning of target market, Breitling needs to consistently communicate with its customers. New product may be inspired from customers as well. For example, Transocean chronograph, a limited edition, is inspired by Fifties aviation (Benet, 2010). This watch manufacturer has stepped forward to gain more initiatives in marketing communications. As have analyzed above, Rolex and Breitling are attempting to segment itself to mass market. Rolex is prominent in prestigious, established and wealthy individuals. Recent years a new advertisement was published to stimulate younger and lower position consumers. Simultaneously, Rolex seized markets in Asia. Consumers in Asia, particularly in China, are longing for affluent western lifestyles (Zhan & He, 2011). This is more common in young generation. Asian consumers are familiar with Rolex; therefore it is a chance to expand its market there. However, this will not be a reasonable segmentation for Breitling. A barrier for Chinese market is a balance between Chinese values and Western cultures. Chinese potential customers are difficult to identify luxury brands because of the limited experience and concept (Kapferer & Bastien, 2009; Vigneron & Johnson, 2004). This watchmaker is not ready enough to fit in the Asian consumer's consumption concept. Unlike Asia, American market has more potential to influence the global market.
The amount of money Breitling spend in USA market is the second to Rolex in 2010. In the same year, Breitling opened its first store in the USA. It pushed its product to public to ensure customers know the character of Breitling. In the meantime, this brand keeps support for aircrafts and aerospace industry. It has arranged or supported a series of flight competitions with the brand of Breitling for years (such as 2013 Breitling TV commercial "Air Race"). In this way pilots or astronauts would become more loyal to Breitling. For example, pilots become intrinsically associate themselves with Breitling brand and unconsciously aspire sentimental link between themselves with traits the brand reflected when wearing the watch. Loyalty is enhanced when cooperating with pilot celebrities. In addition, the alliance with Bentley marks a new attempt in repositioning. This modification allows Breitling move to a more fashionable and luxury segmentation. Bentley is more famous a brand to mass market, and owns more enthusiastic customers. These customers are more easily to purchase the watch to match luxury vehicles, which provides more customers and more market shares in luxury watch market.
Conclusion
This essay critically explores the marketing mix in fulfilling positioning of Breitling watches. This company has rationally considered a series of complicated dimensions and performed marketing tactics to achieve the positioning. It has formed specific position among luxury watch watchmakers with the competitive advantage. Breitling heritages the traditions and initially makes more essential customers share the concept of professionalism. It has the advantage of techniques, professional attitude and brand image. In repositioning process this company increased more involvement with customers through marketing communication. In conclusion, this is a turning point for Breitling when pushing its products to relatively general luxury market. Breitling has successfully repositioned itself and satisfied customers' demand.
Bibliography
Benet, L. (2010). "Breitling Opens First Store", WWD: Women's Wear Daily. 12/20/2010, Vol. 200, Issue 128, p10-1. 1p.
Breitling. (2013). Available at http://www.breitling.com/en/. Assessed 23/11/2013.
Hublot, (2013). Available at http://www.hublot.com/en_US/. Assessed 23/11/2013. Kapferer JN, Bastien V. The Luxury Strategy: Breaking the Rules of Marketing to Build Luxury Brands. London: Kogan Page; 2009. National Jeweler. (2002). "New Breitling features water resistance of 10,000 feet.", National Jeweler, 9/16/2002, Vol. 96, Issue 18, p38. 2/5p.
Omega. (2013). Available at http://www.omegawatches.com. Assessed 23/11/2013. Rolex. (2013). Available at http://www.rolex.com. Assessed 23/11/2013. Tag Heuer. (2013). Available at http://www.tagheuer.com/int-en/home#/int-en-home. Assessed 23/11/2013. Vigneron F, Johnson LW. Measuring Perceptions of Brand Luxury. J Brand Manag 2004;11(6):484–506. Zhan, L., & He, Y. (2011). Understanding luxury consumption in China: Consumer perceptions of best-known brands. Journal of Business Research, 65(10), 1452-1460.