Summary Response paper
Remember! This is just a sample.
You can get your custom paper by one of our expert writers.
Get custom essay
80 writers online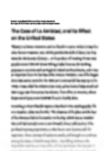 Summary Response Paper
Jeffrey Rosen, a law professor at George Washington University goes into detail about how the never forgets what has been posted online. A social media user can never be too careful when it comes to posting online. In "The Web Means the End of Forgetting" written by Jeffrey Rosen and published in The New York Times on July 21, 2010, Rosen writes about an unfortunate event that happened to a student teacher in a high school in Pennsylvania in 2006.
Besides putting pictures, statuses or even blogs on any type of social media, people need to keep in mind with what others are uploading about them. Recent studies have shown that if someone rated a movie or show on Netflix between the years of 1999-2005, researchers were able to find people in the system and see what type of movies they prefer. There have been discussions about have "expiration dates" on Facebook, making events disappear after three days or even months unless the user specified that he/she wanted it to say on there for a longer period of time.
At the University of California there was a study released in April that majority of people between the ages of 18 and 22 said there should be a law created to require websites to erase all stored information about individuals that would give out any information about those individuals. If only this was thought of seven years ago it could have saved a Pennsylvanian high school student teacher her teaching degree. At Conestoga Valley High School in Lancaster, PA student teacher Stacey Snyder, 25 at the time of incident, was let go from her position at the high school and was denied her teaching degree only a few days before graduation due to a "drunken pirate" photo found on her MySpace page which was brought upon by her supervisor at the high school.
He told Snyder her photo was "unprofessional." Although, the photo was taken after-hours and at an off-campus party while being of age, she still was denied her teaching degree from for setting a bad example for her peers at the high school and for the younger generation in general. Many instances have occurred to others while posting online. 16-year-old British girl complained on Facebook about how boring her job was and not shortly after, the girl was fired. A 66-year-old Canadian psychotherapist was turned away at the bored and forbidden to visit the country after being online searched by the border's guard and found that 30 years ago, the therapist wrote an article on his experience with LSD, even though it was a philosophy journal.
It only takes one post, status, blog and a picture to ruin a career or keep one from being hired at a job. Unfortunately for Stacy Snyder, she didn't think about having the picture was a problem, she was wrong. It takes only one mistake to ruin something great and until researchers develop a way to delete this web's history be careful of what is being put online.
Work Cited
Rosen, Jeffrey. "The Web Means the End of Forgetting." New York Times. 20 July 2010. Print.