SWOT Analysis of Apple Inc.
Remember! This is just a sample.
You can get your custom paper by one of our expert writers.
Get custom essay
72 writers online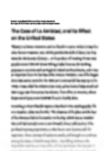 History of Apple Inc.
Since its inception in 1976, the Cupertino headquartered multinational has recorded massive growth beyond the manufacture of personal computers. It has become a leading player in designing and marketing consumer electronics, computer software and distribution of digital media content. Although experiencing a period of wobbling sales of its personal computer line and ousting of Steve Jobs in 1985, the acquisition of Next in 1996 marked a turnaround for the company. With Steve on board, the CEO led a corporate philosophy of prioritizing recognizable products and simplicity in design that has established Apple Inc., a defining brand through its revolutionizing mobile media products and computing devices (Gupta & Prinzinger, 2013). In today's information and technology sector, Apple Inc. is arguably among the most innovative organizations incorporated in the last four decades.
Although being an information technology giant that brought to the market products and services that revolutionized the global consumer markets, Apple's success emerges from integrating innovative technology with Steve's visionary personality, emphasizing corporate secrecy and simplicity of project teams in product design (Mallin & Finkle, 2011). The success story of the corporation is attributed to its milestones in the second reign of Steve, including the world's second largest information technology company by revenue, the third largest mobile phone maker, and the most admired company from 2008-2012 (CrunchBase, 2014).
SWOT Analysis
Performing a SWOT analysis involves the evaluation of a company based upon its internal strengths and weaknesses, alongside external opportunities and threats to obtain detailed perspective of its future.
Organizational Strengths
Innovation
The information and technology environment demonstrate a climate of accelerated growth with competitors striving to accomplish better product portfolio through innovation. Apple accomplishes innovation through relentless questioning, re-imagining and iterating on every aspect of the product through design, development and marketing, to distil it into a form, which directly meets their customers' needs (Webb, 2012). This innovation culture enables the company design and market revolutionizing products despite facing tougher competition every dawn. This culture being nurtured since its inception enables the company to sustain its momentum by working simultaneously on hardware, software and services that derive great customer experience (France-Presse, 2013).
Innovation sustained through proactive orientation enables the company to avoid instances, it would experience complete out-performance of agile competitors. Consequently, the company emphasizes incremental innovations and the extension of its product line to exploit emerging market gaps and yield optimum customer experience. The secrecy core emphasized by Apple philosophy, sustains a creative atmosphere within the company through secretive competition between project teams. Clarity of focus by the Apple Design Teams enables the project members to go to extreme lengths in solving the most intricate of problems and devote to detail that leads to the holistic product experience (Webb, 2012).
Against the contemporary feeling that innovation yields solutions to challenges facing the organization, Apple sustains real discipline and genuine appetite for attaining better products and services, which involves focusing on end users in the entire development process. Given the modern age of omnipresent innovation, Apple's think-different image enables the company to introduce market-disrupting products by focusing on innovations that suit the consumer market it understand and the creative market it focuses upon (Ezop, 2011). Although competitors are also innovative, the creative ferment of its products including the iPod, Mac Pro and iOS7 demonstrate Apple's innovative culture, a core competence driving it towards future success.
Design
With competitors working hard to roll out the unique design in their products, Apple derives its reputation from its products that generate incredible brand loyalty. The company sustains this through handpicked design teams that commit on a mentality that extend beyond the completion of the project within the stipulated time. Here, the company nurtures a collaborative environment and commitment of different teams in exploring new realms of possibility, and refine all parts of the development process to deliver a superior solution (Webb, 2012). Considering the endless competition posed by rivals such as Nokia and Samsung, Apple sustains its large customer-base by striking back with products that revive its design space. The company manages this through product-line extensions and incremental innovations that provide a makeover such as the iOS7 owing to its unique multi-layered and translucent experience aimed at wowing end-users getting bored with iOS (Tokerud, 2013).
Emphasis on unique design space in Apple sustains the company's reputation that attracts huge customer loyalty. With its customers desirous of high-end products, the company achieves this by assembling a design team of immense talent to sustain its reputation of quality digital media and computing devices. For instance, Apple's defining qualities are about using: ease and simplicity with an intense focus on reducing the element down to its most simplistic and essential basis (Webb, 2012). The company accomplishes this through repeated prototypes by reworking on the product's tiny details. This translates into a distinction channel that facilitates the company's innovativeness right from its research centres to the marketing of its products. Similarly, Apple leadership in the design space furthers the Apple culture of innovation, which attracts customer loyalty demonstrated in strong financial performance (Jurevicius, 2013).
Organization Weakness
Premium Pricing
Apple Inc. carves out a market position through its premium pricing strategy attributed to its quality-packed products and unique designs. While the company markets its products viewed as high-end devices to generate the best customer experience, it risks losing out its market share to competitors riding high with cheaper products using the Android operating system. Considering the tough economic times strangling the disposable incomes of consumers, Apple risks losing loyal customers in India and China as they switch to cheaper brands from competitors (Jurevicius, 2013).
Although the company leverages its economies of scale, it continued innovation, resulting in packaged products that attract premium prices that barely factor in the customer financial affordability. This forces customers to seek cheap substitutes from competitors.
Incompatibility of Apple Operating System
Apple products operate through unique hardware and software system that is exclusively compatible with its product series. In this regard, end users are limited to Apple products and experience hostage, as they cannot integrate with products from other manufacturers, unlike their counterparts using Microsoft operating systems. This restriction is unpopular in consumer markets gearing towards global integration, thus the preference to stay accustomed to competitors' products including Microsoft and Intel product lines. This leads to stagnant market share with potential to decline as Apple cannot influence its potential customers and persuade them to jump into using Apple's closed ecosystem products, thus a long-term gross margin decline (Jurevicius, 2013). Switching to product lines compatible with selected products from other manufacturers would protect the erosion of its market share.
Organization Opportunities
Explosive Demand of Smartphones and Tablets
The desire of consumers to embrace technological advancements that enable them to derive maximum output from their mobile and computing devices is driving an explosive demand of smartphones and tablets. In a dramatic sign of how consumer tastes have shifted to new, more exciting wireless products, global factor revenue for smartphones and tablets are rising every year as end-users find more value in their versatility and usefulness (Segundo, 2013). As these products drive the demand for smart-connected devices (SCD) segment following consumers switch to detailed usage patterns, it opens opportunities for tablet and smartphone manufacturers. Considering that the market is still experiencing its accelerated expansion period, Apple should exploit such opportunities by diversifying its tablet and smartphone lines through market-oriented approach to sustain and improve its sales revenue.
Growth in Mobile Advertisement
The global demand of mobile advertisement is accelerating in tandem with the mass penetration of mobile phones across the world. This arises in the wake of global interconnectedness in the information era owing to the technological advancement leading to affordable communication gadget. This presents an opportunity for mobile advertisement channels as most organizations seek to retain direct contact with their target customers. This is a dual-win opportunity for Apple to further the penetration of its smartphones and seize advertisement through its iAd advertising platform (Jurevicius, 2013). As the company incorporates iAd in its closed ecosystem of its product lines, this would translate into revenue sources given the personal relationships mobile users establish with their phones. Entry to this mobile advertising segment would mark a new source of revenue as companies embrace iAd advertisement channel to reach their consumers.
Threats
Rapid Change in Technology
Today's environment is driven by rapid technological advancement that threatens its existing comparative advantages. This has made it easy for other technology-based companies embracing the latest techniques release better products every day, faster than Apple would change its product lines. Allowing that, companies that fail to keep abreast with the competition have seen their revenue lines decline as customers switch to cheaper and better products that yield more satisfaction for them, Apple may soon fall a victim. Although Apple's success is based upon innovative products, adoption of substitute products such as Android by its rivals make its introductions have insignificant impact in the highly competitive market (Jurevicius, 2013). Particularly, the penetration of the Android operating system drains the power of iOS power, thus reduced revenue where Apple cannot influence consumers purchase its products.
Agile Competition
The company operates in highly competitive segments where competitors are striving to outsmart each other through latest innovative designs. In particular, Apple faces threat from growing presence of reprisal products and services from Nokia, Google and Samsung companies as they gear towards market expansion. For example, Nokia is trying to inject fresh momentum into its smartphone strategy with product releases that answers the iPhone domination (Parker & Ward, 2009). This would consequentially reduce revenue as other companies adopt a similar strategy, besides the entry of new operators in the Apple-dominated segments. Considering the looming pressure from Samsung's over key components translating into higher prices for its application processors, Apple faces rising production costs that could further erode its long-term profit margins, already experiencing gradual erosion by the penetration of rivals' products.
Summary
Extension of the product lines under its simplicity and leadership design strategy enables Apple to sustain its tremendous growth in the information-technology and consumer electronics sector. Although diversification of the company's product portfolio to incorporate digital media and mobile products attracts huge revenue, customer focus in its products has grown Apple to the most valuable organization. Unlike its rivals, Apple applies a unique philosophy of better innovation and its lead in the design space to further its brand reputation that translate to stronger financial returns.
However, the company must weather down stiff competition from rivals such as Samsung, Nokia and Microsoft through high-end innovations. Furthermore, diversification to exploit opportunities such as mobile marketing channels and unsaturated SCD markets would yield more revenue. Unless Apple keeps pace with the technological advancements such as Android easing the release of products by its rivals, restricting its loyal customers to a closed ecosystem of its products is never enough shielding to its long-term sustenance of its brand reputation.
References
CrunchBase. (2014). Apple. Retrieved January 08, 2014 from http://www.crunchbase.com/company/apple Ezop. (2011). The Patterns of Successful Innovation. Retrieved January 08, 2014 from http://www.ezopandassociates.com/nwsltr201109.html France-Presse, A. (2013). Apple's 'magic' and innovation its biggest strength, says CEO Tim Cook. Retrieved January 08, 2014 from http://gadgets.ndtv.com/mobiles/news/apples-magic-and-innovation-its-biggest-strength-says-ceo-tim-cook-330109 Jurevicius, O. (2013). Strategic Management Insight of Apple. Retrieved January 08, 2014 from http://www.strategicmanagementinsight.com/swot-analyses/apple-swot-analysis.h
tml Mallin, M. L., & Finkle, T. A. (2011). Apple Inc.: Product Portfolio Analysis. Journal of the International Academy for Case Studies, 17(7), 63-74. Parker, A., & Ward, A. (2009). Nokia chief pledges assault on Apple in war of the smartphones. Financial Times. Segundo, E. (2013). Combined Smartphone and Tablet Factory Revenue to Exceed Entire Consumer Electronics Market This Year. Retrieved January 08, 2014 from http://press.ihs.com/press-release/design-supply-chain-media/combined-smartphone-and-tablet-factory-revenue-exceed-entire Tokerud, J. (2013). Apple Strengths and Weaknesses 2013. Retrieved Janaury 08, 2014 from http://www.tokerud.com/apple-strengths-and-weaknesses-2013/ Webb, J. (2012). 10 Success Principles of Apple's Innovation Master. Retrieved January 08, 2014 from http://www.innovationexcellence.com/blog/2012/04/30/10-success-principles-of-apples-innovation-master-jonathan-ive/