Teachers Meeting Standards
Published:
22 February 2016
Remember! This is just a sample.
You can get your custom paper by one of our expert writers.
Get custom essay
85 writers online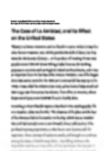 In todays society of teaching, teachers are expected to inspire students even as they help them succeed and get good grades on difficult tests. Teachers are now held capable of assessing students abilities to meet a variety of different standards. Also, another main focus in teaching and meeting specific standards is professional development and the steps they take in evaluating teachers on their job. In the first main standard that is being focused on is standard #9: Professional Learning and Ethical Practice. "In this standard it describes how the teacher engages in ongoing professional learning and uses evidence to continually evaluate his/her practice, particularly the effects of his/her choices and actions on others (learners, families, other professionals, and the community), and adapts practice to meet the needs of each learner. The second main standard is standard #10 which describes leadership and Collaboration. This is when the teacher seeks appropriate leadership roles and opportunities to take responsibility for student learning, to collaborate with learners, families, colleagues, other school professionals, and community members to ensure learner growth, and to advance the profession."
(CCSSO)
Traditionally, educators haven't paid much attention to evaluating their professional development efforts. "Many consider evaluation a costly, time-consuming process that diverts attention from more important activities such as planning, implementation, and follow-up. Others feel they lack the skill and expertise to become involved in rigorous evaluations." (Guskey) Good evaluations don't have to be complicated. They simply require thoughtful planning, the ability to ask good questions, and a basic understanding of how to find valid answers. "What's more, they can provide meaningful information that you can use to make thoughtful, responsible decisions about professional development processes and effects."
(Guskey)
Effective professional development evaluations require the collection and analysis of the five critical levels; participants reactions, participants learning, organization support and change, participants use of new knowledge and skills, and student learning outcomes." (Guskey). With each succeeding level, the process of gathering evaluation information gets a bit more complex. And because each level builds on those that come before, success at one level is usually necessary for success at higher levels.
In standard nine it talks about how the teacher should continuously learn and seek new opportunities to grow professionally. A teacher not only teachers students. They learn from them. "Teachers have to evaluate their students as well as themselves. A teacher needs to think about and reflect on his or her actions in the classroom and how they affect the students in the classroom." (Danielson) "Each decision a teacher makes will affect the students in their room. This is something that teachers have to think about on a daily basis." (Parkay) This is also something that can be taken into consideration when lessons are taught." (Burden) "Teachers have to reflect on what works and doesn't work so that they can make changes. They also have to know their students so that they can adapt lessons and activities to work with their students. A teacher needs to constantly evaluate how his or her actions affect those around them." (Furtwengler) They need to look at how things do and do not work in their classroom and how they need to change or modify them to work and be most effective.
The last thing I found most important about this standard is that teachers also need to seek opportunities to grow professionally. There are always things that teachers can do to help better themselves and their students. There are conferences and college courses. These are just a few of the things out there to help teachers further their professional development. By seeking out these opportunities you are improving your education and also learning ways to help you become a more effective teacher. In the end this will also help your students learn better. This is important to me because as a student in middle school and High School, I never had help from teachers, or never had teachers who wanted to help me learn better.
In standard number ten I believe everything is important. As a teacher you work with students. You also work with others. "You work with parents, colleagues, professionals, and various agencies in the community. You work with all of these individuals in a cooperative manner." (Lahey) "You have to realize the importance of your relationships with these individuals. A collaboration with these people is essential to providing your students with a good, quality education." (Danielson) "As a teacher you also have to strive to connect the school and community. You can send out letters and newsletters. You can also hold and/or participate in various events that will connect the school and community. You can host events that show the community what the school is all about and how important it is for the education of the children to have a supportive community."
(Mendro)
On another note for standard ten that I believe is ignored quite often without realizing it, is cultural backgrounds and experiences form a person's cultural identity. Everyone has a cultural identity and that is evident when you are working with different individuals. It shapes how people interact with the world. Different community members and events can be essential to helping you learn about the community you are working in. It will teach you about the culture of your students and how to interact with them and teach them. Exposure to these events can be very important to you as a teacher. Not including peoples backgrounds won't meet the standards which means you can't be the best teacher for you're students and that is not what I want in the future.
While researching Michigan's Teacher of the Year, I came across Grosse Pointe's Science teacher named Gary Abud. He is a science teacher at Grosse Pointe North High School, with six years of classroom experience, was selected from among 16 regional semifinalists statewide. "Teachers play an incredibly influential role in the lives of our children, helping to nurture their minds for learning and preparing them for success," said Gov. Rick Snyder. "We honor Gary Abud as Michigan Teacher of the Year for his outstanding work in the fields of math and science – areas that are critically important for the technological age of today and jobs of tomorrow. This award also highlights the tireless dedication teachers have for their students and profession, which benefits all Michiganders."
Flanagan, State Superintendent, congratulated Abud on this recognition, saying, "Gary displays every day in his classroom what great teachers in Michigan do – lead by example and help every student find the ways to learn. He sets a high standard not only for himself, but for his students and fellow educators. "He has followed his passion to continue learning and share what he learns with others," Flanagan said. "I cannot think of a greater gift a person can give to Michigan's next generations." Flanagan noted that Abud will carry on the valued tradition of Michigan Teachers of the Year who have shared their teaching knowledge, expertise, and skills with educators across the state.
I also researched the finalists for Teacher of the Year in the Unites States as a whole and found four finalists for 2014. "The first is Dorina Sackman who teaches both 8th grade English for Speakers of Other Languages, and Advancement Via Individual Determination (AVID) at Westridge Middle School in Orlando, Florida. She has been an ESOL educator for more than 15 years, in elementary, middle and high schools in Florida and Massachusetts." (Dando) "My passion drives me," Sackman said. "I educate children to communicate in English while celebrating every single one of their cultures. As a result, they too have become fueled by knowledge and armed with a voice." "Sackman encourages students to volunteer to help others outside of class through running 5Ks with her for local charities and projects like the student-run Unique Boutique, a donated clothing store for families in need. Sackman serves on the boards of the Foundation for Orange County Public Schools and The Florida Education Foundation."
(Dando)
The second finalist is Sean McComb. "He is a high school English and AVID teacher at Patapsco High School & Center for the Arts in Baltimore, Maryland. McComb has more than seven years of experience teaching, and is serving this year as a staff development teacher at the school. He also prepares other teachers for the classroom, as an adjunct instructor in education and writing at Towson University." (Dando) "I work to engage my students and push them to achieve the excellence within them," said McComb. "I expect my students to leave my room better readers, writers and thinkers, but I also hope they leave as better people." "McComb has won several awards, including being named a Capital One Community Champion and being recognized by Baltimore County for his outstanding leadership of the AVID College Preparatory Program. He belongs to several professional organizations, including the National Council of Teachers of English. "
Ryan Devlin is finalist number three. "He is an 11th-grade English and 9- 12th-grade technology teacher at Brockway Area Junior/Senior High School in Brockway, Pennsylvania, where he has taught for seven years and serves as head of the English department. Devlin also serves as the school's head cross country coach and the senior high gifted advisor. He is an active member of the Pennsylvania State Education Association, National Education Association, and the Brockway Area Education Association. Outside of school, he frequently speaks at state conferences and college campuses and is a cooperating teacher for Clarion University's student teaching program. Devlin also helped write Pennsylvania's new Core Standards English Language Arts Curriculum and over the years has won multiple grants for his innovative use of technology in the classroom." (Dando) "Today's children will indeed become tomorrow's leaders, so we must teach them ways to find creative solutions to complex problems through collaborating with others and making the best use of technology," Devlin said.
The last finalist is Melissa Ann Porfirio is a first grade teacher at Crestwood Elementary School in Springfield, Virginia with more than eight years' teaching experience. "My personal mission is to better understand the whole child," Porfirio said. "I am committed to creating a classroom community that supports students' learning and maximum potential." "A member of the Fairfax County Federation of Teachers, she has received several awards, including the Virginia Teachers of Promise Award and the Educational Testing Service (ETS) Recognition of Excellence. Porfirio is involved in staff development training through her role as cohort facilitator and committee chair for Responsive Classroom training, and as a mentor to two first-year teachers."
After reading over what these teachers have done to get to be in the finalist for Teacher of the Year throughout the whole United States is a really touching feeling. I believe they all have wonderful ways of teaching. To me, I believe to win this award you need to have the teaching qualities that all of them have and put them together. Like in both of the standards described, teaching isn't just about teaching the students. There is way more to teaching then just that, and to be a successful teacher you need to be able to contribute to the students and others in more ways then just helping them learn.
In the future, I will continue to seek opportunities for professional development in the school as well as outside the school in order to improve upon my teaching practice. I will also seek resources in the form of teacher-mentors to help guide me in my first year of teaching and beyond, in order that I might become the most effective teacher possible for my students. I understand that teaching is an ongoing learning process, and that it is my responsibility to seek out help and feedback as well as participate in constant self-reflection if I am to give my students engaging learning experiences.
I understand that I am responsible for setting an example for my students that I would be proud for them to follow. I know that I can be most effective when I reach out to families, colleagues, and the community. This is a good approach to help our community be well productive and smart. I understand that by setting a positive example that I touch the lives of students, their families, and perhaps future educators as well.
References
Peer reviewed:
Burden, P.R. & Byrd, D. M. (2010). Methods for effective teaching: meeting the needs of all students (5th ed.). Boston, MA: Allyn & Bacon.
Council of Chief State School Officers. (2013, April). Interstate Teacher Assessment and Support Consortium InTASC Model Core Teaching Standards and Learning Progressions for Teachers 1.0: A Resource for Ongoing Teacher Development. Washington, DC: Author
Furtwengler, C.B (1995). State Actions For Personal Evaluation . [Electronic version]. Education Policy Analysis Archives, 3:4, 2-27.
Guskey, T.G (2002). Evaluating Professional Development. Educational Leadership, 9.6, **Pages**. Retrieved from ASCD
Mendro, R.M (1998). Student Achievement in School and Teacher Accountablity. Personal Evaluation in Education, 12:3, 257-267. Retrieved from Kluwer Academic Publishers.
Parkay, F.P (1999). Becoming a Teacher. [Electronic version]. Voices From the Field, 9, 1-14.
Non peer reviewed:
Dando, K.D (2014) CCSSO. Retrieved March 11, 2014, from http://www.ccsso.org/News_and_Events/Press_Releases/Finalists_for_Nation's_Top_Teaching_Honor_From_FL_MD_PA_and_VA.html
Danielson, C.D (2007). Enhancing Professional Practice. Alexandria, VA: ASCD. Retrieved from http://books.google.com/books?hl=en&lr=&id=QTOIcGgyLCoC&oi=fnd&pg=PR5&dq=teachers+meeting+intasc+standards&ots=QbmeIwY4o&sig=DR2KPGWBT87jSYuzX0L_ku7Xk0Y#v=onepage&q&f=false
Flanagan, M.F (2013) Michigan Department of Education. Retrieved March 14, 2014, from http:/http://www.michigan.gov/mde/0,4615,7-140-37818_34790-304371–RSS,00.html
Lahey, J.L (2008) INTASC Standard 10. Retrieved March 11, 2014, from http://jamielahey.wordpress.com