Technology and Restaurant Business
Published:
23 September 2015
Remember! This is just a sample.
You can get your custom paper by one of our expert writers.
Get custom essay
88 writers online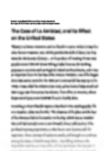 Technology is broadly defined as the entities i.e. both material and immaterial, brought about by the application of mental and use physical effort so as to achieve some value. In the usage form technology refers to tools and machines that are usually used to solve real-world challenges and problems (Hendee & Ubaydli, 2008). Tools and machines must not be material in respect to technology it also includes virtual technology, computer software's and business techniques and methods. Technology can revolutionize and change the way things are done. Technology to be more specific has an enormous impact in business, in any particular sector and business.
Consumers are strongly relying on tablets in an increasing wide range of activities and behaviors. The familiarity and convenience of using tablets amongst the consumers is a strong driving force in regard to bringing new trends in the food service industry. This paper centers on the revolutionizing technology and use of tablets to the restaurant business or the food industry at large (Singh, 2008). It outlines the specific results of use of the tablets in the restaurant business. Technology evolves business in very many ways such as in enhancing the efficiency in the business, ensuring that the business is well organized, cutting or reducing costs and enhancing good customer service.
Adoption of the tablets by the restaurants has been rapidly growing from one month to the other with the tablet developers reporting a 35 percent growth rate ever month. The restaurants are using tablets in a variety of ways with the main objective of using them being to enhance the convenience and the level of interaction they do provide to the guests (Singh, 2008).Use of the tablets by the restaurants helps to ensure that the food service customers can surely create a very close connection with this technology already manifested in everyday lives.
Hotel or restaurant connectivity to the internet and access of the internet by today`s consumers is expected from any particular place that the customer may be at which is very key to doing business. As the technology continues to evolve at times people has many devices that need more bandwidth leading to increased expenses for the hotel operators as they strive to meet their guests' demands and accord them the expected experience (Cockerell, 2013). Various hotels provide WI-FI connections to their customers as a result of increased use of tablets and other portable internet connectable gadgets. However, as they do so, they will need to ensure good connectivity even though they are providing it for free. This will improve the reputation and image of the company and also lead to increased customer satisfaction.
Changing technology has led to the invention of the cloud-based technology and instead of hotels and resorts using servers which is a bit more expensive these hotels and resorts can move their infrastructure to the cloud leading to savings financially and improved operations benefits. Tablets and mobile phones can access these systems pretty well also increasing the efficiency and productivity in the organization`s business (Hendee & Ubaydli, 2008). Servers are more costly to use taking into considerations the required storage, installation and maintenance costs. Consequently, Interstate Hotels & Resorts have decided to move their infrastructure to the cloud.
The Android applications world has also led to a change in the restaurant business this is through the development of Android applications to use in hotels, restaurants or the food service at large (Hendee & Ubaydli, 2008). These applications are used in tablets to ensure order, efficiency, and cost reduction and of more important to enhance convenience and comfort amongst the customers. Android applications generated for the restaurants include the E-menu. It is also referred to as a menu pad. It is a special menu that has a variety of different dishes and their prices. The menu gives the customer a chance to ask questions in regard to the foods and services that are usually offered and also a chance to order their desired foods, drinks or request for service (Singh, 2008).
Tablets seem to stay since they are having a visible transformational effect on the restaurants' experiences with serving guests in a cool way. As a result, tablets are not just another fad that will fade away quickly (Hendee & Ubaydli, 2008). Their impact ranges from fine dining to enhancing interactions as through the use of the aforementioned tablet menus deployment and having installed tablets at tables allows the guests to interact with these menus, place orders, pay bills and also perform a wide range of other self-service functions. Similarly, restaurants are exploring the possible use of promotional content and pay-as-you-go games. The latter furnishes the customer with entertainment or customer engagement opportunities or as the guests waits for their food to be brought. These kinds of activities bring about bottom line improvements by leveraging the customer experiences so as to increase their loyalty (Hendee & Ubaydli, 2008).
Hotel connectivity is the other effect of the change in technology and use of tablets, today there is a high hotel and restaurant connection which can be termed as "The hyper-connection" between different hotels both in the same area and also in different locations. Due to this connection the food service industry becomes more powered, exchange of cultures and valuable information is also achieved (Singh, 2008). Besides more value, the welfare of guests or customers is well facilitated and coordinated and the clients are able to move without hassle. It happens when the lodging technology is well established and used. This is mostly achieved through mobile and tablet web bookings as customers and hoteliers continue to prioritize more on mobile and tablet use. Besides, restaurant guests can enjoy free internet connectivity to assess the web and the social media thereby promoting web traffic and bookings (Cockerell, 2013).
As a wrap up, it is very evident that the changing technology and specifically in regard to the increasing use of tablets has in a great and mighty way affected and changed the food industry or the Restaurant business. Any restaurant that ignores the use of this technology will loose out in terms of customers, the amount of sales made and its overall market share at large (Cockerell, 2013). ICT or Information and communication technology at large can be a great tool towards growth, development, increased business opportunities and better service delivery to the clients. From this paper it is clear that incorporation or use of this technology regarding the tablets has brought about efficiency in the food service industry, reducing wastage and spoilage (Hendee & Ubaydli, 2008). In addition, through this technology there has been more access by people and customers to the services offered and also giving of quality service to the already existing customers. To the sector this technology has gone a long way to saving the industry money by leading to use of less energy especially when the cloud technology is applied and also leading to increased incomes and profits.
References
Cockerell, L. (2013). The customer essential rules for delivering sensational service using Technology. (Unabridged. ed.). New York: Crown Business.
Hendee, S. S., & Ubaydli, M. (2008). Handheld computers for chefs. Hoboken, N.J.: Wiley.
Singh, R. P. (2008). Computer applications in food technology use of spreadsheets in graphical, statistical, and process analyses. San Diego: Academic Press.