Technology Helps Starbucks Find New Ways to Compete
Remember! This is just a sample.
You can get your custom paper by one of our expert writers.
Get custom essay
87 writers online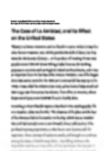 1. Analyze Starbucks using the competitive forces and value chain models.
The environment in which the specialty coffee industry had to compete during the 2008 was made up of cheaper fast food chain and global economic downturn. Compare with McDonald's and Dunkin' Donuts, Starbucks offers a unique experience: high-end specialty coffees and beverages, friendly and knowledgeable servers, and customer-friendly coffee shops. However more and more customers complain that the Starbucks lost their hip and local feel. Under this circumstance, the new entrants are much more easy to enter the specialty coffee area, because Starbucks would generally lost their specialty in coffee industry, and coffee industry does not put a high premium on economies of scale. The primary substitute products posing a potential threat to specialty coffee were the caffeinated soft drinks produced by Pepsi and Coca-Cola. Competitors like Pepsi and Coca-Cola offered beverages, which had the caffeine inherent in specialty coffee, at significantly lower prices. (Quelch, 2006) Since the taste of the customers never discount, Starbuck need to refine their product and service quality. Moreover, with the development of the technology, Starbuck customers would require intelligent IT support during their consumption. Thus the suppliers of Starbucks has branched out to app suppliers and IT industry suppliers. In order to deal with the profits plunge in 2008, Starbucks decide to overhaul its business using in store technology, aggressive product differentiation strategy and lean their management and working processions.
By using the in store technology, Starbucks district managers can do most of their work sitting at a table in one of the stores they oversee. To enhance human resource, Starbucks created a 10-person "lean team" whose job is to travel the country visiting franchises and coaching them in lean techniques made famous by automaker Toyota's production system. To save the time the employee to make a drink, Starbuck set out to streamline the business processes used in each of its stores so that baristas do not need to bend down to scoop coffee, cutting down on idle time while waiting for coffee to drain, and finding ways to reduce the amount of time each employee spends making a drink. Thanks to the improvement of technology, human resource, procurement and firm infrastructure, Starbucks elevated their support activities and expend their margin.
2. What is Starbucks' business strategy?
Assess the role played by technology in this business strategy. First, the company has revamped its in-store technology and sought to integrate its business processes with wireless technology and the mobile digital platform. Also, rather than copy the practices of competitors, Starbucks pursued a more aggressive product differentiation strategy, intended to emphasize the high quality of its beverages and efficient and helpful customer service. At the same time, however, Starbucks also focused on becoming 'lean', like many of its competitors, eliminating inefficiency wherever possible. 3. How much has technology helped Starbucks compete? Explain your answer. The technology helped Starbucks increase the in-store presence of district managers by25 percent without adding any extra managers. And the use of digital mobile platform and Wi-Fi make Starbucks welcome among customers.
In Action:
1. What functions are provided by the Web site?
The website of Starbucks provides their company cultures, coffee profiles, coffee house, responsibility, card and deals, on-line shops and on-line customer service. 2. How does the Web site support Starbucks' business strategy? The web site provide on-line coffee house to give their customers more than their expected, the music WI-FI community provide the entertainment, on-line community and IT support all together. At the same time, the coffee profile and menu show the diversity of their products and service.
Burton Snowboards Speeds Ahead with Nimble Business
Processes 1. Analyze Burton using the value chain and competitive forces models. From the competitive forces point, Burton controlled almost half of the market at its peak, that is to say the barrier for the new entrants to this industry is quiet high, because Burton has occupied most market, and the way to compete with Burton means large economic scale investment. And the core techniques of Burton had been refined for years. If the new entrants want to break the predomination of Burton, they should have much more edgy management and skills. Same rules, the threat of substitute production is low. While its market power of suppliers is stable, because material of snowboard is simple and the component of snowboard is relative exclusive and the manufacture technique will not face fluctuant revolution. On the other hand, customers require more and more diversified and delicate service, especially for the young customers who would ask for more personal designs. To enhance the value chain, Burton snowboard need to add technology support, improve its systems for inventory, supply chain, purchasing, and customer service. In the past, Burton's information systems were a hodgepodge of inconsistently implemented and underutilized software. The company had to manually allocate product to customers and orders.
But now, Burton applied SAP Enterprise Resource Planning (ERP) software to resolve problems this way without adding new layers of complexity to its IT infra-structure, and the company gained proficiency with SAP enterprise software in the process. For the primary activities, since Burton revamped their data and order system, Burton's inbound logistics and outbound logistics become much more scientific and effective. Therefore, the dealers reorder with Burton to replenish their stock or to buy new products.
2. Why the business processes are described in this case such an important source of competitive advantage for Burton? Because Burton wanted to speed up this process so that its dealers and retail customers would have more precise information about the availability of products not currently in stock. 3. Explain exactly how these process improvements enhance Burton's operational performance and decision making? SAP analysts helped Burton identify the top five transactions that were the most critical to busi-ness operations and that needed optimization from a systems standpoint. Other processes in need of improvement included the order-to-cash process (receiving and processing customer sales, including order entry, fulfillment, distribution, and payment); the handling of overdue purchase orders in the procure-to-pay process, which consists of all the steps from purchasing goods from a supplier to paying the supplier; and the electronic data interchange (EDI) inventory feed extract transaction
In Action:
1. What is the purpose of this Web site? How does it support the company's goals? The web site is aimed to achieve product advertisement, Prospect generation, Direct sales, Business-to-business sales, Customer support and Education. Burton set a concise and attractive web site to attract customers to drill down into the culture of the product and the company so that to show their product confidence as well as their humanistic service.
2. What functions at this Web site are related to the business processes discussed in this case? How did improving those processes impact the Web site? The website displays all Burton stores on it to guide customers for a better shopping. Also, the website provide Help column to deal with techniques problems and service reflection. Since the website opens on-line shopping channel, the order information can processed directly in their ERP system .
Will Technology Save the Publishing Industry?
1. Evaluate the impact of the Internet on newspaper and book publishers using the value chain and competitive forces models. When the information dynasty comes, publishing industry, the torch bear of civilization, has to facing the big revolution. As a pass way to deliver knowledge and news, publishing industry's competitors are television, radio, and theaters and so on. But now the powerful new entrant: internet, is driving publishing industry to a digital division. Instead of traditional paper based book and newspaper, the e-book is a much more popular substitute products. At the same time, suppliers are pursuing a higher margin between high cost printed publications and low cost e-publications. And more and more your readers prefer to use electric devices to read "books" and "newspapers".
2. How are newspapers and book publishers changing their business models to deal with the Internet and e-book technology? One option is to share revenue with Internet partners such as Google and Yahoo. Another is to charge fees for newspaper content delivered to new reading devices, including smartphones, e-readers, iPads, and tablets, which enable online newspapers to be read everywhere. A third option is to charge fees for "premium" news and opinion. But because advertising remains a major source of revenue, the newspapers must clearly figure out how to grow their online revenue fast enough to offset their losses from print advertising.
3. How can newspaper and book publishers take better advantage of the Internet? What will it take for them to benefit from e-books? Explain your answer. Publishing companies have begun investing more resources in the Kindle and iPad as delivery platforms for their books and less money in traditional delivery platforms, like print news and bound books. Through this digital platform, publishers can win the new channel to sale publications as well as win back their ad sponsors.
4. Will technology be able to save the newspaper and book publishing industries? Explain your answer. Yes, technology will provide a new way to publishers which is publishing through digital information system such as e-readers, ipad, mobile devices and on the internet. The essential meaning of publishing industry is still brisk, only the outer form changed.
DEFINITION:
BPR: This radical rethinking and redesign of business processes is called business process reengineering (BPR).
BPM: Business process management (BPM) is an approach to business which aims to continuously improve business processes. Disruptive technologies: disruptive technologies are substitute products that perform as well or better than anything currently produced.
Value Chain Model:The value chain model highlights specific activities in the business where competitive strategies can best be applied (Porter, 1985) and where information systems are most likely to have a strategic impact. This model identifies specific, critical leverage points where a firm can use information technology most effectively to enhance its competitive position.