Teen Pregnancy
Remember! This is just a sample.
You can get your custom paper by one of our expert writers.
Get custom essay
72 writers online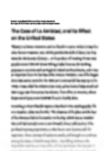 About teenage pregnancy
TEENS EXPERIMENTING ARE THE LEADING CAUSE IN THE UNPLANNEDPREGNANCIES. AS A TEENAGER IN HIGH SCHOOL AGES THERE ARE A LOT OF PEERPRESSURES. SUCH AS EXPERIMENTING WITH ALCOHOL AND UNPROTECTED SEXUAL INTERCOURSE. DRINKING AND THE USE OF NARCOTICS ALSO LARGELY HAVE AN IMPACT ON THE JUDGMENT OF THE TEEN BEFORE THE PRE-PREGNANCY COMES ABOUT.
A number of risk factors have been linked to teenage pregnancy. Theseinclude early sexual activity and poor use of contraception, poverty, poor school performance/dropping out of school, and low self-esteem ordepression. In addition, young women with a history of sexual abuse, those with no stable housing, or with a family history of teenage pregnancy, as well as Aboriginal young women are at a particularly highrisk of teenage pregnancy. Teenage women are more likely to continue with the pregnancy andparenting if they are poorly educated, have low income, come from alarge family, or if their mother had her first child as a teenager. Educationand career expectations, peer models, acceptance of and access toabortion are significant factors in decision making around pregnancy. Teenage pregnancy, particularly for women under 18, carries significantsocial risks (interruption to schooling, reduction in career prospects,interruption to the process of transition to adulthood, potential povertyand social isolation) and health risks (low birth weight babies and higherrate of medical complications).
IF YOU ARE PREGNANT THERE ARE FOUR OPTIONS FOR YOU TO CONSIDER;
– CONTINUE THE PREGNANCY AND RAISE YOUR CHILD WITH A PARTNER
– CONTINUE THE PREGNANCY AND RAISE YOUR CHILD ON YOUR OWN
– CONTINUE THE PREGNANCY FOLLOWED BY ADOPTION
– TERMINATE THE PREGNANCY (TERMINATION).
Teenage parenthood
Many young mothers experience long-term disadvantage with regard to housing, income, and employment. Research suggests that, in the longterm, they are also more likely to be single parents and have largerfamilies. Most find parenting much harder than anticipated and theexperience of motherhood at odds with their expectations and hopes. The impact on children of having a teenage mother is a topic of a debate. The lifestyle factors during pregnancy (such as poor nutrition, smoking, substance abuse) increase risk of low birth weight and may also have animpact on longer-term health and development of children. However, itseems that living in poverty and social isolation places children at a muchgreater risk of cognitive delay and mental health problems.
The relationship between teenage fathers and their children is often problematic, with many fathers abrogating their responsibility or having limited involvement. Lack of adequate support to fathers (from family, peers and service providers) is identified as contributing to this situation.
Prevention strategies
Effective strategies for prevention of teenage pregnancy and parenthood need to include sexual education, contraceptive access programs and alternatives to pregnancy and parenthood, with a focuson education, academic tutoring and support, career counselling,employment and involvement in community. Tasmanian research suggests that balanced, realistic sexual education,focused on both abstinence and contraception can delay the onset ofsexual activity and increase use of contraception by sexually activeyoung people. Sex education programs are most effective if they provide accurateinformation, and include decision-making, assertiveness andnegotiation skills, as well as life skills. Effective contraceptive accessprograms provide a range of comprehensive and confidential services,including counselling, supply of contraceptives and follow up care toensure proper and consistent use. They target teenagers before theybecome sexually active. Educating teenagers about the responsibilities and requirements ofparenthood can improve their future parenting skills but also assistthem to realize their unpreparedness for parenthood and a betterawareness of the short and long-term consequences of pregnancy andparenthood. Complications with teenage pregnancyTeenage pregnancies are riskier than pregnancies in women who are older. This is partly because a teenager's body is still developing, and partly because many pregnant teens do not get the health care they need during pregnancy.
Risks for the baby are:
Going into labor early. This is when the baby is born before 37 weeks. A normal pregnancy lasts about 40 weeks.
Low birthweight. Babies of teens are much more likely to weigh less than babies of mothers who are 20 years or older.
High blood pressure that is caused by the pregnancy
Severe anemia (low levels of iron in the blood, which can cause extreme tiredness and other problems)
Bibliography
WWW.TEENPREGNANCY.COM/COMPLICATIONS/HEALTH
HTTP://WWW.BETTERHEALTH.VIC.GOV.AU/BHCV2/BHCARTICLES.NSF/PAGES/TEEN
AGE_PREGNANCY?OPEN
HTTP://WWW.WIKIPEDIA.COM/TEEN/PREGNANCY/FOODS+TO+AVOID+
•brochures from the doctors on pregnancy*