Teen Pregnancy
Published:
22 February 2016
Remember! This is just a sample.
You can get your custom paper by one of our expert writers.
Get custom essay
84 writers online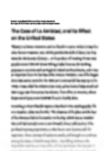 Television Media does not give a realistic image of Teen Pregnancy In the United States, teenage pregnancy has become a common occurrence with three out of ten girls getting pregnant before the age of twenty (Dooley). Most young teenagers feel as if conception will never come from their scandalous deeds but, in fact, it happens more often than what they think. The increasing media coverage on television programming, such as 16 and Pregnant and the movie, Juno, is showing the young adolescents, it is okay to be pregnant. The series 16 and Pregnant and the movie Juno, are both based upon teenagers getting pregnant and going through the television reality of having a child. Both the television show and move are examples of the Medias image of teen pregnancy. Some individuals believe that these shows and movies are not a realistic image of pregnancy. Television Media is not showing the real emotional aspects of putting a baby up for adoption, they are not showing the struggles a single mother actually goes through and they are portraying baby bumps as if they were fashion accessory.
 In the television series 16 and Pregnant, one of the teenagers decides to give their baby up for adoption. In the series, the media doesn't provide the viewers with a twenty-four-seven base image, of her going through each of the steps, to give up the baby. What they show is different clips of the teenager, which provide some of her experience. People believe that this show, 16 and Pregnant, has given young teenagers who are sexually active and are not using protection, a good reality check. That is not what they are doing though, what they are doing is showing it is okay to just give up their child as a way out, showing it is easy to just give up their child and live happily ever after. Even in the movie Juno, the main star becomes pregnant and at first wants to do an abortion but then quickly changes her mind and decides to give the baby up for adoption, when being in the abortion clinic was more like being in a tattoo parlor. The teenage girl, in the movie, looks in a newspaper and finds a random family, with no emotions at all; and decides that is the family her baby is going to. "You realize it [Juno] is just a superior romantic comedy that bears no relationship to reality" (Horin). Giving up a baby for adoption is a lot harder than it has been shown on television. My friend went through giving her daughter up for adoption; she was also a teen mother. Not once did her experience look anything like the show 16 and Pregnant or the movie Juno, that is because, her experience was reality. During her pregnancy, she had a hard time juggling school and going to and from Dr Appointments. My friend's family wasn't supportive of her decisions, like the families on television. She was actually in the pregnancy alone, the father of the baby was not there for moral support, nor was her family there. She had to provide DNA testing to find the father of the baby to make sure he would sign off all rights to her daughter, and then she had to pick out a family that the adoption clinic provided. Adoption is an all out emotional experience, not once does a young individual feel no emotions, to such a enormous life changing decision.
  Once the decision is decided and the paper work is complete, there is no going back. Another reason that television media doesn't show a realistic image of teen pregnancy is because they mislead what a single mother is. When a young individual is still in high school and they get pregnant there is no guarantee that they will still be allowed to attend the high school they are currently going to. As a single parent, they will need to have a high school diploma, that way they can get a career, to be able to support a child alone. Now a day, even with no college education it is simply hard to find a good job. As a single parent there is no proof that their child's father or child's mother will play the role they are supposed to. In my personal situation I got pregnant at the age of 18 and I had my daughter when I was 19 years old; I didn't get my GED until I was 20 years old. As a single mother it is the hardest job I believe I will have to face. When I was pregnant I watched the movie Juno and the show 16 and Pregnant, I thought being a parent was going to be easy. When my daughter was 4months, her father took himself out of our lives. I do not have any information on his whereabouts. I filed child support, believing that he would have to pay, I was wrong. Being a single mother isn't as easy as it is described on television. Where a single mother files child support and two weeks later they are receiving payments from the father. I have been fighting with child support for over a year to get my child's father to pay child support.
  Every situation is not going to be like reality television where everything works out perfectly and everyone lives happily ever after. There is going to be hard times about relationships, money, and family issues. Life, they [teens] need to know, is no Hollywood movie (Horin). Baby bumps have become a huge trend in fashion news. When attending a store and standing in the checkout line, individuals usually see magazines like, "OK!" and "People," gossiping about who is pregnant and about their baby bump. Media provides an image of pregnancy as a fashion accessory because they constantly talk about who is pregnant and how beautiful they are with a baby bump. When young adolescents see the media image of pregnancy they believe that being pregnant is just a way to become beautiful and famous. For example, the television series, 16 and Pregnant gives young adolescent the image of baby bumps being a fashion accessory. The television series 16 and pregnant is about six pregnant teenagers who go through every day struggles, during pregnancy and even after they have had the baby. This show is supposed to make young adolescents become more aware of what they will have to go through if they become pregnant. Little does the media know, the image that a young individual gets is, they can become pregnant and become famous. Jill Palomo explained in an article: "I have witnessed adolescent girls saying statements like "If only I was pregnant, I could be famous" or "MTV doesn't make having a baby as a teenager look too hard." It is sad that instead of the initial goal, being to show teenagers the harsh reality of pregnancy, it has now turned glamorous." Despite how anyone feels on the concern, teen pregnancy has multiple consequences that the television media does not portray. Adoption is an answer to get their way out of not raising a child but doesn't mean they will be emotionally okay with their decision the rest of their life. Even if a teenager decides they are going to keep the baby, there is no guarantee the father or family will be there to help raise that child and they will then have to learn to be a single mother. A young individual should not get pregnant just because it is a fashion trend with the media. I wouldn't be the one to believe that television is a great way to get an image of the experience of being a parent. I have watched the television shows and movies about teen pregnancies, I am convinced they have everything handed them, and the meida puts off that it is okay to be a teenage mom. My knowledge comes from the real life version of being a young single mother.
Bibliography
Benfer, Amy. "Reality Television Gives a Realistic Image of Teen Pregnancy."
Teen Sex. Olivia Ferguson. Detroit: Greenhaven Press, 2011. At Issue. Rpt. from "I Actually Was Sixteen and Pregnant." salon.com. 2009. Opposing Viewpoints in Context. Web. 9 Nov. 2013. Horin, Adele. "Television Does Not Provide a Realistic Picture of Teen Pregnancy." Teen Sex. Olivia Ferguson. Detroit: Greenhaven Press, 2011. At Issue. Rpt. from "Teen Pregnancy Made Easy with a Bit of Hollywood Gloss." Sydney Morning Herald 29 Mar. 2008. Opposing Viewpoints in Context. Web. 9 Nov. 2013. Palomoa, Jill. "Media Influence on Teen Pregnancy." Storify. Livefyre, 2011. Web. 22 Nov. 2013.