Teenage Love
Remember! This is just a sample.
You can get your custom paper by one of our expert writers.
Get custom essay
94 writers online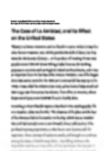 Purpose of the problem:
People fall in love at many stages. However, there is one certain stage in our life when we think that everyone seems to want love. This is the stage of what we called the Teenage love. Nowadays, most of the teenagers spend their time searching for their Mr. or Mrs. Right, or if not the perfect partner. Teenagers are not yet matured enough to handle the whole things that the real relationship requires. Also, teenage love distracts teenagers fulfilling their responsibilities in school. Lastly, love can be mistaken as a physical attraction by teenagers leads them to more serious problems.
Teenagers are the most confused group of people when they fall in love. They caught childhood and adulthood. I agree that love requires a lot of understandings, patient, and trust. It needs a lot of give and take. These are some things that teenagers are not prepared for. This immaturity can cause teenagers thinks that they are in love when in fact they are just infatuated. For me, I don't think that teenagers will able to handle all the pressures and responsibilities because they are they are only trapped to the sweet things and fantasies of love.
They barely consider the most significant factors to keep their relationship strong. When problems arise, it becomes hard for them to fix the relationship. Pride and selfishness usually dominates the situation. And when they decide to end the relationship, it becomes more difficult especially for girls to cope with the moving-on process. Because of many problems, the other roles of the teenagers also affected.
Between pressures of relationship of teenagers to the opposite sex and responsibilities in school, teens find difficulty in balancing the two. More often the not, teenagers spend more time exchanging text messages and hanging out with their boyfriends and girlfriends. They neglect school priorities and projects. As a result their focus much centered to their relationship with their opposite sex and keeps off from more important things. Relationship becomes more prioritized than school. Teenagers should always consider that education must always come first.
Teenage love brings several conflicts to teens. Teenagers should not follow the dictates of their hearts fall for this kind of love. Teenagers who scarcely know real love can lead them to more serious problems. Because of immaturity, they find difficulties in dealing with problems that inevitably come to their relationships. Being unable to manage their roles, teenage love becomes a distraction to fulfil their duties at school that leads them to poor school performance. Lastly, the curiosity of teens with this teenage love leads them to explore and experience sex which leads teenage girls to early pregnancy.
I think teenagers should always remember that true love waits and their involvement to such young love may make them feel regret for the rest of their lives since I believe that they do not know fully the whole thing about it.