The advantages and disadvantages of television
Remember! This is just a sample.
You can get your custom paper by one of our expert writers.
Get custom essay
89 writers online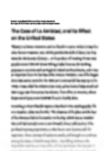 Nowadays many people all over the world spent most of their free time watching television; but since the beginning, television has brought to man many advantages as well as disadvantages.
Dear Teachers and friends, I would like talk few words about advantages and disadvantages of television.
Let us first look at the advantages of television;
First, television plays an important role in our daily activities. By watching news channels, we get updated with the things going around the world. Channels, like Discovery, gives information about Wild life.
If you watch quiz shows, it will help us to increase our knowledge. When we are tired with studies, we can use the television to watch cartoons, films without going to a film hall. Various shows like cookery programs and art programs can help people to learn new things in that field. We can become skilful and clever at doing jobs, making cakes or arranging flowers through practical courses taught on television.
It will help us to improve our knowledge in many ways. Through language teaching programs, we can learn the language we like such as: English, Tamil and so on.
It helps us to watch sports activities such as Cricket matches and Olympic Games live from our home though they are happening in a very far country.
Apart from its advantages, however, television also brings lots of disadvantages to viewers too.
Some unwanted scenes, frequently shown on television, such as using alcohol, smoking will have bad effect on children's mind. Children's who are addicted to watch television instead of playing outdoor games, are getting health problems. Watching television will have bad effect on our eyesight.
Due to television, we don't prefer to socialize with our friends and
relatives. Many time children's try to imitate some act, they have seen on television, which is dangerous for them. Children watching scary shows may affect their mental condition. Children watching any violent films have more tendency to develop violent behavior. In conclusion, there are both, advantages and disadvantages, of watching television. And disadvantages are more for the children's. Therefore, As Kids, we should only watch TV under the guidance of our parents and should not get addicted to it.