The Balanced Scorecard BSC for Endo Pharmaceuticals
Published:
1 September 2015
Remember! This is just a sample.
You can get your custom paper by one of our expert writers.
Get custom essay
95 writers online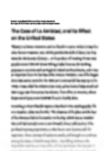 The Endo Pharmaceuticals' approach to balanced scoreboard has been based on the concepts as developed by Kaplan and Norton in the 1990s (Kaplan and Norton 1992). Based on its business model and SWOT analysis as earlier established, the balanced scorecard concept is aimed to overcome challenges of previous performance management systems which measurement focused mainly on indicators of quantitative financial and operational performance measures. Looking at economic trends (for instance Clineray's aggressive expansion could be threatened by not enough demand for their services) and legal and regulatory forces, it is apparent that the trend and the forces have had the disadvantage that they tended to focus on the pasts without the identification of areas of strategic improvement. Therefore based on the business model and the SWOT analysis, the balanced scorecard has been developed to assess trends, assumptions, and risks. In particular, the strategic objectives of the BSC have been embedded on four quadrants that:
Enable the measurements of all critical activities of the Endo Pharmaceuticals
Provision of a strategic management plan system to check the implementation of the strategic plan
Facilitation of the communication with all stakeholders
The Four Quadrants
The Financial Perspective
The objectives of Endo Pharmaceuticals within its SWOT analysis is business growth and return on investment therefore financial perspective ensure cost-effective allocation of resources. Consequently as Niven (2010) suggests, shareholders must work with the underpinnings of financial perspective to measure Endo Pharmaceuticals' role in Balanced Scorecard.
Customer Perspective
As an institution, customer service focus helps shareholders align its activities to Bond's philosophy (Poll, 2009). Mentioning its service role, customer perspective appears at the top of the organisation's Balanced Scorecard to ensure customers' awareness of the quality of services.
Operations Perspective
In aligning the organisation's scorecard to the its objectives, the operations perspective attains improvements of services and business growth that benefits customers and management team.
Learning & Growth Perspective
It focuses on ability to improve and create value for all stakeholders. For instance, engaging quality service deliveries and increment on resources is an avenue for financial growth of the firm.
Table 1: The Balanced Scorecard
Quadrant Strategic Objective Metric/Target (SMART)
Financial Perspective To improve value for money that Endo Pharmaceuticals has been spending on expansion, quality services and relocations Increase accountability and efficiency in service delivery for the next two financial years of the business
Financial Perspective Effective maximization of asset utilization especially in the supply chain operations and regional distribution networks Within the next six months there should be 10% increase of facilities and health related services as measured by various usage of studies and statistics
Financial Perspective Allocation of resources in cost-effective and increase of market shares Dealing with massage therapy industry by increasing their market share by 10% in the next 3 years
Customer Perspective To support research demands and needs of customers based on threats faced Improve by 5% customer satisfaction as measured by comments, surveys, SWOT analysis and other input from a number of customer groups
Customer Perspective To promote communication as well as collaboration with clients/customers Improve service deliveries by 50% based on comments and suggestions gathered
Customer Perspective To ensure clients/customers awareness of the relevance, quality and appropriateness of services and products offered by Endo Pharmaceuticals Monitor and reduce gaps and irritants reported to exist between expectations and actual services rendered
Increase on delivery of services and facilities
Operations Perspective To attain continuous improvement of facilities, services and resources Increase by 20% within 3 months response time to customers or percentage time of unattended request
Operations Perspective Improvement on new drugs and services development/career enhancement and update within Endo Pharmaceuticals Increase by 30% within 2 years, number of services and products
Operations Perspective Ensuring of cost-effective planning and implementation of service delivery and information skills programs To increase by 50% within 3 years, number of training and seminar attendance by staff members on improved ways of service deliveries and number of attendees per staff member
Learning & Growth Perspective To motivate and enhance the highest quality personnel within the project Increase by 40% in the next three years percentage of budget spent on motivation and development of staff skills and levels of innovations
Learning & Growth Perspective To provide relevant and current information skills training and innovation strategies for staff in handling of divergent and new cases with clients/customers Increase by 20% within 3 years number of successful training sponsored, number of research findings and quality of service deliveries
Learning & Growth Perspective To provide the project and related facilities with resources that enhance achievement Maintain or increase project budgetary allocation as a percentage of the growth requirements by the staff
Communication Plan
Strategic Plan for Endo Pharmaceuticals
Stakeholder Part of Plan to be Communicated Method of Communication Timing (Periodicity)
Independent Verification and Validation ConsultantEvaluate Business Case, allocate Staff and other resources, and use funds wisely Meeting; Discussion, teambuilding exercises As early as possible, updated with changed and/or approved status
Department of FinanceEstablish Charter, if used in the initiative. build a strong and committed team Meeting, Discussion, Analysis of Justification As early as possible, updated at major review points, or upon changes in plan
Local Business Community
The business plan Meeting; Discussion, multiple forecasting methods; documented traceable results Very early, and then ongoing as needed
Educators
Understand the size of an initiative, identify initial effort and cost, and set timelines, typically for alternative strategies Targeted Solicitation Letter to qualified Sellers Phase start or within phase for work package details
Religious organizations The mission statement and vision Informal report for all current efforts; ideally, use of tagged XML routes each item to the appropriate project manager Periodic, weekly or bi-weekly for current assignments, or as identified in plan
Local Law Enforcement
Receive approval and document status of all change requests Wikis are perfect for this, because they can be posted by individual or anonymously On an ongoing basis; problems occur when you are not watching
Local Business Organizations Identify and manage risk opportunities and threats, responses, and responsibilities for administering them Formal report or electronic report, with briefing for decision-makers who are listeners On an ongoing basis, and as needed. Especially important to observe activity level and content when team is in "crunch mode
Technical Lead Articulation of business background, scope, roles/responsibilities, risk, deliverables, schedule, staffing, communication, and close-out Discussion, evaluation of documentation, analysis; informal or Formal report, as needed On a regular basis, depending on project urgency; weekly or bi-weekly
Customers Answer all buyer questions so all have same information Meeting with discussion and agreement that the effort has or has not delivered to needs; Formal report produced When Issues Occur, and before they impact the project
Employees Get commitment to support changes resulting from effort Meet to evaluate process and results, identifying any adjustments needed to achieve benefits; Formal report produced Periodically review and resolve evaluated changes
Creditors Helps to correlate multiple data or information points, and drill down to details, where needed, to see true status Formal report evaluating the extent to which promised benefits met or exceeded At Major Milestones or Stage-Gate approvals; no more than 2-3 months apart in most projects
Business Lead Implement or identify risk responses to mitigate impact or recover Discussion and informal documentation of results Within a predefined period after initiative end, usually at least one business cycle, and often at least 25% of the initiative's duration after
Advisory CommitteeProject progress and deliverable status Meeting with Discussion, Minutes Before major Milestones or Stage-Gate reviews, or at most each 6-12 weeks, depending on initiative size
Business Project TeamRaise Issues that affect project success. Analyze their impact. track open issues Meetings, phone calls or Interviews; summary report When promised initiative benefits have been realized
IT Project Management OfficeIdentify current status and planned end date and cost; includes open issues, accomplishments, and a high level schedule Meetings, phone calls or Interviews; summary report Predefined period after initiative end, usually at least one business cycle
References
Kaplan, R. S. and D. P. Norton (1992). "The Balanced Scorecard – measures that drive performance." Harvard Business Review: 70-79.
Niven, P. R. (2010). Balanced Scorecard step-by-step: maximizing performance and maintaining results. New York, John Wiley & Sons.Poll, R. (2009). "Performance, processes and costs: managing service quality with the Balanced Scorecard." Library Trends 49(4): 709-717.