The Blind Side
Published:
24 February 2016
Remember! This is just a sample.
You can get your custom paper by one of our expert writers.
Get custom essay
101 writers online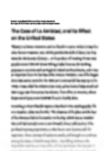 "The Blind Side" written by John Lee Hancock is based on true life events about Baltimore Ravens NFL player, Michael Oher. This sport related comedy drama will not only warm your heart but can also change your perspective on love and family. It's an excellent example of how one person can change their fate with determination and the moral support of others. Michael Oher's story begins with him occasionally homeless and staying with his inattentive drug addict mother in a broken home with a remote father. His luck turned as his dad's friend helps him get into an all Christian private school where Coach Cotton sees potential in him as a future football star. As Michael looks for another place to sleep and keep warm, he is found by worrisome, overprotective mother Leigh Anne Tuophy who asked Michael where he was staying that night. Her motherly instincts took over and invited Michael to stay the night, despite her having no knowledge of his background. His one night stay turned into a long term close relationship between him and the Tuophy. He now lives with a family of four, Leigh Anne (Sandra Bullock), Sean (Tim McGraw), Collins (Lily Collins), and Mj Tuophy (Jae Head) and they help Michael carefully pick up the pieces that was originally broken from his past.
The family aid Michael get on the right track by shaping him to be a football star, guided him to a better education and treating him as if he was blood; He began to live like a Tuophy. Passionate and loving mother, Leigh Anne Tuophy is played by actress Sandra Bullock who has been in well known movies such as Gravity, Miss Congeniality, and many more. She plays a successful interior designer, a mother of two, and a loving wife to co-star Tim McGraw (Sean Tuophy). She demonstrates within this movie the realism of modern motherhood coupled with a compassion that stretch's far beyond ones expectation of a typical foster parent scenario. Within the context of this relationship we see a schema developing that in cooperates and display the fundamentals of human relationship that transcends the foundation of love. Within the ethos of this film, characters such as Michael Oher played by Quinton Aaron, contributed to the construct and in turn augmented the overall atmosphere of the script. Overall, the entire cast complimented each other which in turn produce what critics and the audiences express as an inspirational stellar production. As I watched this movie, a flood of emotions overcame me.
The most intriguing part was when they sat around the dinner table and Sean proposed to Michael as to whether he would like to become a part of this family. Michael responded with "I kinda thought I already was". Its astonishing how this particular scene displays the strength of actions and the power of family. Another moment that I found extremely heart warming was during the nearly fatal accident in which Michael saved MJ by preventing the airbag from exploding onto MJ. It was this scene that had left a profound affect on me. The family component will remain intrinsic since it mirrors the values and beliefs that exist within my life. I will forever look at this movie and look at myself and see a reflection of the world that I would in vision being a part of. A valuable lesson to take away from this movie is that everybody regardless of religion, race, gender, income level, needs compassion, love, and above all, family! "The Blind Side" captures the viewer immediately since it has various scenes that a majority of people can relate to such as those who have been isolated, neglected or in need of support. Audiences who have a passion for Football or just like happy endings may take more interest to those aspect that are prevalent to the plot as well as individuals looking for a movie that captures deep moral issues. I would give this movie a rating of 3.5 out of 5 for its overall production and story. Although it is rated as a PG-13 I believe that this film is suitable for all age group since it educates the value of love and family.