The Brief Wondrous Life of Oscar Wao
Published:
27 November 2015
Remember! This is just a sample.
You can get your custom paper by one of our expert writers.
Get custom essay
89 writers online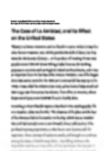 The Brief Wondrous Life of Oscar Wao
Introduction
       Written by author Junot Diaz 'Wondrous life of Oscar Wao' the novel is a fiction work set in New jersey, where the author was raised, but deals with his ancestral homeland Dominican republic when it was under the rule of Rafael Trujillo who was a dictator. The novel revolves around the life of Oscar who is described as an overweight Dominican boy. He is obsessed with fantasy and science fiction novels 'however' his family is plagued with a curse. The story revolves around Oscar's family. It is narrated by an omnipresent narrator, but eventually he is revealed to be Yunior de Las who is a school roommate to Oscar (Díaz, 2009).
       The novel starts with 'Fuku' explanation. This is curse of some kind on the new world as well as a counter spell to the curse referred to as Zafa. The narrator gives a story that he says it is his own type of a Zafa. The novel is in three parts. Part one comprises of the introductory, chapter one, two three and four. Part two is made of chapter five and six, and the final part three is made of chapter seven eight and the final letter.
Key Characters
       The novel comprises a number of characters who possess different traits. The main character and the first one are Oscar de Leon. He is the title character as well as a central character in the novel. He is a fat ghetto geek who turns to be an outcast wherever he goes. Most of his time in the story, he is looking for a woman who can love him. He is portrayed as un-Dominican due to lack of masculinity as well as being an extreme nerd man. Oscar can be summed in one word, looser. As Yunior the narrator says 'Oscar had his nerdiness like a Jedi wearing his saber, could not have gone past normal if he had wanted to'. 'In order to run away from his tormentor' he engages in reading fantasy and science fiction novels. In the novel, he is described as great romantic man. However, his nerdiness stands in his way for his love of women. According to the narrator Yunior, 'Oscar was described as a obsessive enamorao (romantic), who easily fell in love (Díaz, 2009). He also had secret lovers in the town. His affection and loads of love, fear, lust and desire that he showed to every girl regardless of girls look or age led to his heart breaking each and every day'. Oscar is also an unlikely hero in the novel despite being in trouble most of the time in the story. He is always being teased by others.
       Lola de León. She is Oscar's sister and later she becomes the narrator's girlfriend. She plays a vital role in the story as she even narrates one chapter in the novel. She is a changing character as well as complex as she occasionally fights with her mother and runs away. She talks much about escape in the novel. She is describing as a modern girl than others in the novel. However, this does not make wiser in avoiding abusive boyfriends as we expect. For example, she loses her virginity to Aldo, who is living in a tiny room. Then her narration and speech are heard in wildwood section. The narrator explains her as a kind girl especially when explaining her relation with Oscar her brother (Díaz, 2009). She is also frank, sexiness and independent. The position played by her prevents women being marginalized in Wao region.
       Hypatía Belicia Cabral-de León, She is Oscar's and Lola's mother. She is known as Beli or Belicia. She is portrayed as tough as well as harsh in her parenting. Having been an orphan and the adopted by La Inca, she has a number of silences in her past. Yunior, he is the narrator who remains anonymous until the latter stages of the novel (in chapter four). He is Oscar's roommate at school. He is portrayed as a playboy as well as an athlete. He at sometimes becomes Lola's boyfriend for some years, but in his narration he is exposed as unreliable. He is also portrayed as a man who knows what he does not like. La Inca, she is Beli's adoptive mother, and she acts as the grandmother to Oscar and Lola. She lives in Bani, unlike her adopted daughter is portrayed as a softie, generous and kind, unlike Beli who rules the de Leon family with an iron fist. Dr Abelard is the doctor who brings the curse Fuku down. He plays along with Trujillo's wishes and only fights back when Trujillo goes after his own daughter. He is deployed as brave, and he is tortured in the prison.
Minor characters
       Additional personalities in the novel include Tío Rudolfo who is an uncle to Lola and Oscar and he is a drug addict. Tía Rubelka. She is Oscar and Lola's aunt who occasionally helps in keeping the house especially when Belicia gets sick. Maritza Chacon is one of Oscar's girlfriends at the age of seven. She is beautiful but when she grows up she dates older men who abuse her. Olga Polanco, she is another one of Oscar's girlfriends. Miggs is the only Oscar's only friends in high school. Ana Obregon, Oscar's first love, a 'beautiful curvy girl'. Other characters in the novel include Manny, Aldo, Karen Cepeda, Rosío, Max Sanchez, Dorca, Mauricio Ledesme, Jack Pujols and Juan Then among many others (Díaz, 2009).
       Chapter one of the novel is an introductory to the character of the main man in the novel, Oscar de Leon. As a Dominican, he is anticipated to be victorious with girls, but this is not the case with him. The episode ends with Oscar illuminating his feel affection to Ana, but Ana rejected him. The second chapter starts with a alteration to the first person narration. The chapter is about Lola and her mother and how she escapes to her grandmother La Inca's place in Dominica. Chapter three Oscars mother fate as a young gal is revealed to her children. Beli's story in Dominica is revealed and the chapter ends by her running away from Trujillo into New York. Chapter four exposes Oscars time in school and the narrator are (Yunior) also revealed at this point. The chapter is about the life of the two men in school and their characters.
       This contains chapter five and six. Chapter five is a story of how Abelard who is Beli's father and grandfather to Oscar cause the death of his family members by talking bad things about Trujillo. His family is torn apart. Chapter six covers Oscar's life after college and how he ends up in United States. Chapter seven sees Oscar return to Dominican Republic. Chapter eight is the end story as the narrator reveals eventful fates of various characters in the story. Finally, there is the final letter which serves as the epilogue to the novel.
       The León family looks to be under a curse as the narrator points out. Life isn't easy for Oscar; he is an overweight man with social skills of a three-toed sloth. In addition, he is also has a regrettable behavior of falling headlong in love with any woman he finds. Sometimes it takes very little encounter and his heart runs aflutter. The 'Fuku' curse has entangled the family. Several miseries follow them from Dominican Republic, New Jersey. The family is faced with curious layers of unrequited love, poverty among many other problems (Díaz, 2009).
       The family looks to suffer from 'Fuku' which kind of a curse or doomed aspect in the family. The family members are killed as a result of Oscar's grandfather talking of the dictator leader Trujillo. Everyone in the family has to undergo a misery of some kind. Oscar is the climax of the curse in his family. His mother is an iron fist parent, who was an orphan and died of cancer. Oscar's Sister Lola on the other hand is at conflict with her mother and even runs away from her. This curse caused havoc in the family. As the story ends, the narrator reveals the fate of characters. Oscar's mother died of cancer ten months after the death of her son Oscar. Lola goes different ways with Yunior after he cheats on her. At the closing stages of the story, none of the characters looks to have survived the violence effects of fuku. Yunior dreamt receiving a blank book from Oscar which he took as an impression that this can be a "Zafa" (325) to the family curse.
Modern day issues faced by Hispanics and Dominican families
       One of the major issues faced by the Hispanic and the Dominican families today is increased level of poverty. This is depicted in the novel as the families are portrayed as poor and always in the fight to improve their lives. The curse of Fuku shows poor health facilities in the region and continuous fighting for equality. Another issue faced by the residents of Wao is a fight for power and liberation from the dictatorship of Trujillo. The women power is also portrayed in the novel. Women are portrayed as minor group of people in the society. Their power is limited to attracting men. The same issue of inequality affects the Hispanic and Dominican region as fight for power intensifies (Amend, 2010).
       Underrepresentation in the government is another issue that affects the Hispanic and Dominican communities. This is the same the community in Wao is treated as a minor community in the region. In addition to underrepresentation in the government, the two minor communities have also been affected by lack of adequate education facilities. This has reduced their access to formal education. Increased quality of education for Hispanic-American students has been termed as a priority in order to bring along equality. Finally, violence has been another issue affecting the Dominican community. This is portrayed through the love and violence theme in the novel. Despite the changes that have occurred in the US government in recent times, the situation among the Hispanic and Dominicans has changed that much (Amend, 2010).
References
Díaz, J. (2009). The brief wondrous life of Oscar Wao. London: Faber.
Amend, A. (2010). Hispanic-American writers. New York: Chelsea House.