The Caribbean. Modern Caribbean cuisine
Published:
4 October 2015
Remember! This is just a sample.
You can get your custom paper by one of our expert writers.
Get custom essay
90 writers online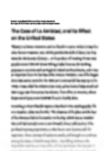 The Caribbean
Introduction
            The term cuisine can be explained as the foods and methods of food preparation which is a tradition to a population or a region. Some of the factors affecting cuisine are the economic conditions which affect trade, climate and religion under which it prescribes usage and non-use of certain foods. Also, the kind of food produced and cooking practices depends on the geographical area. Regions vary a lot in terms of crops and plants-type which grow there. Also this goes hand in hand with the climate and food. A good example is that of regions which experience high temperature where tend to eat spicy foods so that they can raise their body temperature so as to enable sweating enabling bear with that environment. On the other hand, people living in cold regions can't eat spicy and hot foods because they have to make their bodies warm (Adamson, 2004).
            Historically, cuisines of different cultures and parts of the world have been influenced by their neighbors due to interaction. Some of the first groups to influence cuisines in the world were the Phoenicians, Ancient Egyptians, Romans, Greeks and Arabs. The Romans and Greeks for example spread the millet cuisine which was used to make porridge and unleavened bread, the Ancient Egyptians brought the Chick peas cuisine while Phoenicians brought the barley cuisine which was used to make beer, porridge and unleavened bread (Adamson, 2004).
Caribbean cuisine which is my topic of discussion has been greatly affected by the Europeans who colonized it. Indigenous Caribbean tribes used their traditional cuisine. Later the traditional Caribbean cuisine was influenced by the coming of Europeans. They included the Spanish, the Dutch, the British and the French settlers, even the African slaves contributed to a wide influence in the Caribbean cuisine (Morgan, 2003).
            The practical social rituals are manifested in form of annual food festivals. They feature each island's particular cuisine and culture. The most popular are:
Anguilla Night Food Festival.
Antigua/Barbuda Independence Food Fair.
Caribbean International Food Fair on Nevis Island.
Pineapple Festival which is held in Eleuthera Island in Bahamas.Dominican Republic Cocktail and Food Festival.
Bread fruit festivals on Jamaica and The Grenadines Island.
Festival of women cooks on Guadeloupe Island.
            In Caribbean islands, no matter which island, there are good cooking styles which are accompanied by with staple local ingredients. These ingredients may for example include: 4 cups of cooked, 2 cups of cooked codfish, 2 medium diced onions, 8 tea-spoonful of cooking oil, Pepper and salt for taste, 2 small scotch bonnet pepper. These ingredients are rich in flavors such as rich stocks that enhance Caribbean cooking. They are obtained from the vast Caribbean islands where they are plenty. The flavors are mainly made up of coconut and curry. The cooking procedures are not that complicated but they are also unique in nature for they are attributed to making fast foods. Such fast foods include; Turkey stock, mango chutney, hollandaise sauce (Morgan, 2003).
            The Caribbean region is attributed to different styles of cooking depending on the island. These styles include; cou cou and flying dish style in Barbados Island, conch recipes in Bahamas, jerk seasoning and cooking in Jamaica. They have been accepted and spread to the other parts of the world such as USA due to their uniqueness (Rahamut, 2007).
References
Adamson, M. W. (2004). Food in medieval times. Westport, CT: Greenwood Press.
Green, J. (2010). The Caribbean. Minneapolis, MN: Clara House Books.
Rahamut, W. (2007). Modern Caribbean cuisine. Northampton, MA: Interlink Books.
Morgan, G. T. (2003). Caribbean Cuisine for All Seasons. AuthorHouse.