The Case of Sally & Mike
Remember! This is just a sample.
You can get your custom paper by one of our expert writers.
Get custom essay
98 writers online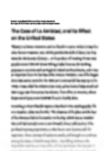 In the case of Sally & Mike it's pretty typical of a mother to be heartbroken, as well as in a different state of mind after losing a child, well at least you would think. Thinking about this case as well as hearing about it you could definitely tell this family was in a crisis. Mike, feels at loss due to not being able to help his wife because he is experiencing a different kind of mourning. Applying the ABC mode of crisis intervention as well as utilizing Kubeler-Ross' five stages of death may just be up Sally and her husband's lane.
Six months ago Sally & Mike lost their six year old son to cancer. Thinking about it; this is every parent's nightmare. No one want's to bury their son, let alone have to experience the pain. Mike, is a loving supporting husband all in all when Sally feels like she has nothing else to live for. She is experiencing what Kubler-Ross' called the five stages of death and dying. Not everyone goes through all five stages or even in order. From the sounds of it Sally is in stages three & four where she has bargained with god to take her and bring her son back (Kanel, 2007). Moreover, when the bargaining has failed heavy depression has set in; this consists of where her feelings of loss become inevitable and overwhelming (Kanel, 2007). Therefore, Sally's husband feels lost and overwhelmed himself and he should seek counseling for her this can help with the final stage for Sally to cope as well as function again with daily activities.
Therefore, with Kubler-Rpss' five stages of death and daying, a good solution here would be utilizing the ABC model, which is a method of conducting a very brief mental health interviews with clients like Sally, whose functioning level has decreased by a psychosocial stressor (Kanel, 2007). In this case Sally losing her son would be an example for psychosocial stressor. Approaching Sally from a counselor's standpoint would be very vital. We would want to approach her so she feels like she could trust us; being nonjudgmental, and genuine would help her move on to the next phase (Kanel, 2007). The next phase of the ABC model consists of identifying the problem, which would be Sally's way of coping, as well as feeling like her life should be over. This is the most important phase, as a counselor we could encourage her to talk about her feelings. It is most important that the counselor stays on focus and keeps Sally on focus to gather information current from step A, and how to understand the nature of the crisis and new ways for Sally to perceive, and cognitively process her situation (Kanel, 2007).
All in all after we got Sally to the level of trust we would move on to the last phase which involves new levels of coping. As the counselor I would suggest that Sally offer ideas of ways she could cope (Kanel, 2007). I would also suggest that Sally and her husband work together and attend support groups; this could also help Mike a great deal because he could express his own feelings openly so Sally can also see things through his eyes (Kanel, 2007). Also, consulting a family doctor would be a wise solution, this could help with some of the depression that she is going through temporary until she worked through her problems. This is the best way for counselors to help grieving parents as well, the parents can attend for as long as they like and in Sally's case this seems like the best solution. Part of this process obtains the counselor getting a commitment from Sally to follow through with recommendations, which was part of her developing the coping plan (Kanel, 2007). I would want Sally to sincerely follow through so most likely with the way she has been in the past I would even make her sign a written contract.
Moreover, losing a child is never easy and it's easy to understand people like Sally when they're in a crisis. Even families suffer from this kind of crisis when they have a loved one who is feeling this down; in this case this would be her husband Mike. Mike is there to support Sally, but she's making it very difficult with her behavior. Understanding Kubler-Ross' five stages of mourning would be helpful to Mike as well. With Mike not knowing what to do for his wife Sally it would also be wise for him to reach out for help to see how he could help his wife. Counselors could better help him understand what she's going through and positive ways to approach her. Life's not easy and losing a child takes a toll on marriages. If these two didn't seek out help their marriage could have a lot of problems or even lead to divorce. Like I mentioned before Sally and Mike attending a support group allows them to open up and say things to one another that they may have been afraid to say at home. This could release a lot of tension, between the two and maybe even bring their marriage back together.
In conclusion, we as counselors have a responsibility to make the clients feel safe and secure. We need to offer a strong support and ear to listen. The stages of grieving are normal in a crisis, everyone experiences it differently Kubler-Ross' stages don't all happen in order or even all of them at once. With that said also using the ABC model of intervention in the grieving process adds hope to and helps with daily functioning back in the real world. Counselors know crises happen and are always there and ready to help our loved ones along with the family currently involved which happened to be Sally & Mike in this case. With the suggested interventions hopefully Sally will follow through her intervention as well as regroup with her daily functioning realizing she still has life ahead of her and a husband who loves her and needs her in his life.
References
Kanel, K., (2007). A Guide to Crisis Intervention [Third Edition].