The Coca-Cola Company Marketing Plan
Remember! This is just a sample.
You can get your custom paper by one of our expert writers.
Get custom essay
83 writers online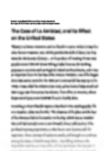 I.Executive Summary
Coca Cola is one of the largest leading beverage company that produce products such as water, juice and juice drinks, sports drinks, energy drinks, teas and coffees. Coca Cola products are distributed through restaurants, grocery markets, street vendors, and others, all of which sell to the end users: consumers.
Coke is increasing investments in bottling investments, front-end capability, equipment and people. Coke's long –term bottling strategy is to reduce ownership interest in bottlers and sell the companies interest to investee bottlers.
Coca – Cola Company has two major rivals: PepsiCo and Cadbury Schweppes PLC. PepsiCo is a fierce competitor in the beverage industry's two fastest growing categories: water and sport drinks. Cadbury Schweppes PLC is the world's largest confectionery company and has a strong regional beverage presence. In order for Coca – Cola to compete with PepsiCo, Coke should also focus in making a sport drinks. Consumers now a day is so conscious of their health that they buy sport drink in order to energize them to exercise more. Coca Cola should produce beverage such as sport drink in order to attract consumers to but their product instead of PepsiCo.
This case answers, How can Coca – Cola produce healthy products in order to lessen health problems that consumers are facing today, the use of plastic bottles in order to help the environment and to have a new line of energy drink that is less unhealthy and could boost the energy of the athletes.
The Company aims at increasing shareowner value over time. It accomplishes this by working with its business partners to deliver satisfaction and value to consumers through a worldwide system of superior brands and services, thus increasing brand equity on a global basis. They aim at managing their business well with people who are strongly committed to the Company values and culture and providing an appropriately controlled environment, to meet business goals and objectives.
II. Introduction
A.Company Background
The Coca-Cola Company is well known by generation to generation, places to places and continued to be the number one multinational beverage company and manufacturer, retailer, and marketer of nonalcoholic beverage concentrates and syrups for ages. The Company started at Atlanta, Georgia since 1886 till now, they continued refreshing the world by their products. Coca-Cola is a carbonated soft drink sold in the stores, restaurants, and vending machines of more than 200 countries. Coca-Cola produces about 400 brands consisting of over 2,600 beverage products.
The Coca-Cola recipe was formulated at the Eagle Drug and Chemical Company, a drugstore in Columbus, Georgia by John Pemberton, originally as a coca wine called Pemberton's French Wine Coca.
Bottling Coca-Cola
Recognizing the need to create a bottler network, Benjamin F. Thomas and Joseph B. Whitehead, with the support of Chattanooga businessman John T. Lupton, began granting other entrepreneurs bottling franchise rights.
The first franchise began operations in 1901, serving parts of Tennessee and other nearby locations under the ownership of Mr. Thomas and James F. Johnston, grandfather of former Coca-Cola Enterprises Chairman of the Board, Summerfield K. Johnston, Jr. In the early 1980s, Mr. Johnston helped initiate a phase of consolidation designed to improve system efficiency and effectiveness.
Coca-Cola Enterprises is born
In 1986, The Coca-Cola Company merged some of its company-owned operations with two large ownership groups that were for sale – the John T. Lupton franchises and BCI Holding Corporation's bottling holdings – forming Coca-Cola Enterprises Inc. (CCE). In December 1991, a merger between Coca-Cola Enterprises and the Johnston Coca-Cola Bottling Group, Inc. created a larger, stronger organization with Johnston's senior management team assuming management responsibilities. Coca-Cola Enterprises first began operations in Europe in 1993 with the purchase of bottling rights in the Netherlands. A significant European expansion began in 1996 and 1997 with the acquisition of bottling rights in Belgium, France, and Great Britain. Luxembourg was acquired in 1998, and Monaco in 1999.
The third-largest Coca-Cola bottler in the world (by volume) In 2010 CCE completed a significant transaction with The Coca-Cola Company, which acquired all of CCE's North American territory. CCE retained its European territories and also acquired bottling rights in Norway and Sweden, with the additional opportunity to acquire German bottling rights within 18 to 36 months of the close of the transaction. Today, CCE is one of the largest Coca-Cola bottlers in the world, and handles approximately 8% of the Coca-Cola system's global volume. We serve the countries of Belgium, France, Great Britain, Luxembourg, Monaco, the Netherlands, Norway, and Sweden, with successful positions in the nonalcoholic ready-to-drink category in each nation.
B.Statement of the Problem and Objectives
Problem
This case study recommends strategies and general and specific programs of action for Coca – Cola Company for the purpose of maintaining sustainable success and securing its title as one of the largest beverage business in the world. Specifically, this case study also aims to answer the following questions:
1.How can Coca – Cola produce healthy products in order to lessen health problems that consumers are facing today?
2.How can Coca – Cola lessen the use of plastic bottles in order to help the environment?
3. What could Coca –Cola propose to have a new line of beverage that is good for the health?
Objectives
This case aims to address the following concerns:
1. To engage Coca-Cola in exploring the viability and options for using their distribution networks in developing countries to distribute 'social products' such as oral rehydration salts and related educational materials on health, hygiene and sanitation.
2. To support Coca-Cola and its partners in modelling different scenarios which combine Coca-Cola's distribution network with local health initiatives in order to achieve their aim.
3. To establish a core group of enablers and activists to lead on the different aspects of this campaign.
4. To monitor the progress of the campaign and ensure that any trials and roll-outs are effectively monitored and evaluated
C. Evaluation of existing Vision, Mission and Objectives
The following are the existing mission and vision of Coca Cola:
Vision
Our vision serves as the framework for our Roadmap and guides every aspect of our business by describing what we need to accomplish in order to continue achieving sustainable, quality growth.
•People: Be a great place to work where people are inspired to be the best they can be.
•Portfolio: Bring to the world a portfolio of quality beverage brands that anticipate and satisfy people's desires and needs.
•Partners: Nurture a winning network of customers and suppliers, together we create mutual, enduring value.
•Planet: Be a responsible citizen that makes a difference by helping build and support sustainable communities.
•Profit: Maximize long-term return to shareowners while being mindful of our overall responsibilities.
•Productivity: Be a highly effective, lean and fast-moving organization. From its vision, Coca –Cola speaks about achieving something new in the future which will help them sustain an increasing profit income. Though it is not an easy job to achieve this statement tells us that, they are going to achieve these three things which are sustainability, Quality and growth by the help of six variables which are people, Portfolio partners, planet, profit and productivity. There people, partners, productivity and portfolio will give them to achieve better quality and growth in future where as their responsibility towards planet and partners will help them to achieve sustainability. Therefore the Vision of Coca-Cola is clearly a good base for the future.
Mission
Our Roadmap starts with our mission, which is enduring. It declares our purpose as a company and serves as the standard against which we weigh our actions and decisions.
•To refresh the world – in mind, body and spirit
•To inspire moments of optimism – through our brands and actions
•To create value and make a difference everywhere we engage
-In Mission statement of Coca-Cola Company, it contains attitude, self-concept, consumers, products and services, market. The mission statement is suitable because it is containing five components out of nine. These explain how the consumer is able to experience the Coca-Cola company offer. The branding of the company has a unique marketing strategy because it lasted to generation to generation. Vision is clear and mission statement of Coca-Cola is also supporting its vision.