The Determinants of Health
Remember! This is just a sample.
You can get your custom paper by one of our expert writers.
Get custom essay
103 writers online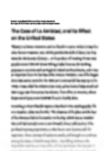 The determinants of health are economic and social conditions that affect people's health status. These influence the living and working conditions that impacts people's everyday living condition. Factors such as the place and the environment we live in, genetics, educational level or work status and income, as well as friends and family are some of the aspects that affects our health condition. On the other hand, the people that have an access to good health care and have financial stability are less susceptible and are often less affected. (NANB, 2009)
There are difficulties and challenges on how to facilitate and what tools to use to resolve the determinants of health such as focusing on research agenda to increase the knowledge and understanding on how health determinants affects individuals well-being and create strategies on how to improve it. Targeting the root of the problem, along with all the data collected are some of the strategies in resolving this dilemma. Collaboration of health professionals and government agencies, as well as media is few of the actions taken in alleviating this issue. Involvement from the public and community are a major key in finding the solution to this problem.
This essay will discuss two of the twelve determinants of health and how they affect the population. The nursing role and how they have a huge contribution in creating a positive impact are among the issues addressed in this paper. Nurses have an important role in patient care and they can make a difference in the life of an individual. Proper knowledge and training with regards to health determinants are one aspect that will help nurses in assessing to plan an effective intervention in collaboration with the members of the health care team. The information collected during this process may affect the choice and option needed as well as on what kind of resources available to use for an effective plan of intervention. In a wider level, nurses can also use the exposure that they had to advocate and help create policies to progress in addressing this issue.
Income and social status is one of the determinants of health. Being able to have a secured, low cost housing that provides for every individual or family during their whole lifetime is a major determinant of health and is important to good health. As Dr. David Hulchanski and colleague's research "Three Cities" at the University of Toronto stated; "Housing insecurity is linked to income insecurity which is, in turn, leads to illness and premature death" (RNAO,2013). People who live in the street are more susceptible to physical and mental problem and are likely to die early due to sickness compared to general population. Homeless population are vulnerable to communicable diseases and substance abuse and this may jeopardize their health situation (RNAO, 2013). Health conditions become better as income and social status improve. Higher income means the affordability of an individual for a better way of life and providing their family a safe and secured environment.
Being able to afford enough nutritious food on the table to share with the whole family is one of the most important things that an individual can hope for. In most cases, higher income and social status means more control and choices in their everyday lives. Some studies show that restricted options and poor coping skills while handling stress raises exposure that can lead to different kinds of diseases involving immune and hormonal systems. According to Registered Nurses' Association of Ontario, there is sufficient evidence that shows income and social status is related to better health and in fact, one of the major contributing factors of the determinants of health. (PHCA, 2013) Nurses have a major role addressing income and social status as determinants of health by engaging health care practices, assisting individuals and supporting health public policy. As an individual, nurses can help the public with regards to income and social status by taking into consideration and understanding the importance of social status in patients' health care needs. They can also include questionnaire on income and social aspects of determinants of health such as wages, shelter, food, resources that are available in assessing patients care.
Social determinants should be taken into account in developing patient's treatment plan. Analysing patient's financial capability and knowing their capacity to access the recommended programs such as physiotherapy is one good example in accomplishing this goal. If unable to meet these needs, nurses should make a recommendation to access financial assistance to make this treatment possible. Nurses should have the knowledge of what resources available for the client in the community. If nurses are assigned to work in a depressed community, determine the common health issues to help in understanding the underlying cause related to social determinants, and being able to organize an effective way of dealing with the issue. (NURSEONE, 2013)
Education and literacy is another example of determinants of health. Education provides knowledge and increases individual's opportunity to succeed. It gives people the freedom to have choices and opportunities that help them prosper. Education also helps people's capacity to understand on how to acquire the necessary information to be aware and knowledgeable on how to keep them healthy. Population with low literacy are prone to unemployment and are likely to be poor. They are more susceptible to poor health and have a shorter life expectancy. On the contrary, people with higher level of education have an advantage for a healthier living environment. They are likely to smoke less, have a better understanding in proper nutrition and are more physically active. They also make sure that their children receive proper education and make an effort in making sure that their children will succeed compared to the parents with a lower level of education. (PHAC, 2013)
Nurses should pay attention on how they can provide information to their patients in accordance to the level of their understanding. They should be able to provide health information to their clients in the most effective way possible. Nurses should provide teaching materials that is clear and precise and in a manner that can easily be understood. Give patients instructions or teaching in a timely manner, not making them feel that the nurse providing them is in a rush. Patients who observe this kind of behavior might not inquire additional information they needed and feel intimidated to ask or clarify information.
Provide a calm environment that enables the patient to understand and remember the new information. Noisy and crowded surroundings are not conducive to learn new things. Assess whether the patient is willing, ready, and focus to learn. Makes sure they are pain free, taking into consideration that anxiety or medication side effects alter people's level of understanding. Proper timing is a key to effective teaching. Patients that are in a rush and eager to go home might not be able to focus and pay attention to important details. Make sure to start health teaching and assess health literacy the first time meeting them.(NURSEONE, 2013)
In conclusion, the determinants of health such as Income and Social Status and Education and Literacy have a large influence on individuals overall health. Looking on one's health holistically, these two determinants of health as well as the other determinants of health are contributing factors in sustaining good health and healthy life. Nurses have a major role in addressing the determinants of health because they partake in health care practices, as well as assist individuals and they support health public policy. However, those are only a few of their tasks, they contribute to much more and they are a great aid to the public.
References:
determinants of health. (n.d.). CNA_Determinants_of_Health_E.pdf. Retrieved April 30, 2014, from http://www.nanb.nb.ca/PDF/CNA_Determinants_of_Health_E.pdfhttp://www.nanb.nb.ca Institutional links. (2013, January 15). What Makes Canadians Healthy or Unhealthy?. Retrieved May 1, 2014, from http://www.phac-aspc.gc.ca/ph-sp/determinants/determinants-eng.php#education Registered Nurses' Association of Ontariol'Association des infirmières et infirmiers autorisés de l'Ontario. (2013, November 21). Health Literacy. Retrieved May 1, 2014, from http://rnao.ca/policy/info-pages/health-literarcy-as-determinant-of-health Static Html Viewer. (n.d.). Static Html Viewer. Retrieved May 1, 2014, from http://www.nurseone.ca/Default.aspx?portlet=StaticHtmlViewerPortlet&plang=1&ptdi=338