The Great Commission To Worship
Published:
29 February 2016
Remember! This is just a sample.
You can get your custom paper by one of our expert writers.
Get custom essay
78 writers online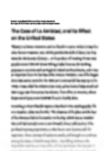 Introduction
Evangelism could be described briefly as proclaiming God's heart to the people who lived without standards of truth. Evangelism with the heart of God is being based upon worshipping God and glorifying God as well. Worshipping God is means to rejoice in God and to reveal Jesus in one's life.1 Authors David Wheeler and Vernon M. Whaley in "The Great Commission to God" book have emphasized the importance of Worship to the reader in order for Christian to become a great commission worshipper. Authors have asserted that the top points in the book are worship and evangelism. These are a matter of cardinal importance to Believers who desire to live God's will and way. Because God created us for glorifying him and worshipping him, he poured out the Holy Spirit to Christians for discipleship. Believers should continue loving God by worshipping God and loving neighbors as Jesus showed us the evangelistic life if believers want to live faithful life and achieve God's great commission.
Critique
I looked back upon my student days while reading this book. I did guide a lot of unbeliever friends to God when I used to have powerful passion for God. I prayed for God that I hope to have passionate heart for unbelievers. Also I prayed for God to discard fear, concern, and frustration to tell the gospel to the unbelievers. I realized why my mind has reduced passion for unbeliever because my heart had reduced passion for God. What I truly need in my Christian life is not only to love God, but also worshipping God. Therefore I decide to worship God anywhere and anytime. I made a list of ten people in order to guide friends who did not believe in God. Also I contacted my friend who does not believe in Jesus. He is an antichristian. But he is fond of talking with me. I always approach him with enough prayers. I trust God who can change his thought and heart through me. I am going to keep in touch with listed friends and continue pray for them every day. Because I am sure that 'fellowship', with its deep connectedness to God and others, is clearly what God wants us to do.2
Discipleship is an intentional relationship that we walk alongside other disciples to encourage, equip and challenge one another in love to grow to maturity in Jesus.3 For guiding and making Jesus' disciples through me, I am striving to become a faithful Christian to ten listed friends as Jesus showed his whole life to his disciples and others. I ought to follow, react, and obey the sword of the Holy Spirit in my life as well. I desire to become a disciple to all nations and all people as God mentioned to us in Matthews 28: 18-20.4
I agree with the authors about worshipper's attitude and life. Worshipping God not only must be a life and life must be worshipping God, and also all 365 days should be Sunday worship days the worshiper. A Christian always should worship God with Spirit, truth and full strength including public worship and private worship. We need to lift up God every time and everywhere because God created us for this.
The Authors mentioned that worship is to meet God and to experience God and I entirely agree with them. Worship is not an event or a show. Today's churches are focusing on people and never experience God. The church becomes like a meeting group. They are only focusing on having a mega building and a beautiful sound system in order to earn more Christians, not unbelievers. I am sure that God does not want it but God wants them who are regardless of age or gender. Even though people are not interested in God, God wants us to come into his deep heart.
I disagree with the authors about the relevance of worship and theology. What is clear is that theology leads us to God correctly. It is protecting us from wrong view about God. Therefore theology must be existed for human being Therefore theology must be existed for human being by all means.
In my opinion, there are lots of religious denominations and religious body in the world. In other words, they have different view and standard about God in each denomination and they think of themselves as more superior than others. I think there I say that worship is more important than theology. In my view, they are doing theological worship service for God. Pastor and elders check every part of worship service with their theology and ordinary in the church's meeting. Some churches worship God with lifting hand to praise God and crying out to pray to God. However some churches prohibit lifting hands and crying out when they worship God. It is different worshipping methodology and theology in the church, even though they are worshipping the same God. I acknowledge the difference between the theological inclinations; however theology is not an absolute standard to meet God to my way of thinking.
I learned and realized new things through this book regarding chapters 6 and 7 "Great commission worship is Relational" in which I am usually interested. An immutable law is that God always loves people those who including Christian and others. Christians should take care of unbelievers as God became incarnation for serving sinner because God loves them as well. God is waiting for them to return to him. We should be helpers in order to find lost sheep from God.
I changed my mind from a misunderstood view about evangelism. Actually I observed that evangelism is God's special spiritual gift. I thought that people who received a special spiritual gift from God evangelize unbeliever based on Ephesians 4:11.5 God called us all for preaching, teaching, and delivering gospel to all nations. I realized that believers who are called from God are special human being so that we can worship our special God and live for him. Because human beings who were made for fellowship with God as well.6
I could get a chance to learn through chapter 8 which mentioned the missional life, worshipping life, and evangelical life of relationship. Ultimately, these lives have to be one life for glorifying God such as Paul, Isaiah, and Daniel.
This book has 'Discussion Questions' at the end of each chapter for discussing with each other. This is a great benefit for the learner. Through these questions, I had a meditation time for living the better life that God wants. I was not only able to fix my evil habit and pattern, but I was able to widen the width of deep thought. In my opinion, it will be informative and very entertaining to share with each other in class or small group meeting regarding 'Discussion Questions'.
The Teaching of mission chapter in this book was a great impressive chapter for me. The authors referred to John piper, who mentioned mission which is ultimate goal of the church.7 The ultimate goal of the church is to glorify God and to worship God and then making disciples and sending disciples to the place where there is no worship.
Actually I want to be a missionary to go to unreached group for worshiping God because God loves them. I will be keeping mind to continue in this teaching.
Conclusion
I desire to be a great commission worshipper, as the authors mentioned 'the hands and feet of Christ to the world' in chapter 8, who is driven by a passion for God and a deep love for unbelievers. We must be bold in the earth from Satan's attacks. Jesus already had done a victory in this world for us. His authority and power were also given to us so that we can do everything in the world with Holy Spirit. We must run the race of faith until that time Jesus comes again in the earth. The important thing is that God called us, and God is not only calling us now for to achieve the great commission, but God wants to make us great worshippers. We must remember this fact.
Bibliography
Bloesch, Donald G. The Church: Sacraments, Worship, Ministry, Mission (christian Foundations). Downers, IL: IVP Academic, 2005.
Ogden, Greg. Discipleship Essentials: a Guide to Building Your Life in Christ. Expanded ed. Downers Grove, IL: IVP Connect, 2007.
Piper, John. Let the Nations Be Glad! the Supremacy of God in Missions. Baker
Academic, 1993.
Stieglitz, Gil. Spiritual Disciplines of a C.h.r.i.s.t.i.a.n. Winepress Publishing, 2005.
Winter, Ralph D. Perspectives On the World Christian Movement: A Reader. 3rd ed. William Carey Library, Jan.1.1999.