The Great Smart Phone War; Apple vs. Samsung
Published:
1 September 2015
Remember! This is just a sample.
You can get your custom paper by one of our expert writers.
Get custom essay
80 writers online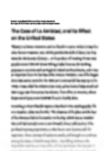 Apple Inc. is an international software company that globally produces and supplies digitally enabled gadgets.
History of the company. The company was started by the late Steve Jobs and Steve Wozniak on April 1, 1976. Jobs and Wozniak schooled together in high school and had been friends. They both dropped out of school and got employed by different companies. Steve Jobs got to work with Atari while Wozniak worked with Hewlett-Packard. Wozniak made the first Apple I design in 1976 but it did not capture the hearts of many. In 1977, they presented the new Apple II phone at a local computer trade show and it captured the attention of many. This led to an increase in demand of the product which led to a huge need of immediate workforce. They hired a lot of employees and during the launch of their Apple III, Apple Company became a real company. Like any company, Apple Inc has had its good and bad days alike. They lost the co-founder Steve Jobs in October 5, 2011 to respiratory arrest and Steve Wozniak retired. Currently, Tim Cook is the company's CEO.
Products and services. Apple Company has successfully launched and sold many products and services worldwide. They create personal computers, mobile phones, portable digital music players and media devices. They also provide the OS X and iOS operating systems and consumer and professional software. They also offer application software, headphones, printers and storage devices. Their most popular products and services include iPhone, iPod, Macintosh (MAC) computers, iPad, Apple TV, iCloud, iTunes Stores, iBooks Store, and Mac App Store.
Competition facing the company's products. IPhone is currently one of the most trending and most sort after mobile phone in the gadget market. Samsung, Sony, and Nokia are some of the multinational corporations that compete gadget-wise with Apple. Apple Inc launched iPhone 6 and iPhone 6 Plus last year. They were released on September 2014. These two iPhone versions have tremendously upgraded from the previous version iPhone 5s. Unfortunately, Apple is not the only the only company with an upgrade in its mobile devices. Samsung came up with its new version, Samsung Note IV which is equally popular and trendy as Apple's new versions. Nokia continually launches its Nokia Lumia phones the latest being Nokia Lumia 1020. Sony also has quite impressive and outstanding mobile phones. One of their greatest achievements is the launching of its water-proof mobile phones. Sony Xperia Z was one of the firstly launched water-proof phones that captured the hearts of many. All these mobile devices by different corporations battle out in a perfect competitive market with Apple Inc. In order to keep up, Apple should aim at advancing and embracing innovative ideas and continually launch high-end products.
Personal computers (PCs) are some of the designs and products that Apple manufacturers. Competition is tense because companies like Dell Inc, Hewlett-Packard Company (HP), Lenovo Group Limited, and Acer Inc. These companies produce personal computers and laptops too. Some of the companies have established a firm reputation in the manufacture of the computers. Companies like Dell and HP are world widely sort after by multiple organizations due to their consultancy services. This makes the competition quite intense for Apple. Apple has come up with Macintosh (MAC) computers and they are quite marketable but regionally and continentally. This is not the same case with Dell and HP products which are sort after globally.
IPods are Apple's digitally enabled pocket-size music players. They made music less burdensome and more enjoyable. One could be able to enjoy music without the burdensome struggle of carrying around a phone or a music player. Apple had been the main and single company that had successfully launched and marketed the digital music player devices. Samsung did not want to disappoint, so they launched their own, Samsung Galaxy Player 4.0 and Samsung Galaxy Player WiFi 5.0. Sony was not left behind; they also launched their own Sony Walkman Z. It was prosperous in the market but not as equally successful as the iPod touch.
Apple happens to be a producer of operating services. They offer OS X and iOS operating systems. Their Macintosh computers use the MAC OS X version while their mobile phones use the IOS mobile operating system. Their operating system gets extremely wild competition from Windows and Android operating systems. Windows OS is managed by Microsoft and is used by different gadgets. Many computers have installed the Windows OS. Nokia recently partnered with Microsoft in launching their new phones with enabled Windows OS. Android OS is managed by Google Inc. under the maintenance of Open Handset Alliance. It's the most common OS used by majority of the mobile devices and companies such as Sony and Samsung. Majority of these operating systems have an upper hand advantage, they offer the developers freedom to come up with more versions of the OS. This is what makes the Android OS more popular than Apple's OS X and iOS systems.
Apple TV was first launched in 2006 and the current one was introduced on March 20012. Many people confuse the Apple TV with actual television but that is not the case. The Apple TV is a compact set that uses application software to wirelessly stream contents from a nearby PC to a high definition (HD) TV. It faces competition from Amazon Fire TV, Roku Streaming Stick, Virgin Media TiVo, Now TV and Freetime. Amazon Fire TV is widely common because it directly streams any media content into your TV. This is way easier because it does not have the pressure of MAC OS X systems.
Competitors in the market. Every company experiences competition, in one way or the other. The competition can be from within or from outside. Majority of the competition that most corporations face is from other rival organizations. Apple Inc. like any normal corporation has its own competition in the existing market. Some of the top competitors that compete with Apple Inc. include, Sony Corporation, Samsung Electronics Co., Ltd, Dell Inc, Hewlett-Packard Company (HP), Microsoft Corporations and others.
Corporations in competition
Sony Corporation (Sony) is a producer of electronic products. The company's headquarter is in Tokyo, Japan. It designs and sells audio and video products, personal computers, cameras, mobile phones, televisions, batteries, game software, music software and animation works. Sony is considered as competition by Apple Inc due to their unique designs in personal computers and mobile phones. Sony has been successful in launching mobile gadgets that can operate in water which gave many mobile manufacturing companies including Apple Inc. a run for their money. This phone design marked a new margin of innovation and these assisted the Sony Corporation in setting pace for the other organizations.
Samsung Electronics Co., Ltd. (Samsung) is a sole manufacturer of televisions, mobile phones, personal computers, LCD panels, and storage and fiber optic devices. Samsung's headquarters are located in Seoul, Republic of Korea. It offers stiff competition to Apple and other gadget manufacturing companies. They intend to fully respond to the ever growing demand of high-end products. They plan to achieve this by launching successful smart-phone with the purpose of making fiction reality. Some of their recently launched products, such as Samsung Note IV and Samsung Galaxy S IV come highly recommended in the market, competing with Apple's iPhone 6 and iPhone 6 Plus. The Samsung and Apple Company have been at loggerheads and in constant competition to see whose products and services would yield the most utility.
Dell Inc is also one of the leading and top manufacturers of desktop personal computers, software and peripherals. Its main headquarter is in Round Rock, the US. They mainly produce and sell laptops, mobile phones, desktops, printers, and storage devices. They are competitive due to their extensive manufacturing and supplying of laptops and desktops. Majority of their products are globally used by many organizations. Apple and Dell computers both offer excellent services, but majority of the people view Apple's products as generally expensive. Evaluation of consumer prices and general market prices agree with the hypothesis. Apple products and services are generally more expensive than others, including Dell. Dell is quite popular in a lot of organizations due to its easy to access and easy to use applications.
Hewlett-Packard Company (HP), like Dell also produces and manufacturer personal computers, and application software. HP is headquartered at Palo Alto, California, the US. Their main products include laptops, desktops, printers and mobile phones. They compete with Apple Inc mainly in the marketing and selling of personal computers and laptops. Their mobile phone brands and tablets have not swept the market by storm. With their plan to extensively launch new products such as their HP ElitePad 1000 and HP ProPad 600, they might rocket to be the highest technology companies. Currently HP stands at a higher edge in production and trade-offs in personal computers and laptops than the Apple Inc.
Case study on the apple INC
Apple Inc. has greatly succeeded in shaping the today's technology. Apple provides services to legal companies, healthcare facilities, government institution and media platforms. These different institutions yield satisfaction from products and services that are offered by Apple Inc. Most of these facilities are equipped with Apple personal computers, printers, and tablets. Tablets are quite useful in the current setting. In the not so distant past, people used to carry around laptops in order to access notes or presentations. This quite both cumbersome to a lot of people. But with introduction of Apple Tablets, iPads, work was lessened and less burdensome.
Apple's CEO, Tim Cook, recently convinced corporations that Apple Inc. is currently moving forward in enhancing a more secure platform for organizations through data-encryption technology. The main aim of this strategy is to convince more businesses to partner in making Apple Inc. their sole software producer.
If an organization considers itself as the pinnacle success or exclusivity, it has to portray such an image. For example, if it's a five-star hotel, for people to rate it as such, it should have elite and prestigious facilities and services. Apple Inc. happens to produce exclusive products such as their fine MAC computers and Apple TV. The Apple TV could be installed in different rooms so that the guests could watch the streamed videos and music. The MAC computers would be used by staff such as at the reception. If the hotel management decides to invest in these products, they may achieve the reputation they desire. These actions would set them apart from the rest of the resorts hence giving them a competitive advantage.
In the current global-awareness and internet ruled age, majority of the organizations seek to get customers by luring them with the promise of special gifts and prizes to be won. Some are true while some do not hold up to their end of the bargain. In different websites, companies advertise their products and place an ad in the page claiming that if someone takes certain quizzes or subscribes to a certain subscriptions, they would stand a chance of winning a prize. More often than not these coveted prizes include tablets, mobile phones or laptops. When the iPhone 6 emerged, many ads placed a free offer of an iPhone 6 or iPhone 6 Plus in order to attract people. This is considered as a competitive advantage to the companies. Hence, the products of the technology company are once more useful in enabling businesses to pitch their ideas.
References
BIBLIOGRAPHY l 1033 Apple. (n.d.). Retrieved March 5, 2015, from Apple: https://www.apple.com/
Eichenwald, K. (2014, June). The Great Smart Phone War; Apple vs. Samsung. Retrieved March 05, 2015, from Vanity Fair.
iPhones. (2013, January). Retrieved March 05, 2015, from Apple: https://www.apple.com/iPhones/
iPod. (2011). Retrieved March 05, 2015, from Apple: https://www.apple.com/iPod/
MAC. (2012). Retrieved from Apple: https://www.apple.com/MAC/
Mackie, K. (2011). Analysts:Microsoft Facing Disruptive Competition From Apple and Google. Competion.