The High School Dropout
Remember! This is just a sample.
You can get your custom paper by one of our expert writers.
Get custom essay
90 writers online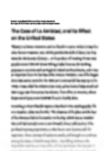 For these past few years, our country had been developing and keeps on looking for solutions in the problem of our education today. Basic Education Curriculum (BEC), Secondary Education Curriculum (SEC) and the latest K to 12 Curriculum. These are the curriculum that our Department of Education uses for the past few years up to today's year. They keep on changing because they are looking for some ways on how we can provide good quality education to our students. Also they say that it can lessen the dropout rate of our high schools in the country. Many of our officials in the DepEd wish that their program can really help our children to finish their studies and pursue their career. But somehow, these changes cannot change everything. Many of our students are dropping out because of so many reasons. With these review literature examined reports and viewed journals to study the high school dropouts.
These studies were guided by three questions: who drop out of school; why students drop out of school; and what is the effective solution to prevent drop out. Numerous studies have researched the reason why students leave school, who are the students are at risk of dropping out and what could be the effective solutions to prevent them from dropping out of school. But, these studies and efforts have not helped, the increased of dropped out rate is still a problem. More and more question are still unanswered and still developing new things and adopting many things in order to help our students to get their high school diplomas. High school dropout rates are merely affected by students' behavior towards life and their achievements. The student had more independence and greater educational ambition, worried mostly about his future and, next, about getting along with others, expressed satisfaction with what he is required to learn but not with the way he was being taught, disliked homework and felt that disinterested students should not be forced to remain in school. Also, students who experiencing poverty are at the risk of dropping out.
Purpose of the Study
The purpose of the study is to examine why students drop out of school, who are the students that drop out of school and what are the effective ways to lessen or prevent drop outs.
Research Questions
The following research questions guided the study:
Who are the students who drop out of school?
Why students drop out of school?
What effective program can help students not to drop out of school?
Body of the Review
In the Philippines, the problem of student dropping out in the public secondary schools is as serious as ever. Statistics show that out of every 56 students who finish Grade VI, only 43, or 77 percent, enter the first year high school. This indicates a dropout rate of nearly 24 percent. Research data further show that 43 percent, or 3,194,400 young adults between the ages of 15 to 24, are out of school, and that 53 percent of these are unemployed. A survey of some schools in Metro Manila and nearby provinces disclosed that the drop-out rate is higher in the first year than in any other year level. The survey also identified several reasons why students leave school. Among these are the inability to defray school expenses because of poverty; distance of home from school; part or fulltime job opportunities; the concern to help augment family income; physical disability; boring or slow lessons which do not challenge bright students; elopement or early marriage; and being overage.
These factors, among other things, bring about the inefficiency of the public secondary school system. And the problem is more real than imaginary, especially among the disadvantaged whose pursuit of secondary education conflicts with their family's drive to survive and their personal circumstances. The Philippine education system has invested a lot of resources and efforts to minimize if not to eliminate inefficiency in delivering quality education to its clientele. Yet, despite the magnitude of the resources committed to improve the quality of education for all, still the drop-out problem coupled with low academic achievement of pupils remain an insurmountable problem as ever. According to Rene R. Raya the author of The missed education of the Filipino people, the government admitted that while enrolment figures have risen over the years, key performance indicators have been declining consistently since 2001, falling way short of the EFA targets for the corresponding years.
Net enrolment, cohort survival and completion rates for both elementary and secondary levels were all down. In SY 2005-2006, participation rate in elementary education went down to 84.41 percent from 90.10 percent recorded in SY 2001-2002. Meanwhile, dropout rates posted record levels in both elementary (10.57 percent) and secondary schools (15.81). The Department of Education reported that more learners drop out from the system particularly in the lower grade levels, even before functional literacy is acquired. The Department of Education also noted the low participation of children in early childhood education (ECE), with only 34 percent of the 3-5 age group attending preschool and 60 percent of entrants in the first grade having ECE background.
The continued dropping out of children from the school system explains the low survival and completion rates and indicates the weak holding capacity of the public school system. Elementary cohort survival in SY 2005-2006 went down to 58.36 percent while completion rate declined further to 56.76 percent. The corresponding figures for secondary education are 59.10 percent and 54.14 percent, respectively. Wide disparities in cohort survival and completion rates were observed among regions across the country. A significant number of Filipino children are outside the school system. Based on the FLEMMS 2003, 11.6 million children and youth aged 6 to 24 years old were not attending school. About half of them or 5.6 million belong to the age group 15-21 years old. Poverty and related factors were the main reasons cited for not attending school. Some 30.5 percent cited employment as the reason for not attending school. One of every five (20 percent) cited the high cost of education as the reason for not attending school; while another 11.8 percent cited housekeeping work.
According to R. Raya there are key issues on our education today: 1) ACCESS – The dramatic rise in school dropouts, the low survival and completion rates and the alarming increase of out-of-school children highlights the deteriorating state of education in the country today. This trend indicates a clear reversal in the increasing access to basic education achieved over the past two decades (1980s and 1990s) 2) QUALITY – The poor quality of education and its outcome are reflected in the low achievement levels of students, the poor quality of teaching and the perennial shortages in key inputs, specifically teachers, infrastructure and instructional materials. 3) EQUITY – The poor, malnourished and disadvantaged children are being bypassed and deprived of quality education. They are constantly at risk of falling out of the school system. 4) EFFICIENCY- Poorly-designed programs, poor targeting and misplaced priorities are creating a lot of inefficiencies and wastage in the educational system.
From the writings titled Profile of Out of School Children in the Philippines. The Philippines committed to Millennium Development Goals and Education for All (EFA) targets that include universal primary education. However, various data sources, including the Department of Education's Basic Education Information System, and household surveys conducted by the National Statistics Office, suggest that in 2008, a considerable magnitude of children were not in school. A description of these children is provided here, as well as that of children who are at risk of dropping out of primary and secondary levels of education. Reasons for children not being in school are discussed, together with the results of an econometric model that identifies correlates of non-attendance in school.
Distribution of Out-of-School Children in 2008 by  (Urban/Rural) Location and by Sex
The figure above illustrates estimates of the magnitude of out-of-school children (OOSC) sourced from the latest (2008) wave of the APIS. Of an estimated 2.9 million children aged 5 to 15 years old in 2008 that are out-of-school, about 1.7 million are boys and a around 1.2 million are girls. About 65% of these children, whether boys or girls, reside in rural areas. One and a half million out of school children are between 5 and 6 years old: (0.7 million 5 year old children and 0.8 million 6 year old children). For both the official primary school completion rate and a more appropriate measure of primary completion rate4, we find that boys have a lower completion rate than girls. Various data sources indicate gender disparities not only in education outcomes (such as participation and completion) but also in achievement, generally in favor of girls (David, Albert & Monterola, 2009; Tan, 2010a; Tan, 2010b). Boys are generally more likely to be at risk of exclusion from school than girls. Percentage of Pre-primary aged OSSC in 2007 and 2008 by Reason for Non-Attendance in School, by Urban and Rural Areas.
Source: APIS 2007 and APIS 2008, NSO.
The percentage distribution for the reasons for non-attendance of pre-primary aged children hardly varies by sex, but the distribution varies slightly across urban and rural areas. In both 2007 and 2008, (aside from being too young or lacking interest,) another prominent reason cited in urban areas is cost of schooling, while in rural areas, school accessibility (either schools being too far, no schools within the village, or no regular transportation to school) is a prominent reason for nonattendance of pre-primary aged children.
Characteristics of Students Who Drop Out
Socioeconomic Background. National data show that students from low-income families are 2.4 times more likely to drop out of school than are children from middle-income families, and 10.5 times more likely than students from high-income families. Disabilities. Students with disabilities are also more likely to drop out. The National Transition Study estimates that as many as 36.4% of disabled youth drop out of school before completing a diploma or certificate. Race-ethnicity. Hispanics and African Americans are at greater risk of dropping out than whites. Hispanics are twice as likely as African Americans to drop out. White and Asian American students are least likely to drop out. Academic Factors.
National research also indicates that academic factors are clearly related to dropping out. Students who receive poor grades, who repeat a grade, or who are over-age for their class are more likely to drop out. Absenteeism. Students who have poor attendance for reasons other than illness are also more likely to drop out. Clearly, students who miss school fall behind their peers in the classroom. This, in turn, leads to low self-esteem and increases the likelihood that at-risk students will drop out of school. Occupational Aspirations. Young people's perceptions of the economic opportunities available to them also play a role in their decision to drop out or stay in school. Dropouts often have lower occupational aspirations than their peers. Predictive Factors. The following individual-level factors are all strongly predictive of dropping out of high school: Grade retention (being held back to repeat a grade)
Poor academic performance
Moves location during high school
High absenteeism
High absenteeism
The student's feeling that no adult in the school cares about his or her welfare Reasons young people give for dropping out:
Didn't like school in general or the school they were attending Were failing, getting poor grades, or couldn't keep up with school work Didn't get along with teachers and/or students
Had disciplinary problems, were suspended, or expelled
Didn't feel safe in school
Got a job, had a family to support, or had trouble managing both school and work Got married, got pregnant, or became a parent
Had a drug or alcohol problem
Consequences of dropping out:
In recent years, advances in technology have fueled the demand for a highly skilled labor force, transforming a high school education into a minimum requirement for entry into the labor market. Because high school completion has become a basic prerequisite for many entry-level jobs, as well as higher education, the economic consequences of leaving high school without a diploma are severe. Earnings Potential. On average, dropouts are more likely to be unemployed than high school graduates and to earn less money when they eventually secure work. Employed dropouts in a variety of studies reported working at unskilled jobs or at low-paying service occupations offering little opportunity for upward mobility.
Dropping out, in turn, causes other secondary, indirect problems: Public Assistance. High school dropouts are also more likely to receive public assistance than high school graduates who do not go on to college. In fact, one national study noted that dropouts comprise nearly half of the heads of households on welfare. Single Parents. This increased reliance on public assistance is likely due, at least in part, to the fact that young women who drop out of school are more likely to have children at younger ages and more likely to be single parents than high school graduates. Prisons. The individual stresses and frustrations associated with dropping out have social implications as well: dropouts make up a disproportionate percentage of the nation's prisons and death row inmates. One research study pointed out that 82% of America's prisoners are high school dropouts.
Headline Recommendations
According to the Advocacy Paper of Arangkada Philippines 2010: A Business Perspective here are some recommendations that can help to lessen dropout rate in the Philippines. Increase public education budget over several years to at least PhP 400 billion (3.5-4% of GDP) for better classrooms, more and better teachers quality, and reduced teacher/student ratio. Double average spending per student to ASEAN-6 average. Adopt K+12 models to extend basic education by two years and add a pre-elementary year. Constantly improve teacher quality and curriculum to produce graduates with skills required for higher quality jobs. Apply competency-based standards, more in-service training, maintain teacher welfare and morale. Increase study of math and science, technical/vocational skills training.
Encourage college/ post-graduate study in fields needed for specialized positions, including foreign languages. Intensify investment in technology for high school education to connect all 6,786 schools to Internet. Equip high school teachers with notebook computers and students with e-readers. Establish computerized English language centers in high schools. Strengthen higher education by providing more resources for world class centers of excellence. Expand scholarships/loans for higher education. Encourage more accredited foreign schools and foreign teachers. Undertake a vigorous public campaign to emphasize English language competency. Strengthen the Dual Education/Dual Technical System. Expand the internship period to pre-pare students better for employment.
Another 12 Recommendations
A. Commit to a large increase in the public education budget over several years to at least PhP 400 billion and 3.5-4% of GDP to build, repair, and equip new and old classrooms, eliminate the teacher shortage, raise teacher salaries, and reduce the teacher/student ratio. Double the average spending per student to be closer to other ASEAN economies. (Long-term action DepEd, DBM, NEDA, and Congress) B. Over a period of several years, extend basic education by two years and add one year before elementary school (the K+12 models). Students should graduate high school at age 18 prepared either to enter the workforce or college. Increase technical/vocational skills training in the high school curriculum. (Long-term action DepEd, DBM, and NEDA) C. Empower teachers by constantly improving their quality and their curriculum to help students acquire the knowledge and skills required to enable them to get higher quality jobs.
Apply competency-based standards for teachers and provide more in-service training, while maintaining their welfare and morale. (Medium term action DepEd and CHED) D. Basic education and college curricula should be adjusted to increase the study of math and science. Encourage more college students to study fields needed for specialized positions in the economy (e.g. agribusiness, computer science, engineering, environmental science, mining, and physics). Teach more foreign languages in colleges to support the BPO and tourism sectors. (Medium-term action (DepEd, CHED, DOLE, DTI, NEDA, and private sector) E. Intensify investment in technology for high school education. Complete the private sector Gearing Up Internet Literacy and Access for Students (GILAS) program to connect high schools to the Internet (of 6,786 high schools, 3,892 remain to be connected). Equip high school teachers with notebook computers and students with e-readers.
Place more computers in high schools using grants, donations, and purchases. (Long-term action DepEd, DBM, NEDA, and private sector) F. Strengthen higher education by providing more resources for world class centers of excellence and expanding scholarships and loans for higher education, while reducing national government subsidies for low quality state and local universities/colleges. Make government student loans available through SSS, GSIS or banks to be repaid after employment for tertiary and technical/vocational education students to enroll in accredited public and private higher education institutions. (Medium-term action CHED, SSS, GSIS, and private sector) G. Encourage qualified foreign schools to operate and foreigners to teach in the Philippines. Solutions to the educational deficit should include foreign as well as domestic resources. (Immediate action DTI, CHED, DOLE, and private sector) H. Install English language computer training labs in high schools, supplementing teacher resources with English training software.
Each lab should have ten computers. The private sector can donate large numbers of used computers, while the government can purchase the software and handle logistics. (Long-term action DepEd, LGUs, and private sector) I. To advance bilingualism, undertake a vigorous public campaign to emphasize the importance of English competency to entering and existing workforce members. Such a campaign should point out that mastery of English enables access to global knowledge and wider economic opportunities.
Encourage television and radio stations to use more English in their programs. (Immediate action OP, DepEd, NEDA, and private sector) J. Recognize high schools and tertiary schools and students who score well on English tests. Schools should be assessed for their capacity to deliver quality English-language instruction given quality scores based on test results of their graduates. (Immediate action DepEd and private sector) K. Strengthen the Dual Education/Dual Technical System by expanding scholarships and involving the private sector in curriculum development and internships. (Immediate action DOLE and TESDA) L. Universities and Colleges should allow students in the second half of their studies to spend longer periods in companies (expand the internship period) to prepare them better for employment. (Immediate action CHED and private sector)
Based on what they have found out, the poorest are the individuals that can't afford to bring their children to school. Also, they show in their survey that the dropout rates from rural area are much higher than in urban area. This is because some schools in rural area are far from the communities where people live. Also the schools are lack of teachers and materials that can provide good education. So many reasons of dropping out and our government are not stopping in finding solutions regarding this problem. But still it was the very big problem in our country today. So many changes have tried but still the dropout rates are keep on increasing as our country develop. They keep on changing the curriculum, and hoping that it will help to decrease the dropout rate but it's not.
Why should these still our problem? As a teacher I experience so many problems in each student. Student's dropout merely a result of a much broader problem of our country. Our children of today are the one who's suffering from the situations that our ancestors had been created before. The government still can't provide everything that our school needs. As the students population increase the budget and the materials are just the same numbers. Though some change but still they are not enough. The department is currently having the K to 12 System, adding additional year in high school with a vocational training for Grade 11 and Grade 12. We also have the Alternative Learning System that helps overage students, working students to have a chance to finish their study. But these is not the only solution to prevent the continue increasing of dropouts. We all should learn to respect and love each individual in our country. Even the poorest among the poor. Help them so that every one of us can have a beautiful life ahead.
References/Bibliography
Joint Foreign Chambers Advocacy Paper ARANGKADA PHILIPPINES 2010: A BUSINESS PERSPECTIVE
Raya, Rene R. (2007) The Missed education of the Filipino People
Albert, JR G., Quimba, FM A., Ramos, AP E., Almeda J P. Profile of Out of School Children in the Pilippines Discussion paper series no. 2012-01
Kid Source : http://www.kidsource.com/kidsource/content4/youth.drop.out.html
National Center for Education Statistics: http://nces.ed.gov
Bureau of Secondary Education (BSE), of the Department of Education, Culture and Sports (DECS), and SEAMEO INNOTECH. Project EASE Effective and Affordable Secondary Education
Dr. Rizal Buendia, Dr. Julieta Gregorio, Ms. Regina A. Molera, Dr. Benjamina G. Flor, Mr. Benjamin Vergel de Dios, Mr. Joel Wayne Ganibe, Mr. Arman G. Balonkita, Mr. Carlone Dawang and Mr. Nestor Mirandilla Philippine Education Sector Assessment Project