The Impact of museums
Remember! This is just a sample.
You can get your custom paper by one of our expert writers.
Get custom essay
97 writers online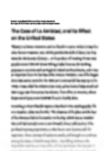 The aim of this report is to evaluate aspects regarding Colegio Sagrado Corazón Ex – Seminario, an education facility located in Uruguay's capital city, Montevideo. It will asses and analyze how does the organisational structure of this facility work upon the performance of the staff , reviewing the weaknesses and strengths this school is widely known for.
changes to become a bilingual school.
Organisational structure
Colegio Sgrado Corazón Ex – Seminario is one of the largest Jesuit schools in Uruguay, a massive building ocuppying a whole block is the place for Elementary, Middle School and High School with more than 2500 students. Upon this, the structure for such an important facility involve extensive amount of personal working. Therefore, principals, teachers, tutors, and even priests spend an incredible amount of time trying to get to know the students as good as possible. The bond created is important in the development of skills and also to incorporate certain Catholic values which the School consider as vital for students. From my personal experience, I believe the relationships I established with teachers contributed to the shaping of characters and building up in multiple dimensions – cognitive, emotional, moral, cultural and social.
Strengths and weaknesses
Seminario's High School is regionally famous due to the Jesuit's fundations it was created upon. Therefore, it aims towards academic excellence in all the graduates of this school. This is intended because the variety and acute skills tought by teachers throughout the twelve years are proven to be essential in order to succeed in college. However, as the official language in Uruguay is Spanish, the institution, in this past few years, has tried to make students acheive an advanced level in English. This is due to the fact that students that coursed elementary had a lower level of this language from those who came from bilingual schools. In order to counteract this situation, the subject with the largest amount of hours per week has now become English Grammar and Language skills and the institution itself is going through a lot of changes in order to become billingual
Performance and attitude of students
High School students, after spending so much time within the school's walls, create an affinity with the institution. As far as I am concerned, this is exclusively from Seminario, due to the incredible job school workers do to make students feel like home. There has always been a positive attitude and response from students to whatever proposal the administration gave and viceversa. Moreover, as the School has always been so strict with the requirements to earn credits, students got used to these standards and exceeded them.