The local economic impact of Best buy
Published:
1 September 2015
Remember! This is just a sample.
You can get your custom paper by one of our expert writers.
Get custom essay
88 writers online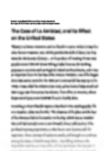 SWOT analyses are significant for the identification of the weaknesses, strengths, available opportunities and threats to a company (Bohm, 2009). Best buy is a multinational retail corporation operating large departmental stores and warehouses which has headquarters in Minnesota and majors in the sale of electronics and other related commodities and operates in several nations. In addition, the company is among the world's most profitable business organization in the electronics industry according to a report by Fortune Global in 2014. However, this company is a great threat to other retail companies of a country due to its tendency to acquire cheap products and manual labor overseas. It is alleged that the working conditions of Best buy are not conducive even though it remains the consumer's best store in many countries (Fishman, 2006). So what are the weaknesses, available opportunities, strengths, threats, future and possible changes which can facilitate the efficient growth of Best buy? This is the basis of discussion for this research paper.
Strengths
To begin with, Best buy has much strength which clearly overpower the weaknesses thus enabling it to remain the best company in the world profit-wise. Firstly, Best buy is the giant retailer in the world of electronics in the global context that no any other electronic retailer can compete with. It is because of its scale of operations that it is able to maintain buyer power through suppliers to reduce the price of commodities. In addition, it is able to achieve larger economies of scale compared to other competing companies due to its large size. Such economies of scale enable it to sell its products at relatively lower prices.
In the same note, Best buy is competent in information systems which enable it to save extra costs. The information system is able to track orders, sales, inventory controls and provide any other information relevant for its operations since each store operates independently. Sequentially, the competence in information systems has enabled Best buy to efficiently manage its supply chains and logistics departments which have enabled its success.
Equally significant, Best buy offers a wide range of products compared to other competing retailers. It sells entertainment, grocery, health, apparel and other home used products. Additionally, it brands and labels its goods which attract many customers to its stores worldwide. With this, the company has seen a rapid growth and profitability in all its stores while maintaining a healthy business environment.
Similarly, the strategy of cost leadership has enabled Best buy to emerge the leading retail store in the world. With this, the company sells its products at the low prices while providing quality goods and services to the ever increasing consumer numbers. In addition, Best buy has built warehouses to store its products which help in the reduction of costs especially shipping costs. These reduced costs are felt by the consumers who buy goods at cheaper prices.
By the same token, Best buy does not rely on a single store or operate in a single country like most of its competitors but it has made its operations international setting up several retail stores in countries like the U.S, U.K, Mexico and Puerto Rico. Such foreign markets give room for new opportunities which have facilitated Best buy's growth. In addition, the management of the company is exposed to different experience given it operates in different legislations under different political leaders (Hicks, 2007).
Weaknesses
Despite the strengths of Best buy which have helped it grow profit-wise, it has many some weaknesses which ruins its public reputation. To begin with, Best buy has faced and is facing lawsuits in which it is blamed for poor working conditions, low wages, female discrimination and failure to pay its workers for overtime. This makes the company spent millions of dollars in the cases. On the other hand, the pubic reputation for the company has been ruined such that few personnel would be willing to work for them (Lamb, Harry & McDaniel, 2011).
Sequentially, the company has a high turnover of employees who are mostly unskilled which forces it to train them. This high turnover is caused by poor salaries for the employees and working terms like health policies. Consequently, this leads to wastage of resources and time which could have been directed to the marketing and selling of its products.
Comparatively, the company has negative publicity with many people blaming it for being corrupt especially for the top management and the poor working conditions of those employed in the company. This significantly reduces the number of customers for the company hence reducing the sales in a given store and consequently reducing the net income from sales (Ferelli, 2014).
As if that is not enough, Best buy does not carry out differentiation compared to its competitors. This has an implication to the company's future especially if the consumer's income increase or product's prices fall. The strategy of low cost leadership may not be significant which may lead to the increase in the number of competitors and consequently decrease its profitability.
Opportunities
In analyzing a company's situation, it is essential to also analyze its opportunities. On the wider scope, markets in retail increased, on average, by five percent in emerging markets, last year. The growth in retail markets was a huge opportunity for Best buy, one that would see revenue growth rise. Being a multinational business that thrives in the sale of groceries and general merchandise, Best buy is well established in India, Mexico and Brazil markets. Any visionary company should be responsive to the changing economic trends across the world. In order for Best buy to sustain a grown in future, it should endeavor to maximize opportunities that come along its way and increase.
Acceptance of private label products is rising. Any successful company does not wait for opportunities to pop, rather, it seizes opportunities while creating others. This concept is common in the business world. In the span of the past ten years, the purchase of private label items has seen a 40% surge. This demonstrates that there is an increasing acceptance of private label items as opposed to products that are of a national brand (Elms, 2013). This is a window of opportunity that Best buy should not leave to pass without maximizing on it. This trend presents Best buy with a rare chance of producing private brand items in order to increase its marginal profits.
A trend towards living healthy lifestyles is being witnessed. People have realized that health is tantamount to wealth and risking health is a sure way to poverty or unhappy life. As a grocery enterprise, Best buy gains an advantage in rise of health eating. There has been a concern by medical experts that people who want to live long and enjoy happy lives, should avoid fleshy meals, and are encouraging people to resort to vegetarian diet or just plant products. Due to this emerging lifestyle of healthy living, the demand for groceries has gone high. Best buy has better chances in gaining an advantage through this trend. Carefully strategized, Best buy can receive immense income generated from just the sale of groceries.
Intermarket marketing has greatly promoted online business. In recent years, online shopping has rapidly grown. Transactions are now easily conducted online, thanks to technology, and businesses have thrived greatly. In 2011, in the USA, online retail business grew by 4.7%, reaching $197 billion (Elms, 2013). So far, Best buy is one of most established offline retailer. An opportunity is presented to Best buy to embrace technology and online business in order diversify and extend its presence to online market. Best buy can design an online marketing strategy to help consumers access their private label products. Professional online marketers should be hired to facilitate the realization of this goal. It also avail convenience in picking the goods, earlier, ordered online having approximately 10,000 stores and can lower product prices online. The end result will see Best buy reaching many product consumers and increase of revenue.
Threats and External factors impacting decisions
Competition is either positive or negative. Online, Brick and Mortar competitions are a big threat to Best buy. Meanwhile, Best buy enjoys big price differences, but competitors like Costa, Target and Amazon are marshalling efforts to remove price differences. With an exception of lower prices, Best buy does not slightly differs from other retailers but is expected to witness competition in future (Ray, 2010). Another threat glaring at Best buy is local communities' increasing resistance. The influence that Best buy has in the local area is not positive. When Best buy opens superstores in the local area, some local retailers close off their businesses, as a result there has been experienced resistance by local members to Best buy. These effects are thus uniformly spread to families and the entire community. Best buy commodity prices are squeezed due to rising commodity prices. This threat is real, but strategies must be put into action to counter the threats. External factors affecting Best buy include globalization and government regulations. At times, price limits are determined by governments, and in rare cases governments may put sanctions to certain companies in order to reduce competition and prevent over-exploitations of citizens. Therefore, a company's decision are informed by the government, to some extent (Westland & Clark, 2003).
Recommendations and the future of the Best buy company
From the weaknesses and threats discussed above, the company is in a position to change the threats into opportunities and the weaknesses into strengths for a brighter future. The company should seek to manage its employees in a better way. Currently, there is an issue of mushrooming in unskilled employees whose pay is relatively small. Therefore, the company should consider working with fewer employees who are more effective and able to deliver quality in time. The leadership should therefore consider retrenching the unskilled labor whose delivery has not been pleasing and work with fewer, manageable personnel who are skilled. By so doing the company will be able to increase in production and service delivery to customers.
The future of the Best buy is sure if we consider the steps the company is taking especially in the Northwest Arkansas. The company has introduced a new retail format which is online based. Like any other company which is moving towards utilization of technology, the Best buy has started offering online orders and delivery in the Arkansas (Jurevicius, 2014). The plans for expanding the services to the rest of the world should be considered, because from the practice in the Arkansas positive results are expected.
More so, there is an issue of pricing of goods which drives the customers into unanswered questions. The company pricing is lower and this makes the customers suspicious of the quality of goods. Therefore, there is need for awareness to inform people the reason why the pricing is lower in comparative to other companies. Consequently, the company will be able to gain the trust of its customers and the overall results will be advantageous to the company.
The company should also seek to differentiate their goods to cater for all social classes, the rich, the poor and the middle class. There is little differentiation in the company and this has an effect of losing the higher social class if goods continue to be underpriced. The company should therefore look into the possibility of losing the rich to its competitors, and this should be avoided by accommodating both classes of people through differentiation.
Another challenge identified is to do with the publicity of the company, which has been discussed to be negative. The management should ensure the issues of bribery and corruption are dealt with severely. The senior managers should think of investigating the crimes to do with corruption and bribery, and taking the necessary action of replacing and giving such leaders to the law. Such misconduct associated with some leaders can bring the whole company down and therefore, need for immediate changes.
Conclusion
As seen in the discussion, the Best buy company is doing well, but there is a danger if care is not taken on the threats and weaknesses stated. Being the biggest company in the world, has several strengths ranging from scales of operation, international operations and effective communication systems. More so, weaknesses discussed which include the high number of employees and little differentiation among others is all associated with the company. Threats like increased competition and increased resistance by the society have been discussed. The opportunities seen are growth in emerging markets and changes in healthy eating among others as discussed. The company should check on the recommendations given for future better operation and this will help counter any competition.
References
Böhm, A. (2009). The SWOT Analysis. München: GRIN Verlag.
Elms, D. K., Low, P., World Trade Organization., & Temasek Foundation. (2013). Global value chains in a changing world.
Ferrell, O. C. (2014). Marketing. Australia ; Mason, OH: South Western Cengage Learning.
Fishman, C. (2006). The Best buy effect: How the world's most powerful company really works, and how it's transforming the American economy. New York: The Penguin Press.
Hicks, M. J. (2007). The local economic impact of Best buy. Youngstown, N.Y: Cambria Press.
Jurevicius, O. (2014). Walmart SWOT analysis 2013 | Strategic Management Insight. Strategicmanagementinsight.com. Retrieved 15 December 2014, from http://www.strategicmanagementinsight.com/swot-analyses/walmart-swot-analysis.html
Lamb, C. W., Hair, J. F., & McDaniel, C. D. (2011). MKTG5: Student edition. Mason, OH: South-Western Cengage Learning.
Ray, R. (2010). Supply chain management for retailing. New Delhi: Tata McGraw-Hill Education.
Westland, J. C., & Clark, T. H. K. (2000). Global electronic commerce: Theory and case studies. Cambridge, MA: MIT Press.