The Matthew Effect
Published:
23 February 2016
Remember! This is just a sample.
You can get your custom paper by one of our expert writers.
Get custom essay
95 writers online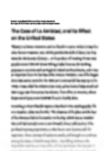 Abstract
In The Matthew Effect chapter of Outliers, Malcolm Gladwell states that a person's success s attributed to the timing of their birth date as it relates to the cut-off dates of sports and education. He believes that this one random date is the start of a series of advantages that can ultimately lead to success. Although timing of a birth date and opportunities can play a significant factor in one's success, they are not the sole determination of success. Gladwell fails to acknowledge the vital role an individual's ambition and natural born talent play in creating success or the crucial impact family influences can have on one's success.
Over-Simplified
Since Biblical times, groups of people were separated by the haves and the have not's. Matthew 25:29 states "For unto everyone that hath shall be given, and he shall have abundance. But from him that hath not shall be taken away even that which he hath." (Gladwell, 2008, p. 15) In chapter 1, of the Outliers (2008), Malcolm Gladwell has a similar argument in "The Matthew Effect". He argues that personal success is attributed to hidden advantages, such as someone's birth date, which in turn, creates opportunity through accumulative advantages. (pg. 19) Gladwell calls these successful people "outliers" which he defines as "men and women who do things that are out of the ordinary" (pg. 17). Although timing of a birth date and opportunities play a significant factor in one's success, Gladwell's theory that those are the sole determination of success is over simplified because it does not take into consideration the impact of one's individual ambition, talent, and family influences.
Ambition
In Outliers, Gladwell states that "people don't rise from nothing" (pg. 19) and completely discounts the role an individual's ambition plays in achieving success. When a student, or an athlete, possesses a strong desire for success, regardless of their age or birth date, it drives them to excel beyond the normal range. A perfect example of this would be a young girl named Stephanie Bradley. She wanted to be a doctor. Stephanie grew up in a small blue collar community in rural Texas. Her parents were not college educated and lived just slightly above the poverty line. She attended a small, public, 2A high school, with average teachers. In addition, she was the youngest in her class, in cases, by more than a year because of a mid-July birthday. What set her apart from the other students was her desire for success and her passion for medicine. This ambition drove her to work hard and smart, stay focused, and never take her eye off her ultimate goal. Along the way, she made sacrifices, but never veered off course. She didn't have any opportunities above and beyond ones she created on her own.
Born With It
Sheer talent is another key factor responsible for success and lies with the group of athletes that achieve success without the benefit accumulative advantages. These are the athletes who are born with a talent that supersedes the skill of other athletes. There is a difference between skill and talent. Skill is something that requires training and experience to do well, whereas, talent is a natural ability to compete with exceptional ability. (Bing dictionary, 2014) While this talent is rare to find, when it exist, these athletes can find success regardless of where their birthday falls on a calendar. One such athlete exists right now on a local high school swim team. Taylor is a high school freshman who didn't compete in little league sports, since his parents were more artsy than athletic and they never had the financial resources to pay for extracurricular activities. In his freshman year, a friend asked him to join the swim team. Having never competed athletically, Taylor was hesitant but agreed. To everyone's amazement, he medaled at his first swim meet. Not just in one event, but two. The next week, more success, more wins. His very first year swimming, he won at district, regional's and is ranked 4th in the state. There is now talk of Olympic trials. He has competed and won against athletes who have been swimming since the age of four, have logged thousands of hours in the pool, and whose parents have spend enormous amounts of money on private coaches. However, Taylor wins having never received those types of opportunities. He wins because of his natural born talent.
Family
An individual's family influences can also have a crucial impact on one's success. While Gladwell acknowledges that heritage and culture plan a role in success or failure as illustrated in the Harlan, Kentucky and The Ethic Theory of Plane Crashes chapters, he doesn't credit directly, the parents, grandparents, as well as, siblings that can provide a fundamental element in creating success. For example, if a parent has a strong desire to pass along their knowledge or skills in a particular sport, they are likely to start that process at a very early age which results in increased practice time developing the child's skill. This parent might also supply additional training above and beyond what a typical coach would provide. The family could also have connections with coaches or teachers that allow for added instruction. Siblings can also push individuals to a higher level of performance. For example, having an older brother who plays baseball with a younger sibling will be providing further exposure that can develop their skills. All this additional training and experience can develop a child ahead of the curve, regardless of their birth date.
The Other 32%
Gladwell's example of the roster of hockey players on the Medicine Hat team showed that "seventeen of the twenty-five players on the team" (pg. 23) had the perfect birth month for the sport. He credited their January, February, March and April birthdays for their success. However, that means that eight out of the twenty-five players (32%) on the team were successful, without the benefit of the perfect birth month. This group isn't the largest percentage of players on the team but it does show that success isn't based on just one factor. Gladwell's argument that success stems from hidden advantages and opportunities created by those advantages is true in some cases; successful people are not created from one formula, such as what month their birthday falls. That is just one piece of the picture of success. There are a multitude of factors i.e. ambition, talent and family that play a role in determining why someone is successful and they all need to be encouraged and promoted.
References
Gladwell, Malcolm. Outliers, The Story of Success. New York City: Little, Brown and Company, 2008. 15-34. Print.