The Necessary of Paternity Leave
Remember! This is just a sample.
You can get your custom paper by one of our expert writers.
Get custom essay
73 writers online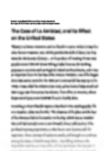 I believe that all men should take paternity leave, a lot of men do get paternity leave but most of the companies that offer paternity leave don't offer paid paternity leave and some don't give the men near as long as women get. Washington, New Jersey, and California are the states that have paid paternity leave. In California a man can take up to six weeks at partial pay. Companies that do allow men to take unpaid paternity leave have to let the person come back with the same job, pay, and seniority as one person left the company. When a person in with the highest pay and the highest rank may not be eligible for paternity leave no matter if it is paid or not, because it could cause economic harm to the company. You can use your unpaid leave in any way you want during the first year after your child is born, you can take it all at once or you can split it in to different weeks but only during the first year of your child's life.
While on leave your employer has to pay your healthcare premiums but they can request you to reimburse them if you are adopting a kid you can take leave if it is offered you can also take sick time of vacation time. Research shows that working men and women tend to make different adjustments when they become parents. Women typically reduce their work hours, while men typically increase theirs. And when women take maternity leave or temporarily cut back to part-time, many employers, rightly or wrongly, perceive them to be less committed to their jobs. So taking paternity leave for men could be risky and women also take a risk while taking time for their child or even trying to cut there hours can be harmful, but this time is needed to take care of and bond with your kid.