The Nurse's Role in the Organization's Strategic Agenda
Remember! This is just a sample.
You can get your custom paper by one of our expert writers.
Get custom essay
100 writers online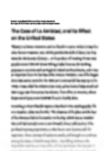 Nurses Role in Clinical Outcomes
The improvement of quality and patient safety must be a coordinated and a collaborative effort that involves all clinical services across the continuum of care. There are many challenges in health care and the ability to address the quality and safety issues depend upon adequate levels of appropriately educated and well prepared nurses. The purpose of this paper is to discuss how the nurse's role can impact clinical outcomes in an organization.
Summary of the Interview
For this interview I selected Kathy Bilys, Director of Quality at Porter Adventist Hospital. Kathy started her career in the technology field and decided to change paths about 12 years ago and has been at Porter ever since. Kathy is responsible for facilitating the efforts of the hospital to improve and sustain quality throughout our integrated systems. Kathy fully believes that nurse's drive patient outcomes and for this to be successful nurse's must not only be educated but they need to be invested in the desire to move metrics in a positive direction. The Joint Commission states that "nurses have an opportunity to help shape innovative approaches for patient-centered care" and this falls in line with Kathy's beliefs in her role. Majority of direct patient care is provided by nurses and that is why it is important for them to be involved in all aspects of quality/process improvements. Nurses play a key role in many quality improvements as they are usually the ones on the front line for providing patient care. Since Porter is a Magnet recognized facility there is a strong emphasis placed on nursing and patient outcomes. It is the responsibility of each individual staff member to be aware of the quality initiatives but a high focus is placed on the nurse ensure understanding and how failure can have a huge impact on patient outcomes. Nurses are at the sharp edge of ensuring patient
safety (Miller, Riley & Davis, 2009) and are pivotal when it comes to quality outcomes.
Impact on nursing practice
There are several challenges that nurses are faced with that can impact nursing practice and quality outcomes. This includes inadequate staffing, nurse engagement, administrative support and differences in education levels among nurses. Inadequate staffing not only effects patient care but also impacts the ability for nurses to participate in quality improvement projects. Decreased nurse engagement reduces the likelihood of buy-in or support because they haven't had time to understand the reasoning behind a particular quality improvement. Due to the large amount of data that needs to be collected to appropriately monitor outcomes, nurses are often too busy to partake in this process therefore creating another barrier for their buy-in. It is important to educate the staff on the importance of quality improvement. That is why it is important for educational programs to strengthen the skills of nurses in order to participate in quality improvement activates.
Summary
While quality improvement is not solely the responsibility of nurses, they play an important part because of the day-to-day patient care responsibilities. Nurse's need to be a more active participant in the decision making process of patient care and process improvements which could then increase quality outcomes. An organization's culture of safety is the result of shared values and behavior that demonstrate communications based on mutual trust, agreement on the importance of safety, and confidence in the ability to prevent errors through use of known safety practices (Kemper & Boyle, 2009). By following these guidelines it would seem impossible to not have metrics move in a positive direction.
References
Kemper, C., & Boyle, D. K. (2009). Leading your organization to high reliability. Nurse Management, 40(4), 14–18. Miller, K., Riley, W., & Davis, S. (2009). Identifying key nursing and team behaviors to achieve high reliability. Journal of Nursing Management, 17(2), 247–255. The Joint Commission (2010) Retrieved from
http://www.jointcommission.org/assets/1/18/RWJ_Future_of_Nursing.pdf