The Road Taken
Remember! This is just a sample.
You can get your custom paper by one of our expert writers.
Get custom essay
77 writers online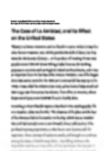 Literature is the expression of thoughts, ideas, or feelings someone may have and can either be written or spoken. Often times we become part of the literature in a way to try to understand what the message is that the author is trying to provide to us. The literary work that I have chosen was a poem written by Robert Frost in 1916 titled, The Road Not Taken. There were a few reasons why this piece of literary work captured by interest and the first was that in High School we spent a week provided our analysis on this piece. It caught my interest based on the genre. Poetry is a type of literature that is open to interpretation and there is truly no right and wrong answer so it gives me the opportunity to analyze it without there truly being a right or wrong answer, I would have to back up my opinion with facts. What also caught my attention was the use of tone, symbolism, and imagination. My feelings on the tone over time have changed and I feel that the tone is more depressive. I can apply what I feel the meaning of the poem which to me means the journey we take in life and the choices we make and how we look back at them. Secondly the use of symbolism can be seen throughout the entire poem and can be applied to everyone's life. Imagination can be tied with the symbolism, Robert Frost use of imagination gives the poem meaning and allows us to engage in identify with his meaning is and is trying to portray to us.
One of the analytical approaches in Journey into Literature written by Clungston (2010), is a reader-response approach. It is a way to find a personal link with the poem but there is more to this approach, there are a few questions that we need to ask in order to develop a critical analysis of the work. What captured your imagination? Was it a feeling, an emotion, a curiosity, or an aspiration? Did it involve a desire to escape a past or present association? What motivation or change did my connection with this piece of literature create in my thinking? In my relationships? What connections can I make between this piece of literature and others that I've read? Did my "connection" reinforce things I knew or add new insights? These are the questions that need to be answered prior to proceeding with a critical analysis essay of a particular piece of literature.
The poem The Road Not Taken, written by Robert Frost is a poem which consist of four stanzas that each contain fives lines. What first drew me in was the symbolism and imagination which caused me to develop a personal and emotional connection to the poem. I developed a personal connection with the poem from the first stanza. " Two roads diverged in a yellow wood, And sorry I could not travel both And be one traveler" (Frost, 1916). His use of symbolism can be seen in this verse meaning the decisions people make in life or the unique path we all travel in life. He then proceeds to tell us how he is thinking about his decisions prior to making it and trying to weigh the options and try to determine the outcomes. "long I stood And looked down one as far as I could To where it bent in the undergrowth" (Frost, 1916). In the poem Frost describes how he looks down both paths and how one looked better than the other but both are about the same.
What I believe Frost is saying that both choices look good and that one may be better than the other but both have been followed. "I shall be telling this with a sigh Somewhere ages and ages hence: Two roads diverged in a wood, and I— I took the one less traveled by, And that has made all the difference" (Frost, 1916). In this his last stanza he tells us that in the future he knows that we would look back and with a "sigh" that he took the road less traveled meaning that he made a choice that many do not make but this made all the difference. Now when I read the line "I took the one less traveled by," (Frost, 1916) and I look at the title I begin to wonder why the title is not "The Road Less Traveled." The poem does leave a lingering sense of melancholy mystery in my mind and I think both the "sigh" and title express this. I believe that Frost regrets the decision he has made this is why he would refer back to the road he did take. Also with the title The Road Not Taken, Robert Frost seems fixated on what is down that path that he did not take. Robert Frost has left this poem open to many different interpretations. I believe that everyone can find their own meaning to this poem based on their life experiences. Based on his use of metaphors, symbols, and imagination, he leaves the meaning open to the reader.
References
Clugston, R. W. (2010). Journey into literature. San Diego, California: Bridgepoint Education, Inc. Frost, R. (1993). The road not taken, and other poems. New York: Dover Publications.