The Role of a health and social care worker
Remember! This is just a sample.
You can get your custom paper by one of our expert writers.
Get custom essay
102 writers online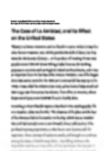 1 – Understand working relationships in health and social care
1.1 – Explain how a working relationship is different from a personal relationship
A working relationship is based on formal policies and procedures and an agreed way of working. You are bound by contracts of employment which you get paid for working. You have codes of practice that must be followed. A working relationship is professional based. You work with people as part of a team where each individual is working towards the same achievement of shared aims and objectives. You do not have to like the people you work with and you would have to keep personal opinion's ant and is a good key factor in developing a good working relationship. A personal relationship is formal through choice of someone you share the same interests and have feelings with and who you like. There will be no rules and procedures to follow and you don't get paid. A personal relationship is formed because you like a person and choose to have a relationship with them. You often share support between each other and feelings and thoughts as you can be who you are with family or friends.
1.2 – Describe different working relationships in health and social care settings.
There are many different relationships in health and social care settings. These Include colleagues, managers other professional such as doctors, district nurse's, service users and their family and friends. You would develop a different type of relationship with each of them some more formal than others.
Outcome 2
Be able to work in ways that are agreed with the employer.
1 – Describe why it is important to adhere to the agreed scope of the job role.
It is important because I have been employed for the job that is in my job description. I should only carry out procedures which I have been trained and that I am qualified to do. All this will be detailed in my job description. I should never be asked or undertake a job that I'm not qualified or trained to do because I will be the one held accountable if anyone is injured in the process. I would be putting myself and others at risk if I did.
2- Access full and up to date of agreed ways of working
3 – Implement agreed ways of working
Outcome 3
Be able to work in partnership with others
1 – Explain why it is important to work in partnership with others
It is essential that you work in partnership with all of the people surrounding the individuals we support in order to ensure that the best possible support and care is provided. This includes carers, families, advocates and all other people involved in they care. In order to work well there has to be good communication and you have need good communication skill you must always work as a team to provide and achieve the goal and best care there and outcomes which will benefit the service user's.
3 – Identify skills and approaches needed for resolving conflicts
As a support worker situations will arise there will be conflict with either
work colleagues or service users or other's we have contact with. Working as part of a team involves working with others this brings diversity of resources, knowledge and ideas. However diversity can produce conflict. Conflict arises from differences; conflict could arise from numerous things one could be communication barriers including poor listening skills. To resolve conflicts you should try using a quite area where you can discuss the issues raised, and mediate between those who have the conflict. You must then –
Remain calm
Listen carefully
Stay impartial and try see both points of view
Respond to criticism with empathy
Ascertain the desired outcome
Look for compromise
And
Ask others for hep if needed.
Unit 393
Understanding Sensory Loss
Outcome 1
Understand the factors that impact on individual with sensory loss
1.1 – Analyse how a range of factors can impact on individuals with sensory loss
Sensory loss can effect on normal living in a variety ways. These can be a hidden disability which can ultimately result in isolation and frustration due to not being able to communicate efficiently. In case of hearing loss day to day activities such as hearing the doorbell, using the telephone, watching tv or taking part in a conversation can build a sense of discomfort and inadequacy. On the other hand those who have vision impairment cannot distinguish faces in a face to face conversation; they feel difficulty in watching tv and reading time on clocks. Being unable to watch properly they suffer from a sense of inferioty complex and social withdrawal. These problems become worse with dual sensory loss. Hearing loss interrupts face to face communication and also leaves older people to lose interest in everyday activities. In these cases older people rely on eyesight to comprehend a conversation they then watch the person's face and lips for clues. People with dual sensory loss finds it difficult to identify the clues used by the speaker in conversation, as they don't have the ability to read their lips due to this they suffer lack of information.
1.2 – Analyse how societal attitudes and beliefs impact on individuals with sensory loss.
Societal attitudes and beliefs can impact individuals with sensory loss in quite a negative way because people in society can be very judgemental towards people that have disabilities, and puts them in a group of people with below average intelligence and assume they can't do or think the same as people that has no disability. People in society can be very prejudice and ignorant and think they are better than a person with sensory loss; also think it gives them the right to make fun at them and make life difficult in the process. Although not all people think the same there are many other people in society that is very open towards individuals with disabilities and sensory loss, and these people can be very helpful and kind, this can then have a positive impact on people's lives.
1.3 – Explore how a range of factors, societal attitudes and impact on service provision.
The social model of disability supports the idea of person centred services for the people with sensory loss this means that services are planned in ways that the person with the sensory loss plans the service they require and the need of support for them. Most people are offered a personal budget that enables them to work out a support plan based on what the person that has the disability is able to do for themselves. Person centred planning
puts the individual at the heart of everything and gives them choice and control over their lives. A personal budget gives people the chance to decide on what support they need:- How they want support delivered
Who they want to deliver the support
When they want the support.
This is very different to earlier models where services were delivered in way most convenient for the organisation providing the support and the person requiring support was just meant to fit in.
Outcome 2
Understand the importance of effective communication for individuals with sensory loss
2.1 – Explain the methods of communication used by individuals with
Deaf blindness
A person with deaf blindness communicates using the remainder of their sight and hearing. They also touch objects, this known as tactile communication, or by using touch with other people this is known as tactual communication. Communicating with people who have dual sensory loss is greatly enhanced by using clear speech and print. A person with vision loss after using signs to communicate can still follow the sign being used by putting their hands over those of the person who is signing.
2.2 – Describe how the environment facilitates effective communication for people with sensory loss
Supporting people to maintain their independence through managing their day to day environment, making small changes to an environment such as moving furniture or reducing noise can make a positive difference to people with sensory loss. The simple changes can make communication more effective for people. Using colour it is possible this will create a visual contrast between different surfaces to help people know the difference and highlight key and safety features. Effectively highlighted areas will help reduce risk of injury as it enables people with sensory loss to see edges between surfaces, depth and difference more easily. Making things bigger also sometimes helps people see or moving them closer to their eyes eg- sit closer to the tv to make it look bigger. Also making thing things brighter as give a person with sensory loss as much light as you can it will make them feel comfortable with the task they are doing. If you make are things bolder so they are easy to see eg if you put a dark plate on a dark coloured tablecloth this would be very difficult for the person to see the difference but if you used a light colour on a dark would be easier for them. Black and white is the best contrast of colours to use.
For effective communication with people with hearing loss are reducing noise and good lighting so they can see face of the person they are speaking to so they can then lip read. Other people also play a big part in effective communication as they need to think and be reminded the needs of people with sensory loss and encourage everyone to have consideration and respect for each other's particular needs.
2.3 – Explain how effective communication may have a positive impact on lives on individuals with sensory loss.
Effective communication with the service user is the key to the role of a support worker. Service users are often nervous, shy or, because of their condition, may experience difficulty communicating. The support worker has to find ways around any barriers. So, the skills of the worker must be highly developed and adaptable. The support worker needs a good understanding of different ways to share information. The support worker must also be familiar with any specific communication problems of each client in his care. Effective communication may have a positive impact on the lives of individuals with sensory loss by affecting their physical and mental well-being and make them cope with their sensory loss and maintaining social contact contributed to an improved quality of life.
This is about the person being respected as an individual, being treated like any other person, to promote their rights, eg, their right to have an interpreter at health appointments, not being patronised or discriminated against because of their disability, being treated with dignity, people taking the time to get to know them & use their preferred method of communication, how this would make the individual feel valued, increase their self-esteem, self-confidence, make them feel that they have something to offer their community & society, increase their social network & make new friends, open up new opportunities to them, open up their world, more opportunities, reduce their dependence on others so helping to increase their independence, reduce chances of abuse and being taken advantage of, respecting their privacy & dignity, being able to express how they feel, their likes & dislikes, who they are, a sense of self-identity, can reduce possibility of challenging behaviour as able to express themselves, increases chances of other people being able to get to know them, form relationships, to be like everyone else.
Outcome 3
Understand the main causes and conditions of sensory loss
3.1 – Identify the main causes of sensory loss
Deaf blindness – could either be present from birth or developed in later life. Congenital deaf blindness – this is often caused by genetic conditions such as Downs's syndrome and CHARGE (this is a rare condition that can affect various parts of the body including ears and eyes).Other possible causes of congenital deaf blindness could be – excessive drug and alcohol use during pregnancy, Viral infection during pregnancy such as rubella, a traumatic birth or premature birth. Acquired deaf blindness – Is a result of age, illness or injury most people with acquired deaf blindness have been able to see most of their lives. Blindness (sight loss) – is a result of glaucoma, diabetes, traumatic injury or illness, infections, age or from birth. Deafness – age is the biggest cause of deafness but could also be caused from a genetic hearing loss born deaf or become deaf over time due to a genetic abnormality. Other causes could be – Viral infections of inner ear, viral infections of auditory nerve, memieres disease, acoustic neuroma, meningitis, encephalitis and a stroke.
3.2 – Define congenital sensory loss and acquired sensory loss
Congenital sensory loss is when a person has had the sensory loss since birth and acquired sensory loss is when the sensory loss has developed as a result of ageing, serious illness or an injury.
3.3 – Identify the demographic factors that influence the incidence of sensory loss in the population
There are many demographic factors that influence the incidence of sensory loss in the population. As people age it is a common thought that losing some sight or hearing, or both, is a normal part of ageing rather than being potentially disabling. With rising numbers of people over the age of 60 and growing life expectancy, the percentage of older people who experience both sight and hearing loss is also Escalating. In particular, there has been a major increase in the number of people living to 'old' old age 85+ when it is now thought that deaf blindness is most likely to be challenging. Demographic influences in wales – the pits, steelworks affect our eyes and ears. Cornwall and Newcastle –They have Factories which affect our ears. But in Devon they have farms which there is not much affect to Hearing and sight.