The Significant Roles of Business in the Football World
Published:
21 September 2015
Remember! This is just a sample.
You can get your custom paper by one of our expert writers.
Get custom essay
103 writers online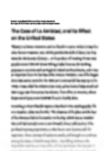 Everything in the world has a role to play, however, big or small, significant or insignificant that it might be. There is a given purpose intended for every living organism in the world and nothing comes in here and leaves without fulfilling its destiny. In the business world, every sector has a role to play, whether to the community, to the shareholders or to itself for the betterment of the society. When everything falls in place, the world becomes peaceful, serene environment where people co-exist with wildlife and plant life harmoniously. In this hypothetical scenario, everyone knows his or her place and everything that is invented serves its intended purpose.
In the discipline of management, there has been a sudden awakening about the corporate social responsibility (CSR) over the past decade. This has caught on in all sectors of business, including that of sports. In the evaluation of both marketing and management of sport ventures, this essay points to the corporate social responsibility of the professional football industry. It is true that the integration of CSR into one of the biggest and, most profitable ventures in the world can foster competitiveness, professionalism and the inevitable increase in value for the business. Therefore, it is important that the roles of business in football be defined, evaluated and exploited for the betterment of the entire world.
Football has become the modern day soap opera that is watched the whole world over. There are those that are invested financially, emotionally while some are just way in over their heads. Football, much like the internet has connected people on a global scale with such events as the world cup, the champions' league, Europa League, and the English premier league. The outcome of such contention is intense and it is full of emotional responses, whether on a personal or an investor point of view. Therefore, investing in football means investing in the lives of millions of football lovers around the world. Both the success and failure of such an investment means that there will be a significant effect on the invested parties. In so doing, it means that an investment in football or soccer is both a lucrative and risky endeavor.
Businesses should look into different approaches, especially when they are trying to create a name for themselves and to remain a dominant brand. Four major methods should be considered in the football sector currently. They include; the political approach, an integrative approach, an ethical approach, and the instrumental approach. These approaches are the main pillars that hold the society together in one simple, effective habitat. Business and normal life co-exist because people are willing to take consequential responsibilities for their actions and that they recognize there is no way that each can survive without the other. With this in mind, business thrives and normal life continues. Football contributes mostly to the economy of the modern world and so responsibility has to be taken for actions whether positive or negative. The business of football can yield millions or it can become a train wreck, depending on the decisions made by investors.
When people think of politics, the thought that goes through their mind is the old people sitting around arguing about the most boring of issues. On the other hand, the idea of football brings out the glamour of the English Premier League where young millionaires are made who drive posh cars, while living the life that most people would only dream of. These two concepts seem very dissimilar, but they are intertwined as blood and the body. They both reach millions of people, which can generate massive tribalism and both share several expectations in triumph and defeat. The political role of football cannot go unnoticed regardless of the location, gender, or affiliation of the individual. Therefore, conducting business in football means that this is as good an opportunity to reach the masses. This is because it springs up role models, from the unlikeliest of places such as slums and general humble backgrounds. The role of business in football is to ensure that the best product is put on them market for criticism and evaluation. For instance, there are instances of racism that are very brutal for both the players and the fans in general. It is the role of football to bridge this gap and bring acceptance to people of all races. Through labor, football has a responsibility to bring up talent from humble beginnings so that when they are rich and famous, they can return to the society what was given to them by the society.
Football has the sole responsibility of integrating the society to create a union of harmony and world peace. Investing in football brings to light a few ideologies that pose a challenge for both investors and consumers. The concept of integration simply refers to the idea of bringing people together with different ideologies and backgrounds to form a harmonious event that can capture the hearts of millions. From time immemorial, football has been a male dominated sport with little being said about the female sector. It is the role of football to bring this sexist ideology to rest. It should seek to embrace football as a worldwide event that does not discriminate against gender, religion, or financial background. Although mainstream football has remained a male dominated event, there has been quite an improvement on the female version of it. Since football is loved the world over, it is mandated to bring hope to all those who love the sport but cannot achieve the fame and wealth as those who play mainstream football.
Disability is one of the major areas, besides sexism that has received positive investment from football in general. Those who love football but cannot play because of a physical handicap can now train and play their own version of the game just like they dream of it. Football investment has led to the development of centers and the training of coaches who will help children with a physical disability to achieve their best. This integrative approach puts a lot of emphasis on teamwork and team building experiences that work hand in hand with the achievement of success in football.
Football is the most popular sport in the world because most people can relate to it or they have some vested interest, financially or otherwise. In addition, it is one of the most recognizable unifying factors in the world. For events such as the World Cup, there is a moment of unification in the world when this historic moment arrives. Especially the final match, the entire world practically stops for 90 minutes when two national teams compete for the most prestigious of prizes in sport history for any nation. Football releases an aurora of bliss and pride in many people which is hard to ignore when such an event happens.
Given that the World Cup takes four years before it can be contested again, these moments are priceless to the fans and those who never seem to know anything about football. An event just like the World Cup or the UEFA Champions League finals is not for the diehard fans alone to enjoy; it is a spectacle of much deliberation and amusement. Even those who do not like football much find themselves carried in the wave of football adrenaline that is rampant the world over.
With such unification to a single purpose and expectation, football bears a much heavy social and ethical responsibility to the fans, supporters, investors and the world at large. It is at this one moment that hearts are broken, lives are changed, and dreams are shattered forever. This is because football is not just a game; it's a lifestyle for many people. Many people make money out of it such as coaches, players, commentators, coaching staff, franchises and gamblers alike. It is, therefore, the duty of football to maintain world peace because, in a game of two teams, there has to be a winner and a loser. Football in this respect unites the world for a brief moment of history making, where people can forget their troubles for ninety minutes and enjoy the experience with the rest of the world.
Football has the sole responsibility to promote hard work, diligence and peace in the world. By setting up examples of players who have made it big and become famous, they provide a dream which in all manners and means is achievable. Also with rules against drug and substance abuse, football takes up the ethical mantle of making sure that kids stay off drugs if they want to have a career in professional football. Another responsibility that football carries on its shoulders is teaching kids how to be competitive.
FIFA, the world's football governing body has set up guidelines for etiquette and behavior on the pitch for players. This means that they have to conduct themselves in a certain manner even if they are feeling emotional. For example, they are supposed to take defeat with dignity and not utter insults or lash out. This promotes a culture of professionalism for both the existing and the soon-to-be stars. It also brings to light the competitive nature of football when rewards are given live on TV for all viewers to see. With cups, medals and hefty financial returns, business in football is certainly worth it.
Another, more vital role of business in the world, today, is the creation of employment. Since football has become a global event due to globalization, there has been a growing need to bring football to the grass root level. Ultimately, this means that everyone can enjoy a game of football without having to travel to the stadium to make it happen. Football has come all the way down to the local retail store where balls are purchased cheaply and can be played anywhere from the back yard to the Bird's nest. Employment is a driving force for any economy because without it, companies, organizations and businesses would not exist. Therefore, business in football means that there shall be employment at all levels of the game, both on and off the pitch.
Business in football has fed countless families through employment such as building of stadiums and the manufacturing of football paraphernalia. The sale of items of football such as tickets and merchandise has led to the generation of large amounts of profits, which, when re-invested produce more profits. It is through such profits that events like World Cup are made possible. Moreover, with such events, employment such as security guards, health personnel, cleaners, technicians, commentators, referees, journalists and the like find work. The success of such events largely depends on the coordination of the staff in order to bring a happy and fulfilling event. Therefore, business in football translates to employment in the world and subsequent growth in the economy.
In conclusion, football can be regarded as the single most dominant unifier of human experiences. Besides global disasters, nothing wins the hearts of millions, perhaps billions of people like the one football does. Everyone is aware of football, and at least two players regardless of their locality or profession. In addition, football provides a much needed sense of affection and pride when players make proud those who look up to them. For instance, winning the world cup greatly boosts the pride in the country and it brings unification for that country. Football fosters hope nurture dreams and dares others to dream big even in the brink of a crisis. Football is the modern day soap opera, with many twists and turns, but it remains, the most loved and respected sport ever invented.
References
FA make Eccles a political football. (Sport). (2010, March 22). Daily Mail, pp. 21-22.
Gamasutra – Press Releases – 2012-2013 EA SPORTS SEASON TICKET BENEFITS DETAILED. (2008, April 9). Gamasutra Article. Retrieved April 10, 2014, from http://www.gamasutra.com/view/pressreleases/177251/20122013_EA_SPORTS_SEASON_TICKET_BENEFITS_DETAILED.php
How football unites Europe; Charlemagne.(Footballers do better than politicians at making Europe work). (2003, May 31). The Economist, 2, 78-137.
Kaplan, R. (2008, July 1). Football and Philosophy: Going Deep.(Book review). Foreword, 1, 16-27.
Knapp, B. A. (2011, September 22). Becoming a Football Player: Identity Formation on a Women's Tackle Football Team. Women in Sport & Physical Activity Journal, 2, 45-98.
Loland, S., Skirstad, B., & Waddington, I. (2006). Pain and injury in sport: social and ethical analysis. London: Routledge.
Seland, D. (2013, August 1). Responsibility: Who Is to Blame?. Quality, 1, 120-209.