The souls of Black Folk by Du Bois
Published:
28 October 2015
Remember! This is just a sample.
You can get your custom paper by one of our expert writers.
Get custom essay
81 writers online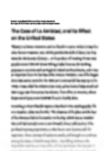 The souls of Black Folk by Du Bois
Introduction
            The souls of Black Folk by Du Bois is a primary source which is valuable and speaks to both the plight of the black Americans subsequent to the civil war and also to the identity of the entire nation. Writing during the early years of twentieth century, Du bois viewed the plight of the African Americans in USA from both a scholarly and personal perspective. He identified himself as a "problem,'' because the white Americans perceived him in such a way and not as a result of personally perceiving himself as such. During his childhood Du bois faced racial discrimination which together with other similar experiences which were shared by the other African Americans resulted to what Du bois referred to as "double consciousness, this notion of always perceiving at one's self through eyes of others." Through his speaking, political activism and writings he devoted his life to spearhead the black movement to higher levels. He also practiced what he usually preached. Du bois perceived assimilation to be the most ideal way of treating the discrimination against the blacks. Du bois also worked towards ensuring that blacks achieved the goals of education and also peaceful resolutions among the races and classes (Bois et al, 1997, p.2-14).
            In his book Du bois The souls of Black Folk advocated for the end of the discrimination of the Negroes on basis of their color and requested for the equal rights and opportunities for all the people and especially Negroes in America. In his opening chapter in his book he affirms the vital goal of American Negro: "He simply wishes to make it possible for a man to be both a Negro and an American, without being cursed and split upon by his fellows, without having the doors of opportunity closed roughly in his face" (Bois et al, 1997, p.3). Despite the fact that this does not seems to be a reasonable request, Du bois distinguishes the hindrances which makes it difficult for this possibility to become a reality. Du bois distinguished color-line as the problem of twentieth century. Du bois impacted the society also through encouraging the blacks to be proud of their achievements. In his efforts also encouraged the black Americans to fight for their rights and in this regard he was able to unite the black Americans. In the modern society Du bois efforts have an impact since people have become aware of their rights therefore they are able to fight for them whenever they are denied those rights. Also people have embraced education. The movement spearheaded by Du bois has instilled pride in black Americans today. True awareness which Du bois and other blacks of that time developed too late also even today impacts people (Bois et al, 1997, p.2-5).
References
Bois, W. E. B., David W. Blight, and Robert Williams. The souls of Black folk. Boston: Bedford Books, 1997. Print.