The sound and the fury by William Faulkner
Published:
28 November 2015
Remember! This is just a sample.
You can get your custom paper by one of our expert writers.
Get custom essay
93 writers online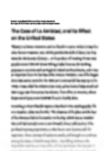 The sound and the fury by William Faulkner
Introduction
       The Sound and the Fury is an intransigently notorious and difficult novel that has received much acclaim and criticism in equal measure globally. Indeed, this is understandable of a book that literally transients the callous southern American tradition of slavery and racial profiling. Besides, the book's depiction of a family that descents from acclaim to desolation and finally live in shadows of its past is one that most people would not love to read. Most importantly, the book traces the deterioration of an intelligent southern adolescent who, living by the traditions of the south, carries along racial conventions to his final plunge in water where he commits suicide. This paper trails Quentin along with his racism to Harvard, his new insights into racism and his family's contribution towards his racist believes.
       Indeed, Quentin Compson is the eldest of the Compson offspring. As thus, he feels inordinately obliged to carry on the family's responsibilities and suffice its traditions of prestige and greatness. Quentin is first encountered in Chapter 2 where is currently pursuing studies at the Harvard, Massachusetts. It is through his prose that the reader develops an attitude towards him and the Compsons. Quentin is crucial because he presents the Compsons traditions and through him, the reader understands the racial profiling in the South. Interestingly, Quentin carried along the southern traditions with him to the university in the north. He, therefore, encountered feelings of abashed shame, hateful or blase. However, the university in the north is potential crucial because, through his encounters with other southern, he learns insightful details about the race.
       Spoade represents one of the southerners at the university who taught Quentin on race. He was a senior student at the university and saw pride for "never [running] for chapel". Besides, he is proud because he never wore a shirt till noon. Therefore, he did not fall into the traditions of the "Northern University". In so doing, Spoade adhered to the mythological grace and slowness characteristic of the Southern life. Interestingly, Spoade had "five names that also bore the current English ducal house" indicating that he was a detached and self assured person. Spoade boasts in being a gentleman causing jitters of shame into Quentin because the latter lacked sexual experiences. Perhaps, this is meant to infer that Quentin was possibly a gay. Indeed, "Spoade, [called] Shreve my husband." Shreve was Quentin's roommate at Harvard University.
       Other than Spoade, racial sense was taught into Quentin at the North by the Blands. This was an ostensibly wealthy family from Kentucky, in the south. Considering that this family shunned joining the confederacy, it distanced them from the "Lost Cause" idea. An assessment of this family's lifestyle reveals that they are extremely arrogant and ungracious, perhaps worse than Spoade. Firstly, the she in the family is a dotty seeking her son. Mrs. Bland took an apartment at Harvard on rent to be close to her son. Her motives are questionable as she goes to great lengths to fancy her son. For instance, she sources his clothes from New York.
       In addition, Mrs. Bland takes pride in the "Gerald's niggers and Gerald's horses and Gerald's women". According to her, Gerald reflected the splendid specimen that was a replica of the Old South Plantation boss. She is extremely snobbish and overly hateful and valueless to "these ignorant low class Yankees". She shows some value only to the Southern Whites. It is through Mrs. Bland that Quentin learns of the disdain characters in Gerald, another white. Gerald features as a dashing handsome young brute who also turns out to be a virile womanizer. Gerald uses his physique to lure white women into his lair. It emerges that he is a viciously rudimental schemer who has no respect for women.
       Quentin initiated a fist fight with him absentmindedly, and he ended up thrashing Quentin. This portrays Gerald in a bad light as an ungentle and respectful man as is Quentin. This is because he materialistically exploited his women rather than keep them safe and protected. Mrs. Bland inspires Quentin to think on issues of race. Her extreme obtrusiveness and condescending attitude disqualify her as a Southern lady. Quentin also questions the source of the bulk of wealth that the Blands have. Spoade's mild hatred for the family coupled with their showiness reflects an upstart family in the guise of the Old South. Quentin is emphatic that Spoade's image of the aristocratic family effectively concealed his mercenary and aggression Yankee antitype. Moreover, Quentin observes the imminent difference between Spoade and his ancestors who were parvenus.
       Quentin takes racial insights on the insensitiveness of the Blands and Spoade. Each of them appears shallow, unkind and unsympathetic towards each other. For instance, the white Blands are detached from a fellow white, Quentin, and only the Yankee, Shreve shows sympathy, friendship and concern towards him. Interestingly, Quentin is from the South just like the Blands and only Shreve the Yankee from Canada showed interest. However, it is observable that Quentin secretly envies the Bland and Spoade for their masculinity and nonchalance. Quentin is attached to their opinions and envies their free sense of self. Therefore, he feels awkward and ashamed in their presence.
       Quentin's encounters with the blacks at the Northern University was seldom but impactful. For instance, he encountered the Deacon who was acquainted with the South's social customs. According to Quentin, the, "Deacon could easily identify a Southerner at a glance". Quentin expresses the dexterous skill that the Deacon had by continuing that, "once he heard one speak, the Deacon could identify your state." This reveals that the Deacon probably resided in the South. Quentin is emphatic "de old nigger" sufficed their expectations by casting the slave role accurately and just perfect. Quentin believes that the Deacon managed to fool the inexperienced freshmen, but he had realized of his duplicity although he could not resist condescending him, although curiously. Quentin's admiration for the black "old nigger" is evident because he searched him out and donated an old suit although he claimed to dislike him.
       In the street car, Quentin sat next to a black man who wore "a derby and shinning shoes". He "[held] a dead cigar stub" replica to a normal, autonomous citizen. His passive demeanor of Quentin, the white, seated next to him brings Quentin to appreciating the equality between the whites and the black. It is until he is about to alight that he acknowledges Quentin by politely signaling request to pass. The incident retracts Quentin to an earlier episode in which he called a black man on a mule, in Virginia "uncle'. Quentin gladly offered a gift to him, and he humbly accepted. The two incidences with the black are a learning experience for Quentin on race issues. It irks him that he questions the stereotyping of the blacks whereby he realizes that the Northerner's expectations influenced him. Therefore, his acquired insights were not natural but rather learned.
       Quentin's family played a major role in his build up to committing suicide. Quentin spent his early years in prestige and wealth. His family owned huge and expansive property, the plantation. He grew up observing the southern doctrines and traditions, and he became indoctrinated into them. He held the doctrines close to his heart, idealizing nebulous and abstract concepts of virtue, honor and feminine purity. The south traditions enunciated strict code of conducts and Quentin grew into these same codes. Therefore, he was stereotypic of the southern perception of the blacks.
       As a Compson, Quentin thrived in the lives of commoners who owned lands and maintained plantations as well as several black servants. The commoners were aptly affluent and elite. For instance, Mr. Compson held a law degree and had an office in town. However, the Compson family degrades, deteriorates and their wealth reduces as Quentin grows into adolescence. His father had to sell off part of their plantation in order to raise money for the young Quentin to school at Harvard.
       Quentin is absorbed by his sister Caddy. He is affectionate towards her and is willing to cover up for her mistakes. Quentin is thrown into disarray when he realizes the promiscuity that her sister has been exercising. He is disparaged when she turns out to be pregnant. He is infuriated and disappointed by her acts because it tarnished the family's name. His absorption with sanctifying the family in line with the southern traditions leads him to claiming incest. He tells his father that he and Caddy committed incest, therefore, resulting to the offspring.
       On realizing her sister's promiscuity, Quentin turns to his father, Mr. Compson for guidance. However, this is a tragic because; the man who instilled the virtues of the south disregards the very pedestals that he raised him. Quentin, therefore, feels betrayed and cheated by both his father and his sister for failing to uphold the codes of the south. This torments him coupled with the deteriorated family statue. On his return to campus, he is a thoughtful, troubled and mentally ill person. He starts having disdained thoughts such as committing suicide. He thinks of eloping with his sister to indulge her into his suicide plan. His hatred and obsession with Caddy's promiscuity made him draw a knife and lung for her throat ,sometimes when they quarreled. Worse stills, he was obsessed with Candy and the thought of Caddy sharing sexual intimacy with another man gnawed him overtly. He had occasionally threatened to kill her. His lover for her is disastrous as he draws a man into a conquest and he is willing to fight for her. Therefore, her forsaking of the south traditions by her promiscuity and out of wedlock pregnancy were unacceptable to Quentin drawing him into despondency and, finally committing suicide.
References
Faulkner, William. The sound and the fury. Modern Library ed. New York: Modern Library, 1992. Print.