Travel and Tourism
Published:
19 February 2016
Remember! This is just a sample.
You can get your custom paper by one of our expert writers.
Get custom essay
76 writers online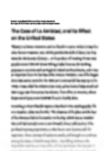 Air cabin crew members make sure that airline passengers have a comfortable, safe and pleasant flight. Air cabin crew member must be polite, well-spoken and have a positive approach.
Main duties & responsibilities
The job of a pilot comes with heavy responsibility and personal commitment. There is more to the role than just flying the plane, which has to be done safely and economically, and tasks can typically include: ensuring all information on the route, ensuring all safety systems are working carrying out pre-flight checks on the navigation and operating systems communicating with air traffic control before take-off.
Tasks may vary slightly depending on whether it is a short or long-haul flight and the size of the team you are working in. However, they typically include: Attending a pre-flight briefing, during which air cabin crew are assigned their working positions for the upcoming flight. Crew are also informed of flight details, the schedule and if there are passengers with any special requirements, such as diabetic passengers, passengers in wheelchairs or the number of infants on board; carrying out pre-flight duties, including checking the safety equipment, ensuring the aircraft is clean and tidy, ensuring that information in the seat pockets is up to date and that all meals and stock are on board; welcoming passengers on board and directing them to their seats; informing passengers of the aircraft safety procedures and ensuring that all hand luggage is securely stored away; checking all passenger seat belts and galleys are secure prior to take-off; making announcements on behalf of the pilot and answering passenger questions during the flight; serving meals and refreshments to passengers;
Entry requirements:
Qualifications
You would usually start your career as a first officer after gaining at least an Airline Transport Pilot's License. This is first awarded as a part time ATL, which allows you to fly as a first officer. When you have completed enough flying hours you can apply for a full ATPL and qualify as an airline captain. You must be at least 21 years old to have a full ATPL. You will need to pass a thorough medical check. You should be physically fit, and have good hearing, eyesight and color-normal vision. Several universities offer courses in air transport and operations with pilot training options. Some of these allow you to study up to frozen ATPL level. In most cases, you will have to pay for the flight training modules yourself.
A degree or HND/foundation degree is not required for entry into work as a cabin crew member. Instead, most airlines require a good secondary education, with some asking for grade C or above in English and Maths.
Skills
To become an airline pilot, you will need to have:
the ability to follow spoken instructions from air traffic control the ability to give clear, confident instructions to crew members and passengers good teamwork skills
the ability to work with technology
good hand-to-eye coordination
the ability to read maps and 3D displays
good written communication skills
The ability to remain calm, and take charge in an emergency. flexibility in
working unsocial hours on any day of the year;
To become a cabin crew member, you will need to have:
communication skills;
confidence in dealing with a range of people;
the ability to work as a team member (different teams may be worked with every day) and be supportive of colleagues;
competence in handling difficult situations and the ability to remain calm under pressure and in emergency situations;
the ability to be tactful and diplomatic but also assertive when necessary;
commercial awareness and sales skills;
flexibility in working unsocial hours on any day of the year;
the ability to work quickly and efficiently, often to tight time constraints;
numeracy skills for handling cash, including foreign currency;
The ability to work in a confined space.
Personal qualities
Pilots need to display a very special blend of personal characteristics: maturity, commitment, a technical aptitude and interest, determination to succeed, self-motivation and willingness to take on responsibility. The qualities of a good cabin crew are approachability, warm personality, sincerity, honesty, having a humble disposition, friendliness, discipline, stable emotion, having good listening skills, rule oriented, being organised, having a cross-cultural sensitivity and understanding, adaptability, assertiveness, dedication to details and having a good sense of humour. Some airlines look for air cabin crew who can speak a second language and this will be essential if you want to be based in an overseas location.
Experience
Pilots must be at least 21 years old and have full ATPL and have a certain amount of flying hours to start flying. They will need to pass a thorough medical check. To become a cabin crew memebr, you would be given basic training lasting between four and six weeks. This covers:
security, customs and immigration regulations;
safety and emergency procedures;
first aid;
customer relations and passenger care;
currency exchange;
food preparation and service, and galley management;
Personal grooming (appearance).
After this you would normally have a trial period of three to six months. During this time your performance would be checked by trainers or senior crew members. You would have to pass regular exams to test your knowledge of safety and emergency procedures, and to make sure you meet official first aid requirements.
Other factors, e.g. location, CRB disclosures, driving licence It is recommended that before candidates you begin any training you take the Civil Aviation Authority (CAA) Class One Medical. It is a requirement that all airline pilots pass this medical, and if they do not, they will not be able to complete the training to achieve the ATPL. Criminal record checks can play a key role in your personnel security regime, both at the pre-employment stage and as a tool in personnel security aftercare. The Department for Transport) requires a basic criminal record disclosure for certain roles. This shows unspent convictions only. Candidates also must be able to swim for 25m unaccompanied.
Cabin Crew candidates must go through a CRB check. To be successful candidates must not have a criminal record and in some cases not even a caution. Candidates also must be able to swim for 25m unaccompanied. Depending on what airline you work for, you must hold a driving license e.g. Flybe require candidates to have a valid driving licence.
Progression:
Opportunities for promotion & progression
Newly qualified pilots start with an airline as a copilot, where they will be second in command on the aircraft. The captain has the overall responsibility for the flight and safety of the passengers and crew but
shares tasks with the copilot. With enough hours and experience copilots will be able to progress to the role as a captain. With experience air cabin crew members could get promoted to pursers. As the purser, you would ensure that all crew within your cabin deliver the highest level of customer service. You would also give feedback on their performance and try to boost sales of duty-free items.
Training
Pilots training to reach the frozen ATPL level could take between nine and 36 months, depending on which entry route they follow. It may take less time if you already have a Private Pilot's License, Commercial Pilot's License or experience in the armed forces.
Training will include:
flight principles
navigation and communications
meteorology
operational procedures
aviation law
use of flight simulators and flying real aircraft.
During the training period, you would learn basic flying skills and usually work towards frozen ATPL. You must complete a minimum 195 hours' flying time to achieve this.
There isn't a strict education required for becoming an air hostess (besides a GCSE level in English and Maths for most companies), but taking cabin crew training will increase your chance of being hired. Some courses will provide you with training which is similar to the cabin crew training you would receive from an airline company. This gives you a benefit over those who didn't have some relevant training, which will likely make you stand out of the crowd.
Further & higher education
Pilots would normally start work as a co-pilot (first officer) alongside a training captain on short-haul flights. This would give them maximum experience of take offs and landings. A full ATPL is normally awarded after 1500 flying hours, with at least 500 of these as a co-pilot. Eventually you could become a fully qualified captain.
A range of further training courses are also available, which introduce candidates to skills and recruitment processes. Such courses often have useful links to major recruiters and can be an advantage, but do not guarantee entry to the profession.
Factors to consider: E.g. seasonality, temporary, fixed-term contracts.
Most seasons start in October and go through May-July so you missed this season. Contracts vary from fixed and temporary. If you have a temporary contract, airlines could go on to terminate your contract or offer you a permanent contract. Contracts vary from fixed and temporary. If you have a temporary contract, they could go on to terminate your contract or offer you a permanent contract.
Working hours
Your working hours would be linked to flight destinations and could include nights, weekends and public holidays. Working hours are strictly regulated for safety reasons. The amount of time you spend away from home would vary. On UK and European routes, you may be able to return home every evening. Flights further away would often involve overnight stays or longer. If so, your employer would provide you with accommodation.
You would work shifts that include weekends, nights and public holidays. The amount of time you would spend away from home would vary depending on the flight routes that you work on. You would be expected to be neat and smart, and your company would provide you with a uniform. The work can be physically demanding, as you would spend a lot of time on your feet and work in small spaces like the kitchen galley. Bad weather could make it uncomfortable in the aircraft.
Level of pay
A pilot's level of pay may vary from £21,000 to £75,000 depending on experience and level of flying hours. Starting salaries can be between £12,000 and £14,000 a year. With experience, this rises to between £15,000 and £21,000 a year. Senior crew can earn up to £25,000 a year. Overtime and flight allowances can increase salaries.
Perks
As well as getting to fly to either domestic or international destinations as part of their job, airplane pilots get big discounts on personal air travel. Many also enjoy discounts on personal car rentals and hotel rooms through their employers. These benefits can be for life and often extend to other family members. Pilots also enjoy free hotel accommodations when they have to stay away from home overnight. Cabin crew members are provided with free accommodation. You can get cheaper flights for friends and family depending on the airline. The major perk to being cabin crew. For the lucky few that get long haul flights then they will normally stopover in the country you are going too. The airlines will normally put you up in a 4 or 5 star hotel plus whilst you are there you are free to do as you wish. As well as all this you also get paid for it.