Turkey International Business Strategy
Remember! This is just a sample.
You can get your custom paper by one of our expert writers.
Get custom essay
72 writers online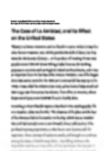 Introduction
Over the years Turkey has become an important centre for international business trading especially clothing in retail sector is a booming industry. Clothing is today one of the most competent sectors in Turkey retail industry which is dominated by large number of international brands. The main purpose of this paper is to understand the Indian clothing retail expansion strategy in Turkey and its success. The scope of the paper is to analyze the current industry trends in terms of clothing retail and understand is it advantageous for foreign apparel retailers to settle down in Turkey in terms of profits and revenue. The study conducted highlights on the various marketing strategies which are essential for companies to adopt while going global. The various sections in the paper throw light on economic, political, socio cultural analysis which plays a crucial role in the success of a foreign company expansion in Turkey. The chosen industry for this paper is Indian fashion retail which plans to expand business in Turkey. International Business Strategy
For international business expansion, the designing and development of strategy is significant to understand the market in international context. The business firms expanding abroad often face issues such as local adaptation for a long term survival in the economy. The international business strategy is a plan which undertakes wider research on various elements such as market trend, comparing host country with home country, analyzing the marketing environment and how to achieve sustainable competitive development. Expansion in international countries is not just a mode of entry rather it requires a complete understanding of the market, understand marketing trends, consumer behaviour and attitude, economic conditions, political relations which determine the success of the company internationally.
Though globalization has widened the scope of internationalization but still many companies fail to generate the desired rate of return and investment. The reason lies in the fact that many companies fail to understand the market before they start operating. The strategist failure to understand the consumer behaviour, neglecting cultural factors and economic situation often result in a number of problems for the company expanding globally. The best example to quote in international business strategy is McDonalds which is a worldwide chain and has global recognition. McDonalds has successfully made its way in international locations and has been successfully able to generate the revenue. The reason lies in the fact that McDonald with food as their key product was localized to suit the consumer needs. McDonalds has a standardized service but their menu is by large localized.
This means that their menu differs from country to country and is solely based on the consumer taste and preference. The expansion strategy was carefully designed understanding the local market and tailoring the product and service based on customer taste and preference. Today the reason why McDonalds is a perfect example to quote in International business strategy is because they have been able to adapt the menu, store layout, packaging of food and introduce promotions after understanding the consumer market and their behaviour. For Indian retail company expansion in Turkey, it is extremely important for them to understand the marketing trend, consumer preference for fashion, understand geographic spread, cultural difference between the nationals and means to enter the market so as to minimise risk and control costs.
Insight about International Retailing in Turkey
As the retail competition becomes intense it enhances the attention from major apparel giants present across the world. In the era of globalization, clothing becomes the main attraction for the consumers who want to change their existing dress pattern with what is followed in other nations. This has now become a common practice and consumers look forward to imported products and adapt to international dressing. As surveyed from the Euro Monitor (2004) Turkey is the main target centre for international retailers and research states that 35% retailers are present in major cities in Turkey which are considered the main target market for clothing retail.
As competition becomes intense, clothing becomes more complex and adaptation to local customer taste and preference becomes important for long survival in the market as characteristics changes from country to country. Fashion retail is a business to consumer product where the main target group is the consumers. The fashion industry in Turkey is characterised with changing styles and ever changing consumer demand. Therefore, undertaking market study and reviewing the current trend is very important to check feasibility of Indian fashion expansion in Turkey. The following paragraphs will take through the feasibility study of Indian fashion expansion on various factors such as economic, social, cultural, rules and regulations, political, geographical, demographics and mode of entry for its growth and survival.
Economic Situation
At present, 40% of the retail market in Turkey is dominated by international firms. They are largely retail chains which have widened the scope of employment, education and modernity in cities with the opening of modern retails in Turkey. The Turkish economy seems to be lucrative to international traders and foreign retailers. As the economic situation improved in Turkey post 2009, it can be said that modern retail has a bright future and will continue to grow in times to come with increase in population. The economy seems to be promising as the personal disposable income rises and growth in urbanization create more opportunities for international business expansion. In the last couple of years it has been noticed that mergers and acquisitions have become common mode of trading which has given international firms a platform to tie knots with the local firms and expand operations in Turkey. The situation has again picked up after economic recession in 2009 and future economy seems to be promising (Euromonitor International 2012).
Turkey is a booming market which has good growth perspectives in clothing retail. For Indian clothing retail expansion in Turkey would be a profitable venture as the economy has improved and the political parties are also supportive of international retail in Turkey. The economy has witnessed increase in foreign direct investments over the year and on the other hand purchasing power of the consumers has also risen as they develop a taste for international clothing brands. The application of value added tax on each purchase serves as an added advantage to the government as it adds to the country's revenue. From this one thing is for sure that whichever party comes in power, the foreign direct expansions will have a shinning future in Turkey.
Rules and Regulations
The rapid growth in business economy and political stability attracted a lot of multinational companies. The international firms are free to trade in Turkey and see a shining opportunity for expansion in Turkey. The economies are free to trade under foreign direct investment which allows the economies to trade in another country in line with the legal formalities. Due the global economic crisis in 2009, the Turkish economy slowed down and witnessed a fall in foreign direct investments.
In the next couple of months, the situation picked up and foreign direct investments in Turkey has rise by 74& in 2011 which means that foreign investments across Turkey now stands close $ 88 billion. However the market seems to be very competitive especially in the retailing segment but the poor intellectual property, irregular legal system and aggressive bureaucracy restricts the foreign direct investments growth in Turkey. Hence, it can be concluded that rules and regulations play an influential role in international business growth and expansion. Employment in Retail Industry
The research shows that organized retail in the form of shopping centers creates more job opportunities as compared with other sources. These trading formats in the form of retail chains carry higher capital investment and employment rate as compared to any of the manufacturing unit. The survey shows that shopping centres as noticed in the years 2007, 2008 and 2009 are 174, 210 and 236 respectively which shows that it progresses with time. This is a clear indicator which shows that there are brighter employment opportunities for employees in Turkey. According to the PWC survey in Turkey, it has been found that employment in organized retail is promising and the economy will see an opening of 1,35,000 jobs in 2012. This will generate employment for many executives in search for a job (World Bulletin 2010). With the organized retail expansion and increase in foreign direct investment in Turkey will definitely improve the employment scenario and offer employment to many.
Geographical
The impact of geography in international business strategy plays an important role in indentifying who went where and how. The geographical dimension plays a crucial role in market expansion and identifies the typical markets in this type of retailing. The research highlights on the fact that international firms for example Indian clothing retail in this case should plan for expansion and capturing most geographically and culturally familiar markets. Looking at the situation from geographical perspective, would like to add that international fashion retail would have more opportunities in metropolitan cities in Turkey. These cities have witnessed urbanization, modernization and growth in the personal disposable income of the consumers.
The urbanized areas are the perfect place to catch hold of the right audience for this type of a market. These cities have become the main attraction of the tourist and consumers who would visit the malls for fashion clothing. It has been surveyed that the total number of shopping malls in Turkey would expand to 347 by the year 2014 (Port Turkey. (2012). Currently, the country has around 265 shopping malls which are fully operational and it has been projected the number to go up to 347 by 2014. Apart from this, an average of 108 million people visited the shopping malls in cities in the year 2011. It has been expected that the economy will see a growth in the number of shopper s in malls from 108 million in 2011 to 122 million by 2012.
Socio Cultural
The main concern of the international business expansion is to understand the characteristics which are the main issue with many companies expanding overseas. Due to cultural differences it becomes essential for firms to adapt to local culture for long term survival. Attitude in marketing is defined as mental state of mind organized through experience over a period of time creating influence in their regular life. The research states that understanding attitude model becomes essential to understand and apply in the products and services offered by the firm. The cultural studies address the fact that understanding intension, behaviour and attitude are important to understand for greater profitability.
Entry Mode
In Turkey, since 1980s international fashion retailing becomes critical. The research states that Turkish firms have coupled with a number of multinational fashion retailers to capture Turkish market. The firms are free to enter through licensing agreements and also through joint ventures. The most common way adopted by international firms is to open fashion retail stores. To cut short the expense, multinational firms are free to enter the market by opening independent designer products rather than opening the stores. The globalization post 1990s has marked the opening of modern retail chain in Turkey (Fashion Retail, 2012). Simultaneously foreign capital flow also increased with opening of retail chain in biggest shopping malls in metropolitan cities. The academic literature holds that entry of the firms in international strategy is open to a number of choices which is considered to reduce the risk to the firm and overcome the cultural difference between the native and host country.
The cultural factors play a critical role in the success of an international expansion. In this case, Indian market and the fashion retail in Turkey would be different on a number of parameters. This means that Turkey society believes in fad theory and trying different outfits and getting adapted to the changing lifestyle. On the contrary Indian society does not believe in the theory of Fad. They are rather middle class individuals who would prefer to get value for money. This has been their main agenda at the time of purchase. But this is not the case in Turkey, the personal disposable income of the consumers is far more than the Indians and differ in buying patterns with Indians.
The lifestyle and the shopping patter in turkey would differ from that of the one followed in India. Indians would prefer consulting friends and family before making a purchase but in foreign countries they would not even bother to ask anyone and take individual decision while making a purchase. For a successful business venture in Turkey or any other foreign country it is extremely important to understand consumer behaviour and design the clothes based on their taste and preference which differs from nation to nation. Demography
On demographics front, it has been learnt that consumers respond differently to same product. Age is one of the most important aspects of demographics which play an important role on individual decision for international clothing as chosen topic in this case. It influences individual decision on clothing and store attributes should be in line with the age of the target audience. These two factors go together and should be kept in mind to market the product profitably. So, fashion and store layout go hand in hand and considered important attributes for international business strategy in fashion retail.
Conclusion
From the above analysis it can be stated that there has been a sweeping change in Turkey clothing retail. The increasing disposable income of the consumers and changing social trends has seen a growth in fashion retailing in Turkey. India's retail expansion in Turkey will be challenging in terms they will have to adapt to the environment culturally and socially. In fact as the brands go global, they can use internet as a medium for promotion and hitting the right target audience. E-commerce has now become an effective tool for conducting business; Indian clothing can enter into ecommerce business in a joint venture with Turkish retail for a profitable venture. Markets across the globe are moving out of brick and mortar shops and entering into ecommerce through internet for a sustainable long term growth. For Indian apparel success, the company should be youth focussed and should be located in the shopping malls occupying the strategic locations.
References
Dawson, J. & Lee, J., (2005). International Retailing Plans & Strategies in Asia John, R. & Gillies, G., (2002). Global Business Strategy. Thomson. China Attitudes towards purchasing from Foreign Apparel Retailers. (2009). Retrieved on May 1, 2012 from http://eab.ege.edu.tr/pdf/9_1/C9-S1-M3.pdf
Euromonitor International. (2012). Retrieved on April, 29 2012 from
http://www.euromonitor.com/retailing-in-turkey/report
Fashion Retail. Retrieved on May 1, 2012 from
http://culturalexchange-tr.nl/mapping-turkey/fashion/sub-disciplines/fashion-retail Global Retail & Consumer Study from Beijing to Budapest. (2005). Retrieved on April 30, 2012 from http://www.pwc.com/en_GX/gx/retail-consumer/pdf/turkey.pdf
Port Turkey. (2012). Number of Shopping Malls in Turkey to reach 347 by 2014. Retrieved on May 1, 2012 from http://www.portturkey.com/enterprise/671-number-of-shopping-malls-in-turkey-to-reach-347-in-2014 Doing Business In Turkey. (2012). Retrieved on May 2, 2012 from http://export.gov/turkey/doingbusinessinturkey/index.asp
World Bulletin. (2010). Retrieved on May 2, 2012 from
http://www.worldbulletin.net/index.php?aType=haber&ArticleID=64041