Understanding employment responsibilities
Remember! This is just a sample.
You can get your custom paper by one of our expert writers.
Get custom essay
99 writers online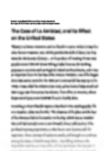 List the aspects of employment covered by law:
The Data Protection Act 1988 – This act covers the rights of an individual. Written, confidentially, retrieval and handling of verbal information. Equality Act 2010-This act has replaced previous anti-discrimination laws with a signal act, making the law easier to understand and strengthening protection in some situations. Health and Safety at Work Act 1974- This act is to protect the employees from any danger or risks, it's the employers duty to see this threw in the work place. It's the employee's duty to avoid taking any risk, by using any protective clothing, equipment that is provided, and follow any training/advice given. Minimum Wage Law- This is a body of law which prohibits employers from hiring employees for less than a given hourly, daily or monthly minimum wage. Hours worked.
Discrimination.
Holiday entitlement.
Training.
Redundancy and dismissal.
Disciplinary procedures.
Union rights and consultation.
List the main features of current employment legislation;
National Minimum Wage Act 2000
Disability Discrimination Act 2005
Employment Rights Act 1996
Sex Discrimination Act 1975
Protection from Harassment Act 1997
Working Time Directive 2003
The Mental Health Act 2007
Employment Equality Act 2004
Equal Pay Act 1975
Racial and Religious Hatred Act 2006
Health and safety legislation.
Outline why legislation relating to employment exist;
Ensures safety of employees in the work place.
How you should behave at work and what you are expected to do Stops employers exploiting their employees, e.g. working hours, wages, maternity, holiday, and safety standards. Gives you guidance
The right of both employer and employee must be adhered to and protected at all times. Provides protection against discrimination.
To protect employees rights
Identify sources and types of information and advice available in relation to employment responsibilities and rights.
Contracts.
Policy Documents.
Library.
Internet.
Terms and Conditions.
Job Description.
Citizens Advice.
Handbook.
Colleagues.
Trade Union.
Task 2 – Awareness of own occupational role and how it fits within the sector.
Describe the terms and conditions of own contract of employment.
A contract is between two people, so an employment contract is between you and your employer. The terms and conditions of my own contract are letting me know; Job description – what I am employed to do.
Hours of work- what time I start and what time I finish.
Salary- What hourly pay I am on.
Length of contract- i.e. 6 months or 1 year.
Holiday entitlement- How many days I can book off threw the year. Sickness rules.
Disciplinary procedure.
Maternity leave- How many weeks I have off and the pay amount. Training
DBS
Describe the information shown on own pay statement.
The information shown on my pay statement is;
Name.
Process Date.
Employee no.
NI Number.
Units – Number of hours worked.
Rate – The hourly rate paid.
Amount – Total amount earned that week.
PAYE Tax – Amount paid that week
National Insurance – Amount paid that week. National Insurance is a compulsory insurance scheme for people in work, which entitles them to be treated on the NHS. Name of company I work for and employer.
Tax Period.
Tax Code.
Payment Method – BACS, CASH
Payment Method – Weekly.
Total Gross Pay.
Gross for Tax.
Earnings for NI.
Total Gross Pay TD.
Gross for Tax TD.
Tax Paid TD.
Earnings for NI TD.
National Insurance TD.
Net Pay.
Every employee by law has a certain amount of money deducted from the wages. This is to cover your National Insurance and Income Tax. National Insurance is a compulsory insurance scheme for people in work. The employee and employer both contribute and in return, employees has the right to treatment under the NHS, to a basic retirement pension, and to benefits when they are sick, disabled, unemployed, pregnant or looking after a new baby. Every person has a National Insurance number, which appears on your pay slip.
When you start working you will be given a Tax Code that will indicate to your employer how much tax you should be pay. Taxes are compulsory. A part of each person's earnings is collected by the government, and then used to pay for the things that we need as a country, such as hospitals, roads, schools and defences. Each year you will receive a P60 form, which will show how much you have earned, and how much tax you have paid for that year. When you leave a job your employer must give you a P45 form, which you must give to your new employer.
Describe the procedures to follow in event of a grievance.
1st Step – Workers should put their grievance, preferable in writing, to their immediate line manger. Where the grievance is against the line manger the matter should be raised with a more senior manger. If the grievance is contested the manger should invite the worker to attend a hearing in order to discuss the grievance and should inform the worker of his/her statutory right to be accompanied depending on the nature of grievance. The manger should respond in writing to the grievance within a specified time (e.g. within five working days of the hearing or, where no hearing has taken place, within five working days of receiving written notice of the grievance. 2nd Step – If the matter is not resolved at Step 1 the worker should be permitted to raise the matter in writing with a more senior manger.
The manger should arrange to hear the grievance within a specified period (e.g. five working days) and should inform the worker of the statutory right to be accompanied. Following the hearing the manger should, where possible, respond to the grievance in writing within a specified period (e.g. 10 working days). 3rd Step – Where the matter cannot be resolved at step 2 the worker should be able to raise their grievance in writing with higher level of management. The choice of this person depends on the organisation. Workers should be permitted to present their case at a hearing. The manger dealing with the grievance should give a decision on the grievance within a specified period (e.g. ten working days).
Identify the personal information that must be kept up to date with own employer;
Name
Address
Date of birth
Contact number
Emergency numbers
Bank details
National insurance number
Qualifications
Employment History
References
Next of Kin
Health needs
Absences
Sick leave
Holiday leave
Supervision notes
Any disciplinary actions
Any details of accidents connected to work.
Explain agreed ways of working with employer;
Standards, policies and Procedures;
High staffing ratio to ensure that children have sufficient individual
attention and to guarantee care and education of high quality. Appropriately qualified staff and checked for criminal records through the Criminal Records Bureau. Meet the aim using the following ratios of adults to children Under 2s- 1 adult: 3 children
Age 2 – 1 adult: 4 children
3 to 7 – 1 adult: 8 children
Minimum of 2 nursery nurses are on duty at any one time.
Key person system in place to ensure that each child and family has a particular member of staff for discussion and consultation. All nursery nurses have a job description which is set out to their roles and responsibilities. Regular in service training to all employees.
Induction training provided in first week of employment. (includes health and safety policy and procedures, and child protection. Have regular supervision meetings and appraisals (6 weeks)
E-safety policy- mobile phones to be left in office at all times.
Code conduct;
Staff is expected to conduct themselves at all time in a professional, courteous, helpful, warm and consistent manner to children, parents and staff.
All staff must disclose any convictions, cautions, court orders, reprimands and warnings which may affect their suitability to work with children set in the EYFS statutory framework (The safeguarding and Welfare Requirements).
Staff is expected to display both knowledge and understanding of multi-cultural issues and a commitment of treating all children and parents/careers as individuals and with equal concern and respect.
Staff will have regard to maintaining appropriate dress and personal appearance for working with children and with awareness of health and safety issues – plain black top, black trousers and suitable black shoes. Uniform
provided by nursery.
Staff must adhere to all the settings policies and procedures at all times.
Staff must not behave in a racist manner under any circumstances and must not make racist or sexist remarks.
Staff must never show favouritism.
Staff must prevent the abuse of younger, weaker children by older and stronger children.
Staff will not be permitted into the nursery if there is any indication of being under the influence of drink or substance misuse.
Staff must operate sate internet usage both in and off the premises.
Staff must not have visible tattoos or piecing.
Staff must wear long hair tied back at all times.
Staff must observe confidentiality at all times both in and out of the setting.
Staff must inform the setting before 8.00am if they are sick and unable to come to work, and by 4.00pm the same day if unable to work the next day.
Staff must make sure they are in their respective rooms/areas and ready to start work at the beginning of their shift.
Staff must not smoke on or around the nursery premises.
Staff must abide by the settings confidentiality and information sharing policies and to only share information appropriately and when required.
Job Description;
Be qualified.
Be experienced.
Good team player.
Have good time keeping.
Have good communication skills with children, parents and staff.
Contract of employment;
Term time only contract.
Zero hour contract.
Keeping safe;
Wearing protective clothes while changing nappies and clearing up body fluids i.e. gloves and aprons.
Following all policies in the setting.
Risk assessments to be followed or carried out.
To remove any thing that is at a risk for staff or children.
Equality;
Equal opportunities, treating every child as an individual.
Treating each child as an individual to meet their daily needs.
Treating each staff member with respect.
Working as part of a team;
Having good communication between the staff.
No bullying staff members.
Helping other staff where help is needed.
Carrying out your own role within the nursery so other do not have to pick up the slack.
Task 3 – Agreed ways of working with employer.
Explain how own role fits within the delivery of the service provided;
My own role is working with the babies aged 2months to 2 years. Meeting the individual child's needs including the child's wellbeing and involvement. Keeping the children safe and helping them to feel safe.
Following the settings polices.
Having good communication between staff, parents/careers, children and outside agents i.e. Ofsted. Confidentiality.
Working as part of a team.
Working well with parents/careers.
Meeting the requirements set out in the employee's job description. Following the E.Y.F.S
Supporting children in their every move in their development.
Explain the effect of own role on service provision;
I am paid to work.
Follow the polices set by the setting, and work to a good standard. I look after the babies (2 months – 2years), I help each child individually, to
help meet their individual needs and wellbeing. Making sure the setting is safe and stable for this age group is very important, as babies like routine. Having familiar faces is good so the babies can make strong relationships. Following the E.Y.F.S and helping the babies develop in certain areas.
If I didn't work to a good standard the babies would be at risk, they would not get their individual needs and their wellbeing met.
Other staff members may have to work harder, as my standards are not being met.
The babies may not be settled in their setting, due to lack of commitment.
Parents may find you unapproachable, so may not pass on information which may affect the child.
Describe how own role links to wider sector;
We follow the EYFS so we work alongside the reception year in school. Meeting and adapting to different culture needs.
Working with outside agencies and organisations.
Training i.e. safeguarding, behaviour, first aid.
We pass on relevant information to other professions.
We encourage the child's physical development.
Working with parents/careers.
Work with social services.
Who is above me and what do they do?
The supervisor is above me, if I had any worries about a child then I would pass on the relevant information to them.
Who is above them and what do they do?
My manger is above the supervisor
Who regulates your provision?
The manger overlooks the setting, and makes sure that day to day running of the setting is running correctly. They ensure everyone is following the regulations and to ensure the highest standards are met. They also have the role of making sure all the children are safe and their wellbeing is being met at all times. They also ensure the safety and wellbeing of the staff are met.
Describe the main roles and responsibilities of representative bodies that influence the wider sector;
Ofsted – Ofsted is the Office for Standards in Education, Children's Services and Skills. They report directly to Parliament and they are independent and impartial. They inspect and regulate services which care for children and young people, and those providing education and skills for learners of all ages. Every week Ofsted carry out hundreds of inspections and regulatory visits throughout England, results are published on their website. Ofsted work with providers which are not yet good to promote their improvement, monitoring their progress and sharing with them the best practice they find. The inspectors will want to know that each child's needs are being met by all staff. They will want to consider the question 'What is it like for a child in this setting?'.
NHS – Everyone has a responsible for their own health, but the NHS is also responsible for helping people to improve their health and wellbeing. The NHS's role in preventing poor health and promoting healthy living is essential to reduce health inequalities and sustain the NHS for future generation. Health and Safety Executive – Is a body responsible for the encouragement, regulation and enforcement of workplace health, safety and welfare, and for research into occupational risks in England and Wales and Scotland. They are an independent prosecuting authority that takes action against those who put workers at risk of death, illness or injury.
Trade Unions – Most trade unions are independent of any employer. Trade unions, however try to develop close working relationships with employers. Sometimes a partnership agreement between the employer and the trade union which identifies their common interests and objectives can form. They negotiate agreements with employers on pay and conditions; discuss major changes to the workplace i.e. large scale redundancy. They discuss their members; concerns with employers, accompany their members in disciplinary and grievance meetings, provide their members with legal and financial advice, provide education facilities and certain consumer benefits i.e. discounted insurance.
Task 4 – Career pathways;
There is a few different job roles available in child care here are a few; Playworker – Organise and take part in play and leisure activities for 4 to 16 year olds. They work at places like breakfast club, after school clubs, mobile play buses and holiday play schemes. Nursery Assistant – Will work alongside and usually under the supervision of qualified nursery nurse. They will assist nursery nurses in most aspects of their work, ensuring that the children in their care are happy, stimulated and remain safe. Nursery Nurse – Provide care for children up to the age of five years old. Work for a nursery nurse typically includes things like, providing physical and emotional care. Supporting carers in the parenting of their children. Maintaining toys and equipment, maintaining the environment in a child friendly manner.
Working with members of different agencies. Deputy Nursery Manger – Must ensure that at all times the safety, care, welfare and happiness of all children. Must be aware of all children with special needs in their care, and is proactive in ensuring appropriate action is taken to promote the welfare and development of those in the nursery. Also must ensure that all adults working and looking after the children are able to put the appropriate procedures for safeguarding of the children into practice. Teaching assistant – As a teaching assistant you would support teachers and help children with their educational and social development, both in and out of the classroom. Your exact job will depend on the school and age of children you work with. You may also support children with particular needs, working with them individually or in small groups.
Different sources of information related to a chosen career may be found threw;
Job centre,
Collage,
Leaflets,
Colleagues,
Mangers,
Internet,
Library,
Magazines,
Newspaper,
Training courses,
Adult education centre,
Appraisal/supervision.
Next steps in my career path;
My next steps in my career would be to complete my level 3, then enjoy working in the nursery setting for a while. Once I thought or feel I have enough experience then maybe my next path would to become a Deputy Nursery nurse. Maybe if I wanted a change then maybe a Teacher assistant working with older children.
Task 5 – Issues of public concern and how these may influence changes in the sector.
Here are three different occasions where the public have raised concerns regarding issues within the sector;
Victoria Climbie, (2nd Nov 91 – 25th Feb 00)
Victoria was just 8 years old, she was tortured and murdered by her guardians Therese Kouao her great aunt and Therese boyfriend Carl Manning. Therese arrived in London April 1999 with Victoria, it is not known when the abuse started although it is suspected to have worsened when Therese and Victoria met and moved in with Carl. During this time the abuse Victoria went threw was burnt with cigarettes, tied up for periods of longer than 24 hours. She was hit with bike chains, hammers and wire. Up to her death Victoria had contact with 2 child protection police teams, 4 social services, 3 housing departments, department of 4 local authorities, the National Health Services (NHS), the NSPCC, 2 hospitals and local churches and all noted signs of abuse.
On the 24th Feb 2000, Victoria was taken to hospital semi-conscious and suffering from hypothermia, multiple organ failure and malnutrition. The Pathologist who examined her body noted 128 separate injuries and scars to her body, she described it as the worst case of child abuse she had ever seen. The judge in the trial following Victoria's death described as "Blinding incompetence" all failed properly to investigate the case and little action was taken. Therese was arrested on the day of Victoria's death. Manning was arrested the day after. On the 20th Nov 00, at the Old Bailey they were both charged with child cruelty and murder. On the 21st Jan 01, they were both found guilty and sentenced to life imprisonment.
Peter Connelly, (Baby P) 17 Months Old.
Peter died after suffering more than 50 injuries over an 8 month period. He suffered bruising, scratches, swelling on the side of his head, broken back and broken ribs. He swallowed a tooth after being punched in the face, he also suffered mutilated fingertips and missing fingernails. Peter lived with his mother Tracey Connelly her boyfriend Steven Barker and Stevens brother Jason Owen. In Dec 06 a G.P noticed bruising on Peters face and chest.
His mother Tracey was arrested and Peter was placed into care of a family friend but returned home into his mothers care Jan 07. Over the next few months he was admitted to hospital on 2 occasions, suffering from injuries including bruising, scratches and swelling on the side of his head. Tracey was arrested again in May 07. In June 07 Social Worker observed marks on Peter and informed the police. A medical examination conduced that the bruising was due to abuse. On the 4th June 07 Peter was placed with a friend for safeguarding. On the 25th June 07, Haringey Councils Children's and Young Peoples Service obtained legal advice which indicated that the 'threshold for initiating care proceedings…. Was not met'. 1st Aug 07 Peter was seen at St Ann's Hospital by locum paediatrician Dr Sabah Al-Zayyat. Serious injuries including a broken back and ribs very likely went undetected. ( The autopsy report believed these to have pre dated Dr Al-Zayyat's examination).
The next day 2nd Aug 07 Tracey was informed that she would not be prosecuted. On the 3rd Aug 07 (the next day) an ambulance was called and Peter was found in his cot, blue and clad only in his nappy. Peter was pronounced dead at 12.20pm. Post mortem revealed he had swallowed a tooth after being punched, other injuries included broken back and ribs, mutilated finger tips and missing finger nails. Over 8 months more than 50 injuries were found, during this time he was repeatedly seen by Haringey Children's Services, social workers and NHS professionals. Peters mother Tracey Connelly her boyfriend Steven Barker and his brother Jason Owen were all convicted of causing or allowing the death of a child. Tracey pleaded guilty to the charge.
Peter was under the same child care authorities that had already failed 10 years earlier in the case of Victoria Climbie. This had led to a public enquiry which resulted in measures being put in place to prevent similar cases happing.
Daniel Pelka – 4 years old.
Daniel died/murdered on the 3rd March 2012, he weighted just 1 stone 9 pounds when he died from a head injury. Daniels 1st language was polish. Daniels mother – Iuczaks Magdalena and her partner was Mariusz. Daniel was starved, beaten, locked up in his room, force fed salt and had his head put under water in the bath. March 08, Daniel was 8 months old when he was treated for a minor head wound. Jan 11, Daniel was 3 ½ years old when he taken to A&E with a fractured arm. The review said the hospital "rightly raised immediate concerns about his arm". A meeting was held to decide if it was caused by falling off a sofa, as Daniels mother claimed or was the result of abuse. Meeting decided his mother's explanation was plausible.
The review also said other bruises found on Daniel's body at the time, which his mother claimed were from bicycle accidents were not "fully explored". Daniel also arrived at school with bruises and facial injuries and was seen scavenging for food. Teaching assistant described Daniel as a "bag of bones" and the trial heard he was "Wasting away". A serious case review found Daniel was "invisible" at times and "No professional tried sufficiently hard enough" to talk to Daniel.
Report said that due to such inconsistency, Daniels lack of language and low confidence was not picked up on and would have made it 'almost impossible' for him to reveal the abuse he was suffering. His polish speaking should have been overcome. The school didn't link Daniels physical injuries with his obsession with food, which his mother put down was caused by a medical condition. To many excuses made by his mother were accepted by agencies. Professionals needed to 'think the unthinkable' and act upon what they saw, rather than accept 'parental versions'. Daniels 'voice was never heard'. English was not his 1st language.
No record of 'any conversation' held with Daniel about home life. Outside school, relationship with his mother or her partner. There were 'committed attempts' by the school and health worker to address his health and behavioural issues in the months up to his death, but there were too many opportunities missed for more urgent and purposeful interventions. Two of these chances were when Daniel was taken to A&E department with injuries.
Daniel could have been offered greater protection if the professionals involved had applied a 'much more enquiring mind'.
The Children's and Families Mister, Edward Timpson said the report made 'Shocking reading' and 'laid bare' the lack of intervention by professionals. Mr Timpson had written to the Coventry safeguarding children board asking for a clearer analysis as to why the mistakes occurred. Amy Weir (board's chair) found the report 'disheartening, disappointing and generally worrying'. Garry Forsyth (west midlands police) said "we accept that Daniel was not given a voice". He said the report "raised the lack of consistency" in offices dealing with separate domestic abuse reports, force needed more holistic approach.
Coventry has one of the lowest numbers of health visitors per child in the country. That was recognised, and working with NHS England. Since Daniels death the number of health visitors has doubled and is expected to have trebled by 2015.
After each case, we can see that each individual child was let down by different professionals. In all the three cases, concerns were raised or thought but nothing more than that was done. All professionals failed to properly investigate the cases, Dr's missed serious important injuries which in turn, aloud the child back into the abused home life.
Children have an undeniable right to grow and develop in a safe environment, protected from harm and abuse. This was not met for any off these cases. All theses children suffered and as a result died from abuse because no one would "Think the unthinkable" and "Act upon what they saw".
No one tried to talk to these children, to hear their voices, ask them how they felt or what had happened. Some children don't find it easy, some have language barriers, different things that may have happened in their life's that may have affected their ability to express themselves. Lack of communication in all areas, were missed chances for the authorities to save lives. Lack of communication between, social workers, nurses, doctors and police officers allowed Victoria Climbies great aunt and her boyfriend to torture the little girl to death. Many professionals involved in this case admitted that they work loads were too big, while pay and moral were low, and that they did not communicate with one another. The inquiry made a number of key recommendations for improvements to the service that led to the Children's Act 2004. A further inquiry into the death of "baby P" resulted in the 2009 report which identified that child protection has not been given the priority it deserved.
Climbies death was largely responsible for various changes in child protection in England, including the formation of "Every Child Matters" programme on initiative designed to improve the lives of children. The key elements of Every Child Matters: Change for Children are all focused on partnership working at all levels including:
1. The duty to cooperate to promote the well being of children and young people.
2. The duty to make arrangements to safeguard and promote the welfare of children and young people.
3. The development of statutory Local Safeguarding Children Boards (LSCs).
4. The appointment of local directors of children's services to coordinate local government services.
5. The National Services Framework for Children, Young People and Maternity Service bringing together all child-related health services.
6. The Five Outcomes Framework.
7. The development of an integrated inspection framework including education, care and health inspections.
8. The appointment of a Children's Commissioner.
9. The developments of a Common Assessment Framwork to ensure all agencies contribute to an assessment of a child's needs.
10. Workforce reform to help develop skills and ensure staffing levels.
Safeguarding and promoting the welfare of children depends on effective partnership working between agencies and professionals. Each has a different role and expertise. Vulnerable children need coordinated help from health, education, children's social care and the voluntary sector and other agencies often including justice services.