Understanding good practice in workplace coaching
Remember! This is just a sample.
You can get your custom paper by one of our expert writers.
Get custom essay
88 writers online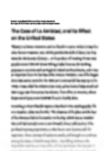 UNDERSTANDING THE CONTEXT FOR EFFECTIVE WORKPLACE COACHING
• 1.1 Describe and define the purpose of workplace coaching Coaching as defined by the International Coach Federation (ICF) is: … an ongoing partnership that helps clients produce fulfilling results in their personal and professional lives. Through the process of coaching, clients deepen their learning, improve their performance and enhance their quality of life ……
Coaching is the art of facilitating another person's learning, development and performance. Through coaching people are able to find their own solutions, develop their own skills and change their own behaviors and attitudes. Coaching is an on-going process designed to help employees gain greater competence and overcome barriers to improving performance. Why do we do Coaching :
• it complements other learning and development solutions. • It brings out the best in someone
• Helps staff to resolve issues by coming up with their own ideas • It provides listening and quality time
• it empowers individuals and encourages them to take responsibility • provides the coachee with a toolkit to make own decisions and take actions
• leads to improved job performance, motivation and job satisfaction.
• It is forward-looking, focusing on outcomes and how to get there.
• it is not structured learning, therapy or the expert providing answers
• Exposure to coaching encourages the coachee to adopt this approach when they themselves are working with others – this in turn helps build a coaching culture within our organisation
• coaching places the responsibility for learning on the coachee, with the coach helping the individual use his/her resources to find the answers from within. Overall the coaching experience should be a positive one although coaches should prepare themselves to be Challenged as it is only through recognising the need to change, and setting about
addressing this needs will the coachee actually develop and move forward. What are the benefits of coaching?
To the Individual
To the Manager
To the organisation
Empowers
Enhances skills
Positivity
Happy to come to work
Feels valued because someone is dedicating their time and attention More productive
More accepting of change
Improved knowledge and awareness
Improved confidence and self esteem
Clarity and focus for own development
Increased motivation
Increased personal awareness to facilitate
Role model for others leadership development
Better performing staff
Better functioning team
Easier to manage
Job satisfaction
Respect
Staff retention
Motivated manager
Reach goals within team
Reach vision / targets
Benefits
Good reputation
Enhanced recruitment
Better care for patients
Recognise shared knowledge
Demonstration of people investment
Encourages nurturing
Transformational approach
Increases awareness of business needs
Cost effective way to develop staff
Improves customer service
Intrinsically motivates people
Facilitates the adoption of a new culture/management style
• 1.2 Explain the role and responsibilities of an effective workplace coach The first point I would make here is what I personally feel to be an important factor to be an effective workplace coach, coaching should be what you love to do and then you will enjoy coaching! A pre-requisite for coaching is a basic trust in the coachee. For coaching to be effective, at the first session, it is important that this session is led by the coach and is used for the coach to set the scene and : • Agree with the coachee explicitly on how the coaching will be delivered, the expectations for both parties (a brief discussion should suffice), an understanding of what the coachee wants to achieve from coaching (long, medium, short term goals, priority areas) • ensure that any administrative processes are clear and answering any questions. • Ensure mobiles are switched off
• Agree with the coachee the number of sessions to be scheduled and the dates. • Draw up a coaching contract in the form of a written agreement • What notes will be written up by the coachee, the feedback process (at the end of a session ask coachee for feedback and ask them to list two or three of the most important things that they have learned. This will re enforce learning and help build the coachee's satisfaction with the learning process), the responsibility and accountability for achievement of actions • Ground rules for missed or late sessions
• The structure of the sessions
• What is needed for each session i.e. pens/paper/diary
• Explain the agenda belongs to the coachee
• Explain the coach and coachee relationship regarding openness and honesty, confidentiality, equality in the relationship • Create a rapport – match
what the person is doing
For future sessions the coach will:
• Prepare – Get documentation relating to the coaching session together – setting up time before a coaching session to review what the coachee wants to work on in the session, there may be some initial gut reaction/thoughts that the coach has when they have reviewed the documentation that they may want to capture for possible discussion later. • Make sure that they do not sit across the table from the coachee, sit side by side or at right angles • Ensure that questions are open beginning with words like "what" "when" "how" and "who" using 'miracle' questions, like "if you did know" "if I could guess" • Be emotionally prepared ensuring that if they are upset they do not coach as they may end up taking their frustrations out on their coachee. Wait until they are calm and centred. • Not continue to coach if the coachee is upset. They will give the coachee time to recover • Ensuring they deal professionally with any identified relationship difficulties or conflicts of interest. Considering carefully the impact on themselves, the coachee, the organisation where appropriate seeking guidance
• 1.3 Describe the behaviours and characteristics of an effective workplace coach
1. A good listener :
prepared to be patient, attentive and understanding of others. Practice "generous listening" – listen for the honourable intent behind the coaches words. So if someone has strong passion which is displayed through frustration recognise the passion and the good intention the coachee has behind his or her words.
2. Able to be non-judgemental:
not getting drawn in, offering your opinion or criticising even when you might have thought or behaved differently from the parties
3. Open minded:
able to respond constructively to a wide variety of people, ideas and different ways of thinking
4. Self Aware :
Sufficiently self aware so as to be able to effectively work with the
coachee's model of the world, not your own.
5. Personally Responsible:
Able to demonstrate continual personal development based upon self awareness
6. Reflective:
Able to reflect on personal effectiveness as well as the improvement in the coachee and feeds this back as evidence of development
7. Good at getting the best out of people:
A good communicator, able to encourage, prompt and be challenging when necessary. If you appear to be going way off track in the session, able to interject and bring things back on course like "I notice we haven't talked about". Able to provide encouragement and support each step along the way giving feedback when appropriate to help build upon each success no matter how small.
8. Aware of issues associated with diversity and equality:
Having and showing understanding of prejudice and discrimination, harassment and bullying
9. Able to maintain confidentiality:
Being prepared to work without disclosing details of cases, issues or behaviour before during or afer contact with emplopyees, and able to resist pressure for inappropriate disclosure from individuals or groups within the organisation.
10. Professional:
Able to work in an organised way keeping potential users of the service informed and managing the small amount of administration which will be required
11. Trust:
Able to build trust by involving others in deciding what needs to be done
• 1.4 Explain how coaches should contract and manage confidentiality to coach ethically
By following a code of ethics it provides the broad principles and values to which coaches subscribe. These include confidentiality and the utmost concern for the welfare and success of the coachee. Secondly, it provides rules for coaches to use in many of the specific situations that a coach might encounter. Finally, this Code is meant to serve as a building block for the ethical and moral standards of coaches. While each individual coach agrees to follow this Code, they are encouraged to supplement and add to it in order to build a lifelong commitment to building an ethical workplace and profession. Coaches are responsible for ensuring that Coachees are fully informed of the coaching contract in the form of a written agreement (as previously reported as a responsibility to be led by the Coach) at the initial session. One of the matters that will be included in the contract is confidentiality. As previously documented, the discussing of confidentiality will be made at the initial coaching session and the following can form part of the coaching contract:
(a) Coaches respect the coachees right to privacy. They do not solicit private information from the coachee unless it is essential in the provision of services, or the implementation of research. The standards of confidentiality apply once disclosure occurs.
(b) The discussion of confidentiality occurs at the beginning of the professional relationship, unless it is contraindicated or infeasible, and from then on as necessary.
(c) Coaches discuss the nature of confidentiality and its limitations with coachee. Coaches examine situations in which confidential information may be requested or disclosed.
(d) All information obtained in the course of the coaching session is confidential unless there is a compelling professional reason for its disclosure. Coaches will disclose confidential information without a specific release if it is necessary to prevent foreseeable imminent harm to the coachee or another. In all circumstances, coaches will be judicious in the amount of information that is disclosed. (d) Coaches will not discuss confidential information in any setting unless privacy can be assured.
(e) Coaches discuss confidential information only for appropriate
professional, consultative, or scientific purposes and only with persons clearly concerned with such matters.
(f) In their dealings with the public and media (including professional presentations, and writing) coaches will be careful to guard the confidentiality of their coachees. Moreover, coaches will disguise confidential information so that coachees are not individually identifiable. Coaches will only disclose confidential information if the coachee or legally authorized individual has given express written consent.
(g) In a workplace professional capacity, coaches do not share confidential information that could lead to the identification of a coachee with whom they have a confidential relationship. Coaches may only share this information if they have obtained the prior consent of the coachee, or if the disclosure cannot be avoided.
(h) Coaches maintain confidentiality when creating, storing, accessing, transferring, and disposing of records under their authority in accordance with this Ethics Code and laws of their country.
(i) Coaches take precautions to ensure and maintain the confidentiality of information communicated through the use of telephone, voice mail, computers, email, instant messaging, facsimile machines, and other information technology sources.
(j) Coaches take practical and lawful steps to assure that records remain available in order to serve the best interests of coachees. (k) Unless prohibited by law, coaches will only disclose confidential information if the coachee, or person legally authorized to consent on behalf of the coachee, has given express written consent.
(l) Coaches may disclose confidential information without the consent of the coachee only as mandated or permitted by law.
(m) When possible, coaches inform coachees about the disclosure of
confidential information and possible ramifications before the disclosure is made.
(n) Coaches will only disclose confidential information to third parties with the appropriate written consent.
(o) Coaches must disclose certain confidential information as required by law or if the confidential information may put the coachee or others at risk of harm or compromise their well-being.
Understanding the process and content of effective workplace coaching
• 2.1 Explain how to manage a coaching process agreeing goals and following a simple coaching model
One of the most important roles of a coach is to coach your coachee to do their best. By doing this you will help them make better decisions, solve problems that are holding them back, learn new skills and otherwise progress their careers. By arming yourself with some proven techniques, practice and to trust your instincts, you can become a great coach
Probably the most widely known and used model is the GROW coaching model, originally identified by Sir John Whitmore. The GROW model is a simple yet powerful framework for structuring your coaching sessions and it represents four stages in coaching conversations. The model places the onus for development on the coachee as the coach adopts a less directive approach. GROW stands for :
Goal –
"what is the goal you set yourself?"
" How will you know when you have been successful."
" What does success look like"
"Why do you want to achieve it?".
It is at this initial stage of the coaching process that you and the coachee establish what they want to achieve. Establishing goals that are SMART at the outset of the coaching session helps to give the session a sense of purpose ensuring it becomes a meaningful conversation rather than an aimless chat. At this stage the goal might reflect the bigger picture of what the coachee is aiming to achieve from the coaching and also what the coachee specifically wants from the session itself e.g the identify a strategy or specific actions for moving forward or identifying options.
Current Reality –
"talk me through what is happening now"
"what led to this situation"
"what obstacles have you faced"
At this stage of the process the coachee is agreeing where they are now in relation to their goal and what they have done to get there. At this stage it would be a real opportunity to help the coachee build awareness of their current strengths and develop confidence. What they are doing already that they can build upon. Establishing what skills they possess that will stand them in good stead for the future.
Options –
"so what do you think your options are"
"what is the best/worst thing about that option"
"if you didn't have restrictions what would you do"
At this stage of the GROW coaching model, it is about helping the coachee explore the options available to them. It will be important for you as the coach to help them think outside of the box so that they do not take the first idea that they think of but to be creative and explore extensively until they are both satisfied that there is a solution that the coachee is committed too.
Will (or way forward) –
At this stage of the process the coach will ensure that the coachee actually does something "when are you going to start"
"what actions are your going to take"
"who will help you"
"how are you going to make sure you do it"
"on a scale of 1 – 10 how confident are you at achieving this"
At this stage, as the coach you will be helping to clarify the commitment of your coachee to their achieving their goal and ensure that they have an awareness of what they will now do, when, where and who might help them. This is where scaling techniques are useful to help ascertain commitment and motivation.
You can revisit any of the stages during this process depending on the needs of the coachee, e.g after exploring reality the coachee may want to readjust their goal, or having checked their commitment to an action you may find that more options need to be explored first. It is important to remember that GROW provides a useful framework however to be effective you as the coach need to understand what your coachee's needs are at any particular point in the coaching conversation, so to be flexible enough to take them to the next stage that most meets their needs and there may be some times using just part of the model is appropriate
• 2.2 Explain the range of tools and techniques (including diagnostic tools and those exploring learning preferences) that can be used to support effective coaching. Coaches need to have a grasp of a coaching tool and techniques that can accurately determine such things as what motivates people, what are their personal values, fears etc. Coaches require a working understanding of interpersonal relationships, group dynamics and organisational behaviour
We use the phrase "learning preferences" to refer to a person's characteristic patterns of strengths, weaknesses and preferences in taking in, processing, and retrieving information. The Baldwin Program helps students explore their learning preferences in order to better understand the strategies and approaches that might be most efficient for specific courses. An explanation of various preferences…
Verbal/Written
Learners who prefer this learning style are most comfortable learning by reading. Often, m order to remember new information they must see it written down before they can transfer it to long term memory. They might also be most comfortable expressing the information they know through writing about it. Aural/Auditory/Oral
For these learners, information is most easily processed through hearing it. A strongly auditory learner might read aloud when they reach a particularly difficult part of a written text, and will usually enjoy studying with another person or in a group. Sometimes auditory learners are also most confident and capable when they express their thoughts orally, rather than in writing. Visual/Graphic
These learners learn best when using pictures, graphs, concept maps, grids, matrices and other visual representations of the information to be learned. Visual learning styles can be very important in subjects such as economics, physics, biology and other sciences (not to mention in art!) These students may need to convert notes from class or readings to concept maps, or they might find it easier to organize a paper if they use a map rather than a traditional linear outline. Kinesthetic/Tactile Concrete
Kinesthetic learners learn through their whole body: sight, smell, movement, touch, and color all help kinesthetic learners. They will learn best by 'doing:' manipulation of material, hands-on training, application of information to real world situations, creating and manipulating models, color-coding, simulations – the key is moving, touching, doing! Many students combine a preference for kinesthetic learning with another channel, but have never explored using kinesthetic study strategies. Active/Reflective
Active learners prefer to learn in the moment, processing information 'on the go'. They often benefit from discussion and studying with others. Reflective learners prefer to process information internally. They generally take in information and spend time thinking it through before feeling comfortable joining a discussion or group. Reflective learners are often quiet in class discussions, and might benefit from learning ways to participate more actively in class. Learning styles and preferences vary for each of us and in different situations. By understanding this, and developing the skills that help you learn in a variety of ways, you make the most of your learning potential. And because you're better able to learn and gather information, you'll make better decisions and choose better courses of action. And by understanding that other people can have quite different learning preferences, you can learn to communicate your message effectively in a way that many more people can understand. This is fundamentally important, particularly if you're a professional for whom communication is an important part of your job. Take time to identify how you prefer to learn and then force yourself to break out of your comfort zone. Once you start learning in new ways you'll be amazed at how much more you catch and how much easier it is to assimilate information and make sense of what is going on.