UR UMUC Healthy Fitness Center Business Environment Analysis
Published:
23 February 2016
Remember! This is just a sample.
You can get your custom paper by one of our expert writers.
Get custom essay
77 writers online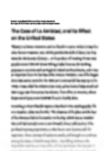 An Analysis of UR UMUC Fitness Center
The Business Environment Analysis for the UR UMUC Healthy Fitness Center was conducted to understand the current state of the business and use that resulting information to determine the best course of action to improve the business modal of the organization. As the new manager of the facility, it is vital to have a clear understanding of the facility's strengths and weaknesses in order to reverse the five year trend of declining business, which may be attributed to declining disposable income(1). The analysis encompasses the use of Porters Five Forces Model (2) and Three Generic Strategies (3) as a foundation for the analysis. Buyer power is the ability of customers to drive down prices, which is high in this industry. (2) Buyer power has a negative impact on the industry as a whole, and therefore has a neutral impact on the UR UMUC facility specifically, but it will greatly affect the business strategy. Health awareness has steadily increased since the 1980's and the fitness industry has grown with it, leaving potential customers a multitude of fitness facility options in areas of high populations such as cities, suburbs, and college campuses. This has forced these facilities to maintain competitive prices in order to keep and grow their customer base with the intent on gaining a profit buy volume and ancillary purchases. Supplier power is how easy it is for suppliers to drive prices up. (2) It is low because as the fitness industry grew, the industry segment of companies supplying quality exercise equipment grew as well, leaving facilities with source of supply options when outfitting their facility. There are exceptions to supplier power when it comes to new technology being incorporated into the industry. New products with a competitive advantage will increase supplier power until competitors of the supplier produce similar products. This results in a positive impact on the UR UMUC facility and has limited effect on its business strategy. The threat of substitution is when your customers can find another way to do what you do. (2) The threat is high because of various, and quite often less expensive options available to customers such as in home video (DVD, online streaming, etc.), work out programs (P90X, insanity, etc.), that are both popular and effective. Additionally, many corporations, educational institutions, retirement communities, and community centers, have their own fitness facilities and programs available at low costs for eligible persons, who are also potential customers. Threat of New Entry is determined by how easy is it for new players to enter your market. (2) The threat is relatively low and has a positive effect because the moderate to high startup costs to establish a fitness facility. This does affect UR UMUCs business strategy because while it is costly for new entrants who want to compete directly, if a new business has a competitive advantage through innovation or technology, they could garner the financial support to enter the market and pose a significant threat. Competitive rivalry: The key here is how many competitors you have and what their capabilities are. (2) Competitive rivalry is fiercely high in this industry because success is gauged solely on the amount of customers and their level of utilization of the facility. This has a negative effect on the UR UMCE Healthy Fitness Center and affects the business strategy because it must keep its prices low to remain competitive, especially during economic down turns. The best fitness center in the world will soon go out of business if it cannot get enough customers to walk through the door and ultimately cover the operating costs.
Generic Strategy:
The differentiation strategy will be utilized because involves making your products or services different from and more attractive those of your competitors. In this industry success is based on the volume of customers in relation to that of competition. The ability to deliver high-quality products or services in conjunction with effective sales and marketing, so that perspective customers understands the benefits of joining UR UMUC Healthy Fitness Center. (3) Strategic Business Area:
Marketing and sales is the business area will be my primary focus because it directly supports the generic strategy, and it is the customer volume that
directly effects profits, with the secondary effect that increased membership will provide the funding for additional improvements required for the facility to be competitive and maintain membership growth.
Process to be improved:
The process that will be improved will be the knowledge management of the equipment utilization data directly related to the demographic data of the facilities customers. By incorporating the right technology, UR UMUC can increase customer satisfaction, as well as the efficiency and effectiveness of the facility, which can be the focal point of a marketing strategy that, in conjunction with word of mouth from satisfied customers, will increase sale through increased membership.
References
1.IBISWorld, (2013). "Gym, Health & Fitness Clubs in the US: Market Research Report." ibisworld.com, retrieved from http://www.ibisworld.com/industry/default.aspx?indid=1655 2.Karen Goldfarb. (2014). "Porter's Five Forces: Tipping the Balance of Power in Any Business Situation", karengoldfarb.com, retrieved from http://karen-goldfarb.com/marketing-strategy/porters-forces-aka-forces-tip-balance-power-business-situation 3.Mind Tools Ltd. (2014). "Porter's Generic Strategies Choosing Your Route to Competitive Advantage" mindtools.com, retrieved from http://www.mindtools.com/pages/article/newSTR_82.htm#sthash.pj5CqMn9.dpuf