V for Valor
Remember! This is just a sample.
You can get your custom paper by one of our expert writers.
Get custom essay
82 writers online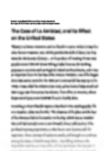 2.6 million troops served for the United States during the Vietnam War between 1965 and 1973, and not one of them got the homecoming they deserved. Many returning from Vietnam were stereotyped during the war concerning alcoholism and drug use, and countless numbers of veterans carry unseen physical and emotional scars from their time in Vietnam (Thompson, After Vietnam, veterans fought battles at home). Due to the realization of importance and the incredible support and gratitude from Americans, todays veterans and current US troops do not suffer the hardships of past Vietnam veterans.
Many people didn't understand what how America was changing during the War. Pat Schneider recalls, "how rapidly society was changing, nor how deep and broad opposition to the war grew and how sharp the black lash was" (Schneider, Vietnam vets to gather for 'welcome home': Are they ready to forgive?). Soldiers returning home had entered an altered scene. Protests and confrontation had spread throughout American neighborhoods, some returning soldiers were not given the appreciation or time of day and nobody missed the chance to riot their homecoming (Thompson). Area Vietnam veterans said they generally did not have the sort of homecoming that soldiers returning from Iraq and Afghanistan have today, where the whole community turns out to honor their service. Jim Kurtz of Madison, WI remembers returning home at Traux Air Force Base in Madison, WI, in 1967 where he was a leader in an infantry platoon, "There was nobody there for me except my parents. From other people, it was like apathy, like you had been working in Chicago or something" (Schneider).They returned not in groups greeted with gratitude and parades, but as individuals among strangers to a public who didn't appreciate them.
Maury Thompson stated, "Many veterans either joined the anti-war protests, or ignored them. Either way, they didn't go around displaying their status at veterans". Gary Rodd, a former US Marine in Vietnam, barely survived the Palm Sunday battle with harsh wounds in three places (Thompson).Today he still carries with him, in a small plastic box, the bullet fragments surgeons removed from him. "As a matter of fact not many people get shot three times and survive. And also survive you know, fragmentation from a grenade that landed like 10 feet away from me," he said (Thompson). Rodd also carries emotional wounds from the way he was treated once returning home. After recovering for a few months, he was assigned to a Marine Corps unit in Brooklyn that marched in a tickertape parade honoring the Apollo astronauts who landed on the moon. "As soon as you marched out, all you could hear was, 'Baby killers!'" he said. "And that made you feel rather bad because that was far from the truth" (Thompson). Michael Morey who served the US Army during Vietnam recalls, "Well you didn't wear your uniform anywhere. Let's put it that way.
When I got back, I was a sergeant. I had a chest full of medals that I was more proud of than anything. I put them in my cedar chest and put them away, you just had to" (Thompson). Unfortunately many veterans suffered embarrassment and felt shameful for serving, which can create negative feelings toward America. Social media played a big role in the alienation of the troops while they were in Vietnam. Many shows and news stations would air all of the bad things soldiers had to do while leaving out the good things. According to Rick Stienhauer, "the people at home, unless they had somebody to support in Vietnam, were not called on to make sacrifices as they were in earlier wars. All people knew about the war was what they saw on the news, and no one seemed to care about the people in those news clips until they came home."
On May 21st-23rd of every year, American Vietnam veterans are invited to congregate at Lambeau Field in Green Bay, WI for Landing Zone (LZ) Lambeau, which was nicknamed a long delayed "welcome called" (Schneider).The event is sponsored by state veteran's agencies and organizations, along with Wisconsin Public Television. The event has blossomed into a three day event with big time attractions and big time names. Green Bay Packer legend Bart Starr is set to make an appearance, military jets are going to fly over the stadium, and the traveling version of the moving Vietnam Veterans Memorial will be an eye catcher. Many people on the LZ Lambeau Facebook believe the event is nothing more than a publicity stunt and few are skeptical that the extravaganza is to make money and glorify the military(Schneider). Robert Enright, who is a University of Wisconsin scholar in the study of forgiveness, states "even if the skeptics are right, the experience can still be meaningful". He also states "maybe we can find a strand in this that is good in the sense of being truly for the emotionally wounded and physically wounded – lets work that strand hard" (Schneider). Many veterans feel so many negative feelings against the country who betrayed them, that they may never forgive them.
LZ Lambeau isn't the only event that honors Vietnam veterans; there is the Vietnam Veteran Memorial Wall in Washington, DC, along with the Vietnam Veterans Association. The Veteran Memorial was founded by Jan Scruggs, a veteran infantry corporal who served during 1969-1970 in Vietnam. He wanted the memorial to honor and acknowledge each and every Vietnam veteran who proudly served. Vietnam Veterans of America (VVA) was founded in 1978, and is the only national Vietnam Veterans Association congressionally charted (Mukerjee). VVA's goals are to support each and every issue Vietnam vets suffer, to change public perception of them, and to create a new identity for this generation of returning soldiers and Veterans (Vietnam Veterans of America).
Ned Foote, state president of Vietnam Veterans of America stated "You remember back then the country was torn apart and unfortunately, it came down to taking that and blaming the veterans instead of blaming it on the politicians who actually control the war and what happened in the war" (Schneider). Mike Woodards was one of many who came home from war twice; once from Vietnam, and two decades later from the Middle East (Desert Storm). His homecomings were miles apart. He stated "The attitude of the people (after Desert Storm) was totally different. I think people learned, even if they disagreed with the war, not to take it out on the troops" (Schneider). A lot of Vietnam vets had negative feelings toward the country, and the organizations that did not welcome or appreciate them when they returned. Once home, some recalled they hid the fact that they were veterans because it made it hard to get a job, tough to get a date, almost impossible to fit in (Schneider).
Pat Schneider stated in his article, Vietnam vets to gather for 'welcome home': Are they ready to forgive, "Those were the stories told again and again, by men that had been cautioned and would not open up to tell their stories. They've reached a period where they don't have the strength to keep the memories at bay anymore" (Schneider). Many vets isolated themselves, which is a complex problem for somebody who just returned from a war. They would spend their time watching T.V, sitting in bars just killing time, or drinking themselves in an alcoholic nightmare. A lot of them politicized upon returning home because the government took their time to develop benefits for the veterans (Schneider).Unfortunately, for many veterans, they never received those benefits for them and their families until it was too late.
There was and currently is many varied health problems suffered by veterans as a direct result from their service in war (Mukherjee). A very common, but not acknowledged infirmity was Post Traumatic Stress Disorder (PTSD). The trauma that developed PTSD came from the constant stress of combat, unforgiving environment they were exposed to, and many times compounded by the social alienation of Vietnam veterans upon returning home. Odean Door of Madison, WI, was a former soldier in Vietnam went into the snaking underground chambers where the enemy hid ammunition or medical supplies, which is often referred to as a "tunnel rat". (Schneider). Door developed a sneaking claustrophobia during his closing days in Vietnam. In the years since, his PTSD has developed into a fear of elevators, a fright of crowds, and the murky shadows that stalk his life at every corner. He stated, "I can't go into an elevator, sometimes I can't go into a room unless the light is on" (Schneider). After years of keeping it in, Dorr states he finds it easier to tell his story each time, "I'm trying to get it out" he stated (Schneider). Veterans then and now unfortunately are stuck with these infirmities.
Vietnam veterans tried to return to a normal life as best as they could, but many were stereotyped even in college and in the workplace. Tom Burns, who was drafted into the Army in 1967 and served in Vietnam from November 1968 through August 1969, returned to work at an accounting firm and he states "And most of the senior partners were World War II veterans, and they were kind of like, 'Oh you were in Vietnam. Were you on drugs?"(Thompson) Mike Hoag enrolled at Adirondack Community College in the fall of 1968, directly after returning from Vietnam. He was disappointed that Vietnam became a topic of discussion in just about every class. He stated, "If I got up and said something, it wasn't very popular, so I never finished the semester. I just couldn't deal with all of the comments" (Thompson). It is a shame that Vietnam veterans couldn't even go to work or school without being criticized or embarrassed.
While collecting stories for a previous documentary on World War II that the idea for a series on Vietnam vets surfaced, says Mik Derks, the producer of the documentary, Wisconsin Vietnam War Stories. He stated, "We saw what a powerful format it was to tell the story of a war entirely through the memories of the veterans" (Schneider). Interviews were done with 110 veterans, selected to bear in mind the story of Vietnam over its long course (Schneider). Mik Derks stated "While unique in their details, the stories told by Vietnam veterans of combat and brotherhood and loss were similar to those told by veterans of earlier wars" (Schneider). With events like this, it shows Vietnam vets that we really do appreciate their stories and experiences.
US troops are our saving grace, and we are proud to let them know it. "Today's generation of veterans return home to the most pro-veteran environment in decades" (Hsia, Did Vietnam change the way we welcome veterans home?). Current US troops come home to celebrations from enormous crowds showing their support and gratitude. There are many programs such as the Wounded Warrior Project (WWP) and Operation Gratitude to support current troops and their families and the families of soldiers who were not able to return home. The WWP is a nonprofit organization whose goals are to "honor and empower wounded warriors" of the United States Armed Forces with an objective to "foster the most successful, well-adjusted generation of wounded service members in our nation's history" (Wounded Warrior Project – Wikipedia, the free encyclopedia). The WWP works to raise awareness and provide help for the brutally injured men and women, and to provide unique programs and services to meet their wants and needs. Along with the WWP, Operation Gratitude is a non-profit, volunteered-based organization that annually sends 100,000 care packages filled with personal letters from home, entertainment items, and snacks. Since the beginning of the program in 2003, Operation Gratitude has shipped more than 800,000 packages to soldiers and their families (Operation Gratitude – Wikipedia, the free encyclopedia). Vietnam veterans never received care packages from either of those organizations.
They say you learn a lesson in history of how not to repeat it, and because of US troops and their families, Americans have learned that Vietnam veterans deserve the title of "America's heroes" along with today's US troops. Every war in theory will always be questioned and looked down upon in one way or another, whether were winning or not. The tide of events tells part of the story of war, but it is the stories of hardships suffered from the soldiers who lived it that give it its true measure. Today's Vietnam veterans suffer from physical and emotional endeavors direct from their time in Vietnam, with feelings so ingrained; they will follow them to their graves. They share similar stories with today's veterans except one part; the homecoming that never happened.
Works Cited
Hsia , Tom. "Did Vietnam Change the Way We Welcome Veterans Home? – NYTimes.com." At War: Notes From the Front Lines – At War Blog – NYTimes.com. N.p., 11 Nov. 2012. Web. 9 Apr. 2013. <http://atwar.blogs.nytimes.com/2012/11/11/did-vietnam-change-the-way-we-welcome-veterans-home/>. Mukherjee, Bharati . "Vietnam Veterans." University of St. Francis – Joliet, Il.. N.p., n.d. Web. 9 Apr. 2013. <http://www.stfrancis.edu/content/en/student/Mukerjee/Mukherjee%20Vietnam_Veterans.html>. Schneider, Pat. "Vietnam vets to gather for 'welcome home': Are they ready to forgive? : Ct." Madison.com Madison WI news sports entertainment. N.p., 12 May 2010. Web. 9 Apr. 2013. <http://host.madison.com/news/local/vietnam-vets-to-gather-for-welcome-home-are-they-ready/article_b3ec8eec-5d32-11df-bb21-001cc4c03286.html>. THOMPSON, MAURY. "After Vietnam, veterans fought battles at home." PostStar.com – Glens Falls, Saratoga, Lake George NY area news. N.p., 12 Nov. 2010. Web. 9 Apr. 2013. <http://poststar.com/news/local/after-vietnam-veterans-fought-battles-at-h