Strategic management and organisational dynamics: The challenge of complexity
Published:
16 December 2015
Remember! This is just a sample.
You can get your custom paper by one of our expert writers.
Get custom essay
81 writers online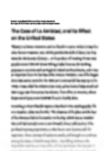 Introduction
Stakeholder Identification and Value Analysis
            Traditionally, the enterprise level strategy referred to 5 broad corporate strategies, but the new definition, limits strategy to social legitimacy. (Minztberg et.al, 1988) came up with a framework that is used to link strategic management and stakeholder classification theories. The framework points out general types of benefits for various stakeholders, and differs between firms using classical economic and firms employing non-profit strategy. Costco strategy identifies all stakeholders, but the company seems to neglect stockholders.
Enterprise Level Strategy
            Costco's Enterprise Level Strategy is accommodative and broad. The company's mission is to provide customers with high quality products and services at low prices. Its vision is to deliver the finest quality, build a firm that will live for more than 5 decades, and treat every member of the society with respect. Costco employs utilitarian strategy, which maximizes benefits for all stakeholders. The company willingly abandons shareholders for other stakeholders. Costco values both social and economic factors. Its social stakeholders include governing agencies and local communities while the economic stakeholders include 67 million card holders, 37 senior executives, merchandise suppliers and partners for over 4000 products, 92 vice presidents and more than eight thousand stockholders. The firm's governing agencies value Gross Domestic product, reduced energy problems, poverty reduction, public safety, minimizing greenhouse emissions, and job creation. These are the things that local communities value most. Costco adheres to ethical codes of vendors by implementing product safety measures. The company created a framework that aims at reducing greenhousegases. It uses more than 80% of recycled steel, roof designs that reduce heating, locally made brands, and other measures that promote conservation. Costco values innovations and adaptation to technology. In fact, Costco built a LEED certified building and redesigned its lighting systems, which aims at increasing time changes by more than 50 % (Hamel & Prahalad, 2005)
            Organizational Culture TypeCostco 'philosophies, social, economic and ecological business activities indicates that the firm uses level 3 of corporate culture, which create maximum benefit, maximum value, as well as sustainability (Kaplan & Norton, 2008). The company recognizes rewards and maintains a central understanding of each stakeholder. The firm maintains its operating expenses at roughly 9% of sales. This is lower compared to Costco's immediate competitor, Wal-Mart. Its advertising and price strategies aim at spending less. The company has a policy to retain employees even during recession, and it also pays social insurance for them.
Integrated Concepts from Readings, Evidence and Implications
            (Stacey, 2011) suggests value is traditionally measured by economic performance and the benefits to the society. This is not in line with results from other studies, which points out that there is lack of consistent relationships between social responsibility and economic performance(Grgurich, 2011). In addition, empirical findings reveal that there is adequate matching between social performance and firms' competencies, strategies and activities (Mezner et.al, 2012). Costco seems unique from other companies because it balances social benefits with maximizing profits. This implies that Costco value adding activities provide very high products and services by use of low cost model. This means that if a company can manage to operate at low cost, it will ever stand out of the crowd.
General Force Analysis: External – Remote Environment
General Force Matrix Analysis
Economics
Global e-commerce sales are projected to exceed $1 trillion in 2014. This presents an opportunity for Costco to improve its online presence. This will see Costco improve its performance by far.
Technology
Multi-channel retailing is gaining momentum in today's economy. This opportunity is very important for Costco and other retailers across the world.
Demographics / social / culture
In 2014, global internet users are expected to grow to 4.5 billion users from 2.4 billion in 2013. According to the Internet World Stars, more than 80 percent of the U.S population and 84 % of the U.K population uses the internet. This is another opportunity for Costco ( Meznar, 2012).
Government / legal / military
            Increase in healthcare costs and coverage for Costco'semployees are important. This will have a negative impact to the company's profitability. However, the U.S has increased the minimum wage, which has some direct effects on Costco. Since Costco pays a wage higher than the industry average, increases in unit labor costs in the U.S is going to lower Costco's profitability.
Physical environment
            Unpredictable natural calamities such as Hurricanes can lower sales opportunities. According to the USA Today (2013) sales opportunities emerge towards the end of the calamity. Natural calamities affect warehouse operations because they bring blackouts, and roadblocks.
Implications, Threats, and Opportunities of GFA
            From the analysis, it is clear that Costco is faced with two major threats; physical calamities and increasing labor costs. These two has serious impacts on profitability. To mitigate these two risks, Costco should put more emphasis on the opportunities.
Porter's Five Forces Industry Analysis: External – Industry Environment
Five Forces Matrix Analysis
Barriers to entry
            The threat of new entrants is very low because there are very many barriers of to the market. There is an increased competitive rivalry in the domestic market making it difficult for new entrants to the market.
Substitutes
The threat of substitutes is very high because Costco offer a limited selection of brands and services.
Bargaining power of suppliers
The bargaining power for suppliers is limited, which is a great opportunity for Costco. The company has established partnerships with merchandise sellers, and purchases products directly from manufacturers.
Bargaining power of buyers
Costco buyers have a very high bargaining power because of increased rivalry in the retail industry. This is another threat. On the other hand, the firm operates 'members only' and'no frill warehouses', thus creating another barrier to consumers.
Competitive rivalry
The competitive rivalry among competitors is very high. Immediate Costco's competitors are Wal-Mart's Sam's Club, Sears, and Target Corporation, which offer similar products.
Implications, Threats, and Opportunities of Porter's Five Forces
From the above analysis, it can be noted that Costco is faced with two major threats, competitive rivalry and very high consumer bargaining power. Again, Costco's should invest a lot to mitigate these risks.
Customized Value Chain of Activities in Table Form
Table 1: Value Chain Analysis
Business Process Costco Wal-Mart Sam's Club Target Corporation
Management Its organizational structure is in line with Level 3 Culture type(9/10) Weakness Weakness
R&D Costco pursues innovative technologies and private labeling as a way of creating value(7/10) Weakness Weakness
HR Has the best strategy in hiring and retaining employees(9/10) Weakness Weakness
Procurement Has large single order purchases. Costco has partnered with over merchandisers of over 4000 products(8/10) Weakness Weakness
Inbound logistics Costco carries Depots and Customs Fleet deliveries within 24 hrs. (8/10)
Strength, though sometimes it is equal Weakness
Operations Has limited storage on sales floor (7/10) Equal Weakness
Outbound logistics Rapid inventory turnover. 7/10 Strength Weakness
Sales Mimimal costs of sales, no advertising policy(7/10) Equal Weakness
Service Warranty services and special attention to members Strength Strength
Detailed SWOT Analysis
SWOT Factor Matrix
SO strategies
Strengthsinclude operationalefficiency, strong brand loyalty and customer satisfaction. Opportunities on the other hand includes; growing internet users (demand) and growing economies in developing countries in Asia.
ST Strategies
Threats include increasing healthcare costs, foreign exchange instability, slow growth in developed economies, and low barriers to entry in global economies. Costco has an Action Plan to mitigate the threats by strengthening its financial position through operational efficiency and use of new technologies.
WO strategies
Costco's weaknesses include; price slashing, low profits, membership requirements, reliance on quality suppliers. The opportunities to mitigate these weaknesses include; low barriers to entry, online sales, and low supplier's bargaining power.
WT strategies
Costco can establish new branches overseas to minimize weaknesses and threats. Costco's action plan aims at opening new stores in Asia and reduction of high cost operations in the U.S.
Key Success Factor Analysis
Costco has ten key factors to success, which are as follows
Value must be high, but prices must be low.
Excellent management support
The best hiring procedures
Customer satisfaction
Opening new branches in developing economies
Strong partnerships with suppliers
Ability to extend customer base
A good brand image
Ability to manage financial ratios
Reduced energy costs and environment management.
References
Grgurich, J. (2012, April 30). Corporate social responsibility: Good for business, good for us. AOL Money & Finance. Retrieved from
Hamel, G., and Prahalad, C.K. (2005). Strategic intent. Harvard Business Review, 83(7-8). Retrieved from
Minztberg, H., and Hunsicker, J. (1988). Crafting strategy. McKinsey Quarterly, 3, 71-90. Retrieved from
Stacey, R., (2011). Strategic management and organisational dynamics: The challenge of complexity. (6th ed.) Harlow, England: Pearson Education Limited.