Verizon continues to outperform industry
Published:
25 December 2015
Remember! This is just a sample.
You can get your custom paper by one of our expert writers.
Get custom essay
103 writers online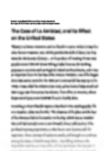 Last year, I took part in a study conducted by Verizon Communications an American company associated with broadband and telecommunications. It was intended to investigate the levels of customer satisfaction offered by the corporation through its programs and staff. Additionally, the survey was also to evaluate the factors that ought to be considered to better customer service provision and how to retain and add more clients.
Through random sampling method, different groups of interviewers left the city center towards various parts of the country at random. This was aimed at ensuring equal chance of participation in the survey was presented to residents from all part of the country. Also, this was to offer the company different types experience from different people in relation to the telecommunication service(Rhamey, 2003). I was one of the respondents participating in the survey.
Prior to the date of the survey, a training seminar was conducted at the Verizon Communications head offices Manhattan NY. Its primary objectives were to inform all participating parties about the survey and how to conduct it. Also, what to expect during the survey was communicated during the seminar. However, I did not feel sufficiently informed about the main expectations of the survey since much of the information provided by the customers would be biased in their favor. This was so since the survey left no provisions for errors, lies and possible rejection by some respondents(Rhamey, 2003).
This been a survey of a telecommunications company, there was not even a single ethical issue that affected me in any way. In relation to Verizon Communications, I would answer the questions just as before since Verizon is a company that delivers and rarely disappoints its customer. Therefore, similar issues would easily yield similar answers if I were to do it again.
Questions like; how much utility is derived from using the Verizon services than when using other networks? This kind of questions was directed towards instilling a 'best' perception of Verizon against other competing networks in the region.
The results emanating from this type of survey would be compelling enough to make one trust them. This is because most of the answers given by consumers are biased to favor themselves(Rhamey, 2003). Therefore, this gives the surveying team the exact information they need to provide best services. First time I saw the questions they looked just okay to me. It was because I had used the network for some time and thus had information to share.
References
Rhamey, P. (2003). Verizon Communications Inc. (VZ – NYSE): strong Q4 : Verizon continues to outperform industry. Toronto: BMO Nesbitt Burns.