VINAMILK
Published:
26 February 2016
Remember! This is just a sample.
You can get your custom paper by one of our expert writers.
Get custom essay
81 writers online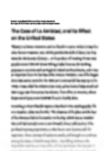 Established by Vietnamese entrepreneur in 1976, Vietnam Dairy Products Joint Stock Company (VINAMILK) is one of the largest dairy companies in Vietnam and is well – known for more than 200 milk commodities and products from milk inclusive of condensed milk, milk powder, fresh milk, ice-cream, fresh fruit juice and yoghurt. The company is a state owned enterprise where the government owns approximately 50.01% of shares and the Ho Chi Minh stock Exchange is holding the rest of the shares. VINAMILK has the leading distribution network in Vietnam, generating a substantial majority of revenue from sales and exporting to countries such as Australia, Cambodia, the Philippines and the United States. DUTCH LADY Vietnam, a division of Friesland Foods, HANOIMILK and Nestlé Vietnam are VINAMILK's main competitors in Vietnam market "VINAMILK" brand was acknowledged and awarded the title "Best Enterprise" among Top 200 best enterprises in Asia by Forbes Asia in 2010. In recent years, the world economy has faced great difficulties and challenges. VINAMILK could not avoid the impacts of recession that inflation and reduction in actual purchasing power had on consumers with tireless efforts of all employees.
However, VINAMILK successfully obtained not only revenue but also profit targets. Moreover, with the mission to introduce VINAMILK brand to the world, the company solidified its position and positive reputation in the domestic market as well as foreign markets. Therefore, the assignment will analyze the financial health of VINAMILK, which is one of the most successful businesses of Vietnam in the downturn economy.
EXTERNAL ENVIRONMENT ANALYSIS
1. Economic environment
Gross Domestic Product
Vietnam GDP Annual Growth Rate
Personal Income Per Capital
Inflation rate
International Agreements
Vietnam Economic Agreement
2. Political Environment
3. Legal Environment
4. Technological Environment
5. Social environment