Vinamilk
Published:
22 February 2016
Remember! This is just a sample.
You can get your custom paper by one of our expert writers.
Get custom essay
103 writers online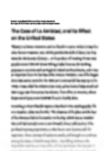 A marketing plan to help Vinamilk organisation
Vinamilk, one of top milk manufacturers in Vietnam, is specializing in manufacturing high quality products from core dairy products include liquid and powdered milk to value – added dairy products such as condensed milk, cheese, yogurt and coffee… The organisational objectives are to grow its market share in Vietnam as well as overseas countries. Hence, to expand market share in Australia, one of the large export markets of Vinamilk, this organisation has to develop a good marketing strategy for a product named Dielac Sure. This product, which is developed by Center for Nutrition Research and Product Development of Vinamilk, is good for older people and intolerant persons because it contains high protein and no lactose help to increase calcium absorption, digestion, advantageous bacteria and laxative, especially it is trusted to use as medicine. It is seen that there is a big opportunity for Vinamilk Company to sell the special product in this prosperous country, Australia with a highly developed economy and a diverse population, especially high demands of increasing number of older people on products good for their health and lifestyle. In addition, Vietnam and Australia are all members of World Trade Organisation (WTO), ASEAN – Australian – New Zealand Free Trade Agreement (AANZFTA) and Asia Pacific Economic Cooperation (APEC), therefore, Australia government breaks down trade barriers by liberalizing international trade and investment rules to support Vietnamese traders who want to run their business in Australia. However, to limit risks as well as human and financial resources, Vinamilk would initially use exporting as the mode of entry in this target market. It appears many challenges for Vinamilk when exporting Dielac Ensure into Australia such as strong competition, different consumer's needs and wants, strict regulations and high products standards…Conversely, Vinamilk can expand their international business once Dielac Ensure is accepted in Australia market, it can be also sold in New Zealand and other markets where have high demands about products. The purpose of this report is aim to increase the market share that Vinamilk organisation holding through introduction of Dielac Sure in the Australia market. This report, however, is prepared and based on assumption of Vinamilk, marketing strategy proposed in the report may change and it does not guarantee that it can achieve success in Australia. Structure of this report comprises of:
Marketing environment
Foreign market analysis
Marketing strategy
Marketing implementation
Financials
Evaluation and control procedures
Through these analyses, Vinamilk will explore Australia market by this flexible marketing strategy with competitive prices and effective distribution channels, specially a product strategy. And it is expected that Vinamilk's market share will be increased by 10 percent within two years when Dielac Sure is launched in Australia. This strategic marketing plan also recommends Vinamilk to apply SWOT analysis, Total Quality Management and Marketing Audit in evaluating and controlling marketing activities. These methods are very useful and efficient. Furthermore, Vinamilk should manage its employees, who play a vital role in marketing activities, in an effort to satisfy their demands and needs. If employees get high job satisfaction and a strong commitment to the organisation, employees will attempt in order to achieve the organisation's goal and objectives. In addition, Vinamilk should focus on customer's demands and wants first, and try to develop and maintain long – term customer relationships. Finally, it is the international business, there are many risks for the organisation, it hence requires that Vinamilk should prepare careful exit strategies for the bad situation happen in the future.