How to Make Your Website Work for You
Published:
17 December 2015
Remember! This is just a sample.
You can get your custom paper by one of our expert writers.
Get custom essay
71 writers online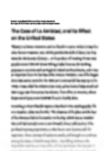 Website
Introduction
            A website refers to a collection of webpage like documents that are accessed via the internet. A web page is what you view on your PC screen when you key in a web address, click on a link, or put a question/ query on the search engine. Any information can be contained in a webpage, including color, texts, graphics, sound and animation.
            When somebody gives you their web-address, it actually directs you to their website home page, that introduces you to what that particular site offers in terms of services and other information. From website home page, you can click on the links to reach other subsections of the site. A website can be composed of a single page, or multiple pages depending on what the owner of the site is trying to accomplish. A website can be public or private. Public websites consists information, which are viewed by anybody in the public while private websites are owned by organization for their own purposes e.g. advertising.
Web-design
            Web design refers to the design art and the process of merging individual element and aspect of design including shape, line, texture color, etc. into a simple pleasant arrangement. In short, web design is the process and art of creating single web page or the entire websites and may involve both the mechanics and the aesthetics of a website functions though it focuses primarily on the feel and look of a website. All these combined are called the design element. Some of the features combined included in the web production and the web design are animations and graphic creation, font selection, content creation, navigation design, XML/HTML authoring, ecommerce development, and JavaScript programming. A web design is a type/form of electronic publishing.
Web Development
            This refers to the creating, building, and maintaining the websites. It encompasses features such as web publishing, web design, database management, and web programming. While the term web designer and web developer are used synonymously, they do not have the same meaning. Strictly, a web designer interfaces by use of CCS and HTML (Harad, 2013). A website developer may involve the work of designing a website, but also may write a web scripts in the languages such as ASP and PHP. Moreover, a developer of website may help maintain and also update a database that is used by a dynamic website.
Web Hosting and administration
            According to Harad (2013) Web hosting refers to a type of service in which one computer is set up and configured as an internet server and offers a part of, or its entire resources, for the use in the exchange for various rental fee. One or multiple users can gain access to the information, content or services located on this server by use of another computer called the client computers. The client computers uses the internet to connect with the server computer and displays the content desired to the user.
            On the other hand, web administration is the act of keeping your website well and running. The practice involves the following tasks.
Web server administration: keeping the website running.
Web software: installing web software.
Web security: ensuring server security
User accounts: setting up user account.
Website builder
            This refers to website creation software, which is full of features, and the widgets, which aids in the creation of the website that you want (Baga, 2013). A website builder allows someone to build the website without the need of the technical knowledge at all. A website builder, also called a website creator, a web builder or online CMS, is a unique kind of a content management system (CMS). While the traditional website content management systems were then designed to administrate a huge website, while the website builder are concerned with the small websites in the small project mind. This implies that the user does not need any programming knowledge or other technical knowhow to install a CMS, create a database or apply a template.
Website templates
            A website template is a predesigned webpage or a set of HTML WebPages that anybody can use to plug-in-their personal/own texts and image content into (Peterson, 2009). Generally, they are built with the CSS and HTML code. The website template permits anyone to configure or set up website without having to get somebody who is a professional web designer, or developer, though, many developers usually use this website template to build sites for their own clients. This makes anybody to create a reasonably personal or business website that can be listed in the search engines when the users search for your topic.
How to make a website
Below are the steps to make a website (Harad, 2013)
Get your domain name
Get web host and sign up for an account
Design your WebPages
Testing your websites
Collecting credit card information
Getting noticed
Disadvantages of free websites
            According to Barger (2012) these are the totally free can never deliver any good value and always there is a catch when someone gives you something freely. If you are not paying any cost to the website hosting, probably you are going to pay them in some ways. Not your personal domain. Signing up for free website, you do not get a domain name. The search engine would not rank your website. There is little functionality to your website. Poor support of your website. There is no free advertisement. The website is unprofessionally designed.
References
Pablos, P., Damiani, E., & Lytras, M. D. (2009). Web 2.0 : The Business Model. New York: Springer.
Otonomic Debuts as Website Builder. (2014). Entertainment Close-up,
Peterson, K. (2006). Academic Web Site Design and Academic Templates: Where Does the Library Fit In?. Information Technology & Libraries, 25(4), 217-221.
Harad, K. C. (2013). How to Make Your Website Work for You. Journal Of Financial Planning, 26(8), 18-20.
Baga, J., Hoover, L., & Wolverton Jr., R. E. (2013). Online, Practical, and Free Cataloging Resources. Library Resources & Technical Services, 57(2), 100-117.