What Causes Eating Disorders?
Published:
27 February 2016
Remember! This is just a sample.
You can get your custom paper by one of our expert writers.
Get custom essay
87 writers online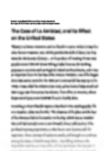 Eating disorders are defined as elaborate conditions that come from several causes that can stem from the victim's childhood (What Causes Eating Disorders? 1). Eating disorders normally start with an obsession of ones food and weight. Almost all cases of eating disorders they have deeper reasons behind them then just the obsession of food and weight. Sometimes, an eating disorder starts as a way for someone to deal with emotions, but eventually an eating disorder will tear the person's life apart if not correctly treated (What Causes Eating Disorders?
2). Although there are several factors that can cause an eating disorder, psychological factors are typically a major contributor (What Causes Eating Disorders?
3). Researchers have said that the constant pressure that being what society considers "thin" is the only way to become "beautiful". This is one cause of eating disorders. Studies show that throughout our culture, people care more for the way that others look other then their inner qualities (What Causes Eating Disorders?
5). Eating disorders can be caused by such a variety of different things, but once an eating disorder has started, it can cause endless problems and emotional troubles. There are several factors that add to the causes of eating disorders that can range from difficulties at a young age to hard times as an adult.
Eating Disorders Can Be Prevented
When it comes to the prevention of eating disorders, there are two main forms (Eating Disorders Can Be Prevented 1). The primary from of prevention would be programs and other attempts to try to prevent eating disorders before they can start. The second form of prevention would be to get the disorder under control before it becomes to bad. The sooner an eating disorder is recognized, the better the possibility for an improvement there is (Eating Disorders Can Be Prevented 3). Every issue causing an eating disorder needs to be recognized for productive prevention and treatment (Eating Disorders Can Be Prevented 4). The part that ranked men and women play in our society are also major causes of eating disorders. Celebrities and other high ranking officials being "thin", makes people look up to them as role models. With people looking up to these celebrities as role models, they do what they can to be skinny which unfortunately results in eating disorders sometimes. Researchers believe that there should be programs in common places such as schools, work, and other community locations that could help the prevention of eating disorders.
10 Common Causes of Eating Disorders
Approximately eight million Americans have an eating disorder. Eating disorders have the largest fatality rate out of any other mental illness. Wendy Innes of symptomfind.com has said, "Eating disorders are among the most common and deadly mental health problems in the country" (Innes 1). Sadly, the manner in which a child was brought up can play a key role in the development of an eating disorder. Innes later states, "40 percent of pre-pubescent girls who were trying to lose weight did so at the behest of their mothers" (Innes 3). Another fairly common cause of an eating disorder would include the family history. People with a family history of eating disorders, addiction to drugs or alcohol, or emotional disorders are commonly at a higher risk of developing an eating disorder. Also, sexual abuse is a very common form of abuse that many women, and some men, with eating disorders have experienced (Innes 3 4 5 6). People with early childhood obesity are at a high risk of developing an eating disorder (7). Innes again states:
50 percent of women with eating disorders also have a history of sexual abuse. The idea is to change the body in an undesirable way in an effort to prevent future abuse. The good news is that research shows that by addressing the abuse in treatment, an eating disorder is typically easier to stop or prevent… In the American culture, women are bombarded with the image of "ideal" beauty as being rail thin. But in other parts of the world, such as Africa, the opposite is true. In several tribal villages girls are fed diets extremely high in fat and calories because heavier women are more desirable. (6 9). The influences of ones culture plays a major role in the perception of the perfect body shape. Whatever the cause of the eating disorder is, it can be treated, even though it can sometimes be very difficult. What Causes Eating Disorders (PBS)
Some scientists claim that some of the people diagnosed with eating disorders have imbalances in the brain. The imbalances are in the part of the brain that controls how much a person thinks they need to eat, even though it is not the proper amount (What Causes Eating Disorders 5). Researchers say that everyone with an eating disorder, even if it has just begun and has not become serious, needs professional help. Eating disorders are a very serious disorder that needs professional help to be brought under control. It is important to never simplify the seriousness of an eating disorder. Simplifying the seriousness of the eating disorder can cause more problems then there already are (What Causes Eating Disorders 7). Although most people believe only women have eating disorders, there are many men that have eating disorders. Even though they are most common in women, there are still many men that suffer with eating disorders (What Causes Eating Disorders 9). Most professionals recommend that there should be programs in the community to prevent eating disorders and also to have people realize the warning signs of someone they know that could possibly suffer from an eating disorder.