What does extreme weather cost the US
Published:
19 December 2015
Remember! This is just a sample.
You can get your custom paper by one of our expert writers.
Get custom essay
99 writers online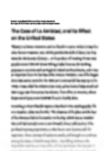 What does extreme weather cost the US?
Introduction
            Climatic changes are described in terms of the average changes in temperatures. These changes lead to shifts in frequencies and severity of extreme weather disasters. These extreme weather conditions have led to disastrous damages like Hurricanes and floods in the United States. Meanwhile the heat waves have become extreme increasing biological heat leading to hot night temperatures responsible for heat-related deaths in the United States. Increases in the amount of atmospheric water vapor and drifting atmospheric circulation cause extreme precipitation events. Global warming is a key contributing factor to the already risky environment. The unpredictable weather conditions result to non-market negative impacts especially in the agricultural sector. They reduce the availability of fresh food and water for human consumption. Some have even contributed to some mental disorders like depression and post-traumatic disorder ( In Lóczy, D. 2013).
            Limited air quality like warm temperatures can damage lung tissues reducing lung functioning. Inhalation of water particles present in the atmosphere leads to premature mortality, and respiratory diseases. This can be very dangerous to human life especially the unborn. In the United States, the weather changes have enhanced the spread of some food borne diseases, water borne diseases and animal borne diseases. The changes in climate are liked to human like temperatures, droughts and floods directly affect the agricultural yields in the country, which may be a future disaster. They may also compromise the food security threatening the human health as many may experience malnutrition. Human health in other countries may also affect USA through trade and national security (National Research Council U.S. 2007). Although the climatic changes may have potential affect in the world, it is our duty to implement methods that will be used to adapt to these changes.
References
In Lóczy, D. (2013). Geomorphological impacts of extreme weather: Case studies from central and eastern Europe.
United States. (2001). Climate change impacts on the United States: The potential consequences of climate variability and change : foundation ; a report of the National Assessment Synthesis Team ; US Global Change Research Program. Cambridge [u.a.: Cambridge Univ. Press.
National Research Council (U.S.). (2007). Review of the U.S. Climate Science Program's synthesis and assessment product 3.3, "Weather and Climate Extremes in a Changing Climate". Washington, D.C: National Academies Press.
National Research Council (U.S.)., & National Research Council (U.S.). (2008). Potential impacts of climate change on U.S. transportation. Washington, D.C: Transportation Research Board.
Relman, D. A., Institute of Medicine (U.S.)., & National Academies Press (U.S.). (2008). Global climate change and extreme weather events: Understanding the contributions to infectious disease emergence : workshop summary. Washington, D.C: National Academies Press.