What is a designer?
Published:
28 February 2016
Remember! This is just a sample.
You can get your custom paper by one of our expert writers.
Get custom essay
87 writers online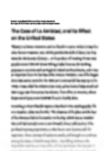 Introduction
A designer can be described as an individual who specifies the structural properties of a design object. The individual is capable of making of tangible or intangible objects. Whether designing a building or an entire urban landscape, an architectural designer must first meet a series of educational and licensing milestones to be able to do the job. They need to learn how to use drafting programs and understand construction protocol and design principles. To obtain licensure, architects need to meet state educational and experiential requirements.
Architecture design mainly encompasses the real design and outline of spaces (Storrer & Wright, 2001).  The aspect of architecture entails numerous elements including design, the process of operation of light as it relays to shadow. Based on the history, architects have formulated diverse ways of making functional and concrete spaces by the use of the available materials.
Initially, the aspect of architecture evolved after necessity and ancient cultures wanted a way to worship respected religious deities, the ancient Egyptian and Mesopotamian architecture basically reflected the interconnection that was focused amongst and earliest religions. During this time, many buildings constructed throughout the sovereignty of the empires and people were likely to pay tribute to the heavens (Storrer & Wright, 2001). During this period, the architects were not there when the construction was taking place, the idea of making impressive and purposeful spaces was existing.
Unlike the basis of Mesopotamian and Egyptian, Persian construction was designed merely to present its wealth. With that regard, for the ancient Persians, constructing of buildings that captivated guests was significant. In additional, since shelter was necessary, the ancient Persian architecture highly encouraged to the aspect of urban design and architecture by construction of massive cities.
When both the Greeks and Romans acquired power, architecture design moved from a religious aspect or pragmatic concentration to civic concerns design (Dijck, 2003). With the regard of the Greek and Roman influences, architecture started to take other channels and shapes (Dijck, 2003). Thus, the buildings that were built during Greek and Roman period were massive, attractive, and almost every construction tested the followed the principles of architecture as it was necessary and the entire world knew it.
Nowadays, architecture design is commonly based upon modern concerns like the as the environment. The basis of architecture in relation to the world currently entails diverse specialized fields. Today's professionals' architects put more emphasis on certain types of architecture, somewhat than the entire architecture. Therefore, a landscape architect merely designs landscapes, while the basis of church architects basically concentrates specifically on religious works structures
Interior architecture design
The interior designers basically entails the design of the interior of a building, therefore, the Architect makes a plan in designs the whole building comprising the form, function, and safety of the structure. The assumption of interior plan on the residential building interiors in regard to effective use mainly emphasizes on the aspect of space creation, space planning and other relevant factors which impacts the response to working and living environment. On the other hand, the interior design can be stated as the interior architecture since the interior designers are fully trained in the basis of consideration of variation of the interior structure with regard of the construction relatively than just refinishing and endowing spaces (Dijck, 2003).
Traditionally, large number of the interior designers mainly emphasized on decorating: selecting a style and color palette and then choosing suitable furniture, floor and window casings, sculpture, and lighting. Conversely, a growing number of designers have become more concerned with designing architectural detailing rather than other aspects, they are more concerned with aspects such as crown molding and built-in bookshelves, or planning layouts of buildings undergoing renovation, including helping to determine the location of windows, stairways, escalators, and walkways (Dijck, 2003). Interior designers is basically concerned with the notion on how to read blueprints, comprehend building and fire codes, and also on the awareness on how to create the space manageable to the disabled.
Designers commonly cooperate with architects, electricians, and contractors to make sure the design they have formulated are safe and are able to meet construction necessities. Those particular designers who basically work in-store creators for furniture or home and garden stores give their design amenities in addition to marketing the store's merchandise. When it comes to the issue of store designers offer services comparable to those presented by other interior designers, for instance, in selecting a style and color arrangement that fits the customer's desires or finding appropriate accessories and lighting. Though, in-store designers hardly meet their customers' spaces and are restricted in using only a specific store's products (Resmini & Rosati, 2011).
Good design can allow people to live and work more comfortably, efficiently and securely in a more aesthetically satisfying and functional environment. With regard of the Interior designers plan space allocation, traffic flow, building services, furniture, fixtures, furnishings and surface finishes,  the main aspect that is taken into consideration in the first place is the purpose, efficiency, comfort, safety and appealing of interior spaces to attain optimum design. This prospect frequently works on a basis of team which involves architects, builders, project managers, engineering consultants, shop fitters, cabinet makers, furniture suppliers and materials suppliers (Resmini & Rosati, 2011). This people take part in organization modification of construction structures, the buying of materials and furnishings and the contracting and management of the tradespeople needed to implement a project.
Most of the individuals who use interior design services merely acquire some of these skills rarely. Thus, it is absolutely normal for interior designers to be working in consulting businesses, for instance, in the basis of the interior design consultancies and architectural processes. In additional, tertiary interior architecture stresses on commercial and industrial interiors like the issues concerned with offices, public buildings, hospitals, department stores and shops (Dijck, 2003). Nevertheless the design of internal interiors is also well taken into consideration and covered, hence, it is collective source of work for numerous interior designers when it comes self-employment.
There are several prominent architects all over the world whose works have been recognized globally. This is due to the fact that designs are very unique and the kind of materials they use in their constructions are at the same time dissimilar from others. Therefore due to these great works, they are noticeable. Some of these famous architects whose designs are highly noticeable to be extraordinary include; Dieter Rams, Frank Lloyd Wright, Moshe Safdie among many others who are based in different parts of the world.
Dieter Rams-Architect
Dieter Rams is prominent German designer in architecture. Therefore, during the 1970s, he became increasingly by the state on the assumptions concerned with the surrounding environment (Lovell, 2011). Thus, the attribution of an impenetrable misperception of forms, colors and noises emerged that raised an alarm on the significant contributor the world. This made him up to ask questions pertaining him on whether his design is a good design. In regard to his question based on his design, whereby he gave his variations in relation to good designs and what attributes that are considered when refereeing to a good design. (Lovell, 2011).
Dieter Rams trained and worked as an architect in Germany for some years till moved to an electronic devices manufacturer Braun. After some years, he was he recognized as the topmost of design, thus, a position he apprehended over 30 years. Throughout his contract, he designed many iconic appliances ranging from record players to furniture to storage systems (Lovell, 2011). In additional, Rams also attributed the remarkable phrase, "Weniger, aber besser" that fundamentally translates into "Less, but better" (Tilder, Blostein & Amidon, 2010).  Rams made use of diverse graphic design, method, amount, and materiality to plan order based on his designs. Ram's works are not necessarily centered on the awareness but he enables his ideas on his works to be focused as part of his environment through accuracy and order.
On the same note, Dieter Rams is very famous on his Ten Principles for Good Design. In addition, his attributions to possibilities of innovation were not regarded as by means but based on the concept of development in technology towards innovative design (Tilder, Blostein & Amidon, 2010). Nevertheless innovative design continuously develops in cycle with advanced technology, and cannot be an end in itself. Therefore, based on his ideas, he was well known for several products that he articulated. His innovations was based on different forms and not on buildings, unlike Frank Wright who was concerned of building structures.
Frank Lloyd Wright – Architect
Frank Lloyd Wright is considered as the most prominent architect all the time by most people. This aspect emerges from the fact that he is more recognized on his extraordinary works that includes; the Walt Disney Concert Hall in Los Angeles, The Guggenheim Museum in Bilbao, Der Neue Zollhof in Düsseldorf and the Marqués de Riscal Vineyard Hotel in Elciego which is notable all over the world (Dijck, 2003). Unlike the works of Dieter Ram which were commonly noticeable in German.
Frank Lloyd Wright focused on both the interior and exterior as the major spaces and he also focused ahead of his time in construction forms and method despite the fact he never attended an official architecture college.  Thus, his modest American background the helped him to learning under Louis Sullivan, who was another prominent legend in the field of architecture and up-to-date, Wright is noted for his prairie-style buildings and organic influences. His works on the aspect of organic and natural forms emerged among the nature and his innovative ideas and description are yet taken to be the greatest building and design concepts, even after several years.
When making comparison based on Frank Lloyd Wright's works with other architects, no mistaking Gehrig's works that has been detected since his innovative ideas emerge to be perfect considering with other aspects. Also, this is due to the fact that, his works are the attributed to be most distinctive, and innovative architectural phenomena around (McCarter, 2006). Basing on his deconstructive forms are basically measured as the iconic as tourists flock to his entire buildings based worldwide to marvel at the architectural forms he creates (McCarter, 2006). The concept of Vanity Fair which is regarded as the most significant architect of currently, Frank has established the preference for contemporary architecture.
Frank always regain success with his designs and his works in architecture was principally included on organic, attuned to the nature around it, whether that setting be tranquil (McCarter, 2006). When looking at his works on his constructions from the street corner, they are very attractive with the assumption of its beauty and shape. Thus, when an individual moves into the buildings that is where one can fully notice Frank the true master. This is due to the fact that he ruled interior spaces, down to the last chair and stained glass accent (Storrer & Wright, 2001). In Addition, Frank was precise based on the furniture and the decorations enacted in place, in accompaniment on his designs
In conclusion, architecture entails numerous elements including design, the process of manipulation of light as it relates to shadow. Based on the history, architects have formulated diverse ways of creating functional and practical spaces by the use of the available materials. The interior designers basically entails the design of the interior of a building, therefore, the Architect makes a plan in designs the whole building comprising the form, function, and safety of the structure. In addition, Frank Lloyd Wright and Dieter Rams are the most prominent architects whose works are commonly recognized all over the world based on their design.
References
Dijck, P . (2003). Information architecture for designers: Structuring websites for business         success. Mies: Roto Vision.
Lovell, S. (2011). As little design as possible: The work of Dieter Rams. London: Phaidon.
McCarter, R. (2006). Frank Lloyd Wright. London: Reaktion Books.
Resmini, A., & Rosati, L. (2011). Pervasive information architecture: Designing cross-channel   user experiences. Burlington, MA: Morgan Kaufmann.
Storrer, W. A., & Wright, F. L. (2001). The architecture of Frank Lloyd Wright: A complete      catalog. Chicago: University of Chicago Press.
Tilder, L., Blostein, B., & Amidon, J. (2010). Design ecologies: Essays on the nature of design.             New York: Princeton Architectural Press.