What is the role of Ethics in the Management
Remember! This is just a sample.
You can get your custom paper by one of our expert writers.
Get custom essay
73 writers online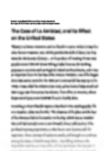 Ethical management refers to corporate management that not only fulfills economic goals and legal responsibilities, but also meets the ethical expectations imposed by social norms in conducting business.
There are 5 specific functional areas of management which is covered by business ethics : 1) Ethical management in the workplace. Ethical management is the foundation of CSR (voluntary activities undertaken by a company to operate in an economic, social and environmentally sustainable manner) in the workplace, which covers those ethical issues of the employer-employee relationship. Ethical management assures all policies in the workplace are legal. This will prevent moral issues and discriminating practices such as harassment, child labor, discriminating practices based on age, gender, race and physical attractiveness.
2) Ethical management regarding intellectual property rights. This may take account on issues regarding bio prospecting and bio piracy, copyright, patent, trademark infringement, business intelligence, employee trading & industrial espionage.
Bioprospecting
– the process of discovery and commercialization of new products based on biological resources. Biopiracy
– the commercial development of naturally occurring biological materials, such as plant substances or genetic cell lines, by a technologically advancedcountry or organization without fair compensation to the peoples or nationsin whose territory the materials were originally discovered.
3) Ethical management in sales, advertising and marketing.
These are business ethics and ethical management that deals with issues on pricing, anti-trust and anti-cartel law, bait and switch, viral marketing, pyramid scandal and sex in advertising.
Anti-Trust and Anti-Cartel Law
laws that are designed to keep free competition in the marketplace. Competition encourages corporations to have lower pricing and better products for consumers. Without these laws in place, businesses could merge to create monopolies or engage in exclusivity contracts that can drive market prices. Bait and Switch
a sales tactic in which a customer is attracted by the advertisement of a low-priced item but is then encouraged to buy a higher-priced one. Viral Marketing (marketing buzz) referring to marketing techniques that use pre-existing social networking services and other technologies to try to produce increases in brand awareness or to achieve other marketing objectives.
Pyramid Scandal
which involves promising participants payment or services, primarily for enrolling other people into the scheme, rather than supplying any real investment or sale of products or services to the public
Benneton Case
Benetton Group S.p.A (Benetton), a leading Italian clothing company, is famous, or rather, infamous for its outrageous promotional campaigns.
4) Ethical management production.
This deals with duties of companies to ensure that products and production processes do not cause harm. Most discussions includes moral relations between business and environment. Ethical programs between the organization and the environment that are concerned with practices that may lead to pollution, global warming, increase in water toxicity and diminishing natural resources. (example: waste management, ford pinto case)
Ford Pinto Case
The Ford Pinto is a subcompact car produced by the Ford Motor Company, that is offered as a two-door sedan, then the Pinto added hatchback and wagon models the following year. With over 3 million sold over a 10-year production run, the Pinto competed in the U.S. market. But in 1972, reports of explosions in low-speed collisions involving Pintos struck from the rear started to come in to the National Highway Safety and Trans­portation Admin­istration. Accident investigations in many of the cases revealed that victims had few, if any, trauma injuries as a result of the impacts, but had burned to death when the cars exploded into flames. Some had been trapped inside the cars due to the body buckling and doors becoming jammed shut.
5) Ethical management in finance, accounting and auditing.
Issues within these areas comprise executive compensation, manipulation of financial markets, bribery, fraud (wrongful or criminal deception intended to result in financial or personal gain) and false reporting.