What role art plays socially and politically
Remember! This is just a sample.
You can get your custom paper by one of our expert writers.
Get custom essay
99 writers online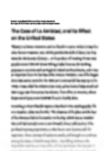 Jean-Michel Basquiat was born on 22 December in 1960 and died on 12 August in 1988 in New York. He was an American artist and began his artwork as a graffiti artist. During 1980s, he exhibited his art in various museums and galleries throughout the world. His work mostly involved primitive and neo-expression paintings (Fretz, 2010).
Basquiat's Art concentrated on themes such as integration versus segregation, inner versus outer experience and poverty versus wealth . His work included drawing and painting, appropriated poetry, figuration and abstraction, married text and image. He used his paintings to portray truths about a person and attack political system and racism in the society. In addition, he used his poetry to attack politics and criticized colonialism in the world. He also used poetry to support class struggle in the society.
Basquiat began spray-painting in 1976 with his friend Al Diaz under the pseudonym SAMO. They designed graffiti on buildings on the lower Manhattan. However, their relationship ended after sometime. His artistic work was in several forms, which included words, pictograms, numerals, logos, diagrams, and map symbols. His work from 1982 to 1985 involved multi-panel paintings and individual canvases with collage, imagery exposed stretcher bars and the surface dense with writing. In addition, most of his later pieces were had the following characteristics they were colored with a pencil, dirty style and spontaneous (Fretz, 2010).
In his art, Basquiat represented his heritage. For example in his painting "history of the black people," (1983) he depicts Egyptians as African contrary to the popular believe that ancient Egypt is the cradle of western civilization. At the heart of the painting, he shows Egyptian boat guided down the river Nile by Osiris. On the right side of painting, the following words appear "Esclave, Slave, Esclave. This indicates that Egyptian was enslaved through the slave trade. In the rest of the painting images of Egyptian slave trade are juxtaposed with images of the Atlantic slave trade. Sickle appears at the center of the panel implying the slave labor under plantation system.
The "irony of Negro Policeman" (1981) is another artistic piece that Basquiat uses to show social inequality in the society. He uses this piece to show how the whites have controlled African-American in the society. He uses the Negro Policeman to show that, the black Policeman should sympathize with his fellow blacks. However, he cannot because he must follow the rules laid down by the White society. The policeman has a black skin but wore a white mask. He uses this police officer to portray totalizing and excessive power. The hat in the head of the policeman resembles a cage to representing the constrained independence of blacks in the United States during that time. In this painting, Basquiat portrays the social inequality and the perception of the black community in the society. In addition, he shows how the black community has suffered under political structures set by the whites.
In most of his artistic pieces, Basquiat addressed various political and social issues, which include social inequality, racism, and political oppression of the black. His images were simple, but they had hidden meaning. His pieces have influenced several artists such as Kevin Young and Tamra Davis in continuation of his artistic work.
Ann Mendieta was born on 18 November in 1948 and died on 8 September in 1985 in New York City. She is from Cuban descent. She was a sculptor, painter, performance, and video artist popularly known "earth-body" art pieces. She was born in Havana, Cuba, and because of unfavorable climate, Ann's parents sent them to United States to escape the wrath of Fidel Castrol (Clearwater, 2004).
When in United States, Mendieta attended University of Iowa where she specialized in painting. She graduated with bachelors and masters in painting and masters in fine arts in intermedia. Most of her Art pieces were autobiographical and mostly focused on themes such as violence, death, violence, feminism belonging and place. Most of her work focused on physical and spiritual connection with the earth.
One of her famous art piece "Silueta series" (1973-1980), Mendieta used her naked body to discover ad connect the earth. In one of her piece 'Death of a chicken" (1972), she made use of blood which she smeared on her own body. She makes use of blood to bring out the theme of feminism. This because during this time blood, was seen as feminine and a feminist material in the art. The use of blood in this artistic piece indicated social identification of women in the Mexico. Having gone to exile at age of 12 affected her life. This traumatic experience played an important role in her life (Clearwater, 2004). Through her artistic pieces, the interactions with nature and work in landscapes helped her transit from her homeland to a new home. Mendieta work depicts her Cuban heritage. Her work also portrayed spirit of renewal inspired by the power of feminine and nature. In another of his artistic work ", Body tracks" (1982), Mendieta uses blood where he dips her hands, forearms in a vessel full blood, and then smears it down the wall. This work has had social impact as it reminded women whom they are in the society.
Mendieta "Imagen De Yagul" (1973) is another artistic work she uses to portray her social life and that of others. The issues that happened during her childhood make her discover her identity as a woman and artist. She uses her skills in the art to find answers throughout her artistic work. In this image, Mendieta portrays domestic violence. This is because domestic violence was common among the women during that time. This art piece shows how the society tries to silence women through violence threats and physical violence.
Throughout her artwork, Mendieta helps people to understand that they come from the earth and when they die the go back to earth again. In addition, she presents a clear perception of the women in the society. Through the use of woman body abstract in her artistic work, she distorts the images of women with blood, glass, and natural items to show how women are not shown in the televisions. This brings forward the plight women undergo through in the real world.
Ai Weiwei was born on 18th of May 1957 in Beijing, China. He is a Chinese social activist and contemporary artist specializing in architecture, photography, curating, social, cultural, and political criticism, sculpture, and film. Throughout his life, Ai has contributed a lot in various fields including politics. He has been in forefront criticizing the Chinese government human rights and democracy. In addition, Ai has unearthed several government cover-ups and corruption incidents including Sichuan schools corruption scandal (Merewether, 2008).
In late 1970s, Ai enrolled in Beijing Film academy where he studied animation. While at the academy, he formed a group Avant garde art group together with Wang Keeping, Qu leilei, Ma Desheng, li Shuang, Huang Rui and Zhong Acheng. However, this group was disbanded in 1983 due to unknown reasons.
In 1981 Ai migrated to united states where he stayed until 1993. While he was there he enrolled at the Arts Students League of new York and Parsons Schools of Design where he studied for a while and then dropped out. After dropping out of the school, Ai started drawing street portraits in order to earn his daily bread. During this time, he got a chance to see the works of Jasper Johns, Andy Warhol, and Marcel Duchamp. From this exposure, Ai started to practice conceptual art by altering objects that were already created by other artists. In addition, while in New York, he used to carry a Camera at all times in order to take pictures of the surroundings of the areas he visited. The images he collected were selected, and they are currently known as the New York Photographs. Furthermore, when in the New York, Ai became obsessed with Blackjack card games and is regarded as top professional Blackjack players of all times by the blackjackchamp.com.
Ai's father became ill in 1993, and he was forced to go back in China. After going back in china, he began experimental school for artists, Beijing East Village. This was followed by the publication of three books about these artists. The books include Black Cover Book (1994), White Cover Book (1995), and Gray Cover Book (1997). In 1997, he founded China Art Archives & Warehouse, which he became a director. This was an experimental gallery, which concentrates on experimental art on the people from the China. The main aim of this organization is to initiate and facilitate exhibitions from outside and inside china. This organization increased the social awareness of Chinese people as it improved their lives from several exhibitions that took place. In addition, he designed the building where this organization is located.
Ai work has done well in architecture. He has promoted the cultural aspects of china through several architectural designs. In 2008 prior to Olympics games, he acted an artistic consultant on the Bird nest stadium in Beijing, which became a historic stadium. This project portrayed people from China as creative, and it influenced other countries to be creative such as Germany and United Kingdom. In 2003, he founded FAKE design architecture design to further his interest in architecture. Furthermore, in 2012 he designed Serpentine pavilion in London, Kingdom together with Herzog & de Meuron (Meile, 2008).
Some of his major solo exhibitions include Ai Weiwei: Absent at the Taipei Fine Arts Museum, Taipei Taiwan (2012), Ai Weiwei: According to what? At the Hirshhorn Museum and Sculpture gardens, Washington D.C. (2012), Interlacing at Fotomuseum Winterthur, Winterthur, Switzerland (2011), Circe of Animals at the Pulitzer Fountain, New York, NY (2011), The Unilever Series: Ai Weiwei at the Tate Modern, London, UK (2010), so sorry at Haus der kunst, Munich Germany (2009) and Ai Weiwei : New York Photographs 1983-1993 at Three Shadows Photography Art center, Beijing (2009).
Through various arts, Ai has influenced the social and political aspects of people in china and other parts of the world. For instance through exhibition "so sorry" in Germany he used his art to show how the government and several organizations cover their wrong doings and fail to tell the public what actually happens. In addition, he has shaped the socio cultural life of Chinese through his artistic work.
References
Clearwater, B. (2004). Rediscovering Ana Mendieta. Art in America 92, 139-143.
Fretz, E. (2010). Jean-Michel Basquiat: A Biography. Westport: Greenwood Publishing Group.
Meile, U. (2008). Ai Weiwei: Works 2004-2007. Beijing: Galerie Urs Meile.
Merewether, C. (2008). Ai Weiwei: Under Construction. Sydney: University of New South Wales.