Who do you feel was a truly significant hero of the Twentieth Century and why?
Remember! This is just a sample.
You can get your custom paper by one of our expert writers.
Get custom essay
103 writers online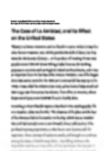 Anjezë Gonxhe Bojaxhiu, commonly know as Mother Teresa, is a truly significant hero of the Twentieth Century because by devoting herself wholeheartedly to the lives of the poor since her early age, she showed love, compassion, sympathy, selflessness and faith through her life. The impact that she had on the lives of others is still felt around the world after years of her death. The Nobel Prize winner set a good example of deeply devoting into humanity services.
Since her early age, she wished to help the poor and loved the stories of missionaries' lives and devoted deeply into her humanity work ever since. (Mother Teresa Early Life) In 1928, Mother Teresa left home to join the Loreto sisters and went to Ireland. She could stay in her home and live with her family, but instead she chose to leave home and start her life in helping the poor. She received her call to serve the poorest of the poor in 10 September 1946, and she didn't hesitate for a second and left Loreto Order to serve in Calcutta in 1948. The congregation of the new found Missionaries of Charity was approved in 7 October 1950 and the early group of Missionaries of Charity eventually opened Shishu Bhavan, a home for handicapped and homeless children. In 1959, the first house outside Calcutta was opened and in the following year, Mother Teresa finally travelled outside of India since 1929 when she started her humanity work. (Mother Teresa) She was so deeply involved in the work of helping the poor that she stayed in India for 31 year without stopping to rest.
She was a loving and caring person. She was selfless when she was with poor people and in the same time full of sympathy. She has an unbelievably strong faith. In an interview with Mother Teresa conducted by the Time Magazine, when the interviewer asked "Why have you been so successful?" She answered "Jesus made Himself the bread of life to give us life. That's where we begin the day, with Mass. And we end the day with Adoration of the Blessed Sacrament. I don't think that I could do this work for even one week if I didn't have four hours of prayer every day."(Interview with Mother Teresa) She believed in God deeply and depended on him. He is her power of life .This showed her strong faith in God. She respects every person and caused a lot of people to live again. "All my life I have been begging. Then, one day, the sisters picked me up from the roads. Mother Teresa made me feel like a human for the first time." said a Muslim resident of one of the Missionaries of Charity's homes.(Missionaries of Charity's)
Mother Teresa succeeded a lot in helping the poor, with over 4500 sisters active in 133 countries. But "No pain no gain", these successes weren't easy. She suffered and encountered many problems in her life, but eventually overcame them with her strong mind, faith and the enthusiastic of helping the poor. At first when Mother Teresa wanted to leave the convent and go to Calcutta to help the poor, the Rome authorities considered a long time in whether giving her the permission or not, considering the safety of Mother Teresa but finally giving her the permission after several months. Although she succeeded in going to Calcutta, her financial situation was very poor at that time and she didn't even have a place for herself to rest, obviously not the ability to help the poor. But she didn't stop because of this. Instead she keep gathering money, finding people who are interested in humanity service and started her career from zero. Even so, she was not an expert in curing diseases, and dealing with dying people was very challenging to her. "What challenges did Mother Teresa face?" She suffered heart attack while visiting Rome in 1983 but insisted to keep her position as the head of Missionaries of Charity. In 1989, she suffered another heart attack and requires doctors to implant pacemaker.
Mother Teresa's work is still continued until now with her strong faith, love and care that have influenced many people around the world. She received a number of prizes for her outstanding work in humanity service. In 1962, Mother Teresa received Magsaysay Award for International Understating .In 1971, Paul VI conferred the Pope John XXIII Peace Prize to Mother Teresa. In 1979, Mother Teresa became the winner of Nobel Peace Price. In 1980; she won the Bharat Ratna award, a great prize of India. In 1985, she received the Presidential Medal of Freedom (Religion) from President Ronald Reagan In 1996, she received the Honorary U.S. citizenship, being the 4th person to receive this award. In 1997 she received the Congressional Gold Metal. (How many awards did Mother Teresa received and how sure are you, what evidence do you have?) Although she has already passed away, the Missionaries of Charity that she found now consist of over 4500 sister running more than 600 missions in over 130 countries. They run hospices and treat people with AIDS. They host family counseling programs, orphanages and schools.
Mother Teresa never stopped in her life to help the poor. She is caring, loving and a saint in the world of poor. Her strong faith in God gave her the strength to overcome the obstacles she met through out her life and finally succeed in affecting the world with her enthusiasm in helping the poor. She received a number of prizes for her excellence in humanity work and all these make her a truly significant hero of the Twentieth Century.